5 Things Electronic Arts Management Wants You to Know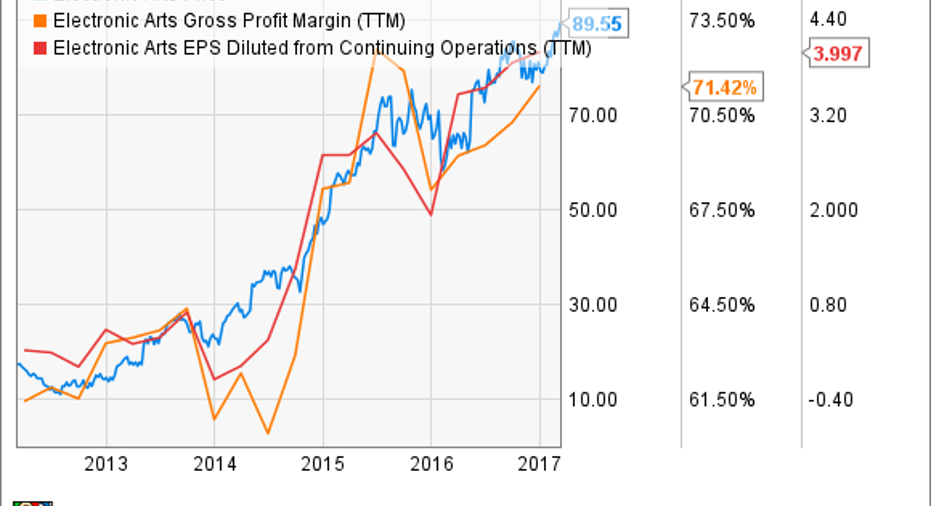 EA has a strong game portfolio to drive growth over the long term. Image source: Electronic Arts.
Over the last 12 months, Electronic Arts' (NASDAQ: EA) stock is up over 30% as the video game publisher has seen strong growth in game sales of itsFIFAand Battlefieldfranchises. To top off good sales results, gross margin has been expanding as the gaming industry continues shifting to a digital distribution model.
Here are five important quotes from management on Electronic Arts' most recent earnings conference call.
New franchise on the way
Over time, it's important to keep the pipeline strong, so it was encouraging that management has another franchise in the works. The description sounds very similar to Activision Blizzard'sDestiny, which has become one of seven $1 billion franchises for the EA rival. Game publishers are laser focused on increasing the audience for each game. Designing quality games that have an engaging multiplayer component has become the key ingredient to accomplishing this.
FIFA competitive gaming driving higher engagement
In addition to game design, e-sports is proving to be a great marketing tool to attract a larger global audience for each game. EA's FIFA competitions are a great example of this. FIFA e-sports competitions are stirring more interest in the game as competing players spend more time with the game than non-competitors.
E-sports is a fast-growing segment of the gaming industry with the global e-sports audience expected to reach 385 million in 2017, according to Newzoo's latest report.The more people playing a game, the greater opportunity the game publisher has to monetize the game with additional in-game content.
Growth in mobile gaming
EA has a great portfolio of mobile games such as Plants vs. Zombies, as well as mobile versions of console titles FIFA and Madden NFL. According to management, EA was the most downloaded mobile games publisher in the world during the quarter.
Along with e-sports, mobile games are proving to be a great opportunity for game publishers to reach larger audiences.
The mobile game market is an attractive way for game publishers to extend reach to a casual gaming audience that may not own a video game console. It's also a fast-growing market. SuperData Research estimates that the mobile game market generated $40.6 billion in revenue in 2016, representing growth of 18% over 2015.
The time people spend playing mobile games is also estimated to be greater than the time spent on popular streaming services like Netflix. According to Business Insider, most of the U.S. population has played a mobile game in 2016, which means mobile gaming could become as important to Electronic Arts and other publishers as console games.
Key franchise showing high growth and engagement
Battlefield plays second fiddle to Activision Blizzard's Call of Duty, but the growth of Battlefield's player base year over year shows how a rising tide is lifting all boats in the video game industry. With a larger Battlefield player base, EA has a great opportunity to drive higher revenue from in-game content in the coming year. EA generated $1.2 billion in extra in-game content for the trailing-12-month period. This was an increase of 14% year over year.
In the coming months, EA will release more in-game content for Battlefield through additional maps, armies, and other content to keep player engagement up.
Expanding gross margin leads to more profits
In-game content is also contributing to EA's expansion in gross margin, which is expected to be 72.1% for fiscal 2017 ending this month.
Another trend impacting gross margin is the growth of full games downloading direct to consoles. For several years this has been a mainstream form of purchasing games on PCs, but it is just beginning to build momentum with console gamers.
EA reported that 32% of unit sales on current-generation consoles -- Sony'sPS4 and Microsoft'sXbox One -- are directly purchased and downloaded by gamers on console. For the trailing-12-month period, EA generated $666 million from full-game downloads, which grew 38% year over year.
Also, Ultimate Team has been a popular feature for players of FIFA and Madden. Players purchase in-game digital card packs for as low $0.99 to put together a dream team. The feature is very addictive for diehard FIFA fans due to the remote odds of drawing one of the world's top soccer players to use in competitive games with other players.
Ultimate Team is also growing into a big business for EA. Over the second and third fiscal quarters, FIFA 17 Ultimate Team revenue increased 30% over FIFA 16(excluding the effects of currency exchange rates).
At a recent Morgan Stanley conference, EA CFO Blake Jorgensen mentioned that Ultimate Team generated $800 million in revenue over the last year, which is an increase over the $650 million figure he disclosed in early 2016.
As with all in-game digital content, the revenue for Ultimate Team carries very high margin, and EA executives are already thinking of ways to bring the feature to other franchises like Star Wars Battlefront and Battlefield.
10 stocks we like better than Electronic ArtsWhen investing geniuses David and Tom Gardner have a stock tip, it can pay to listen. After all, the newsletter they have run for over a decade, Motley Fool Stock Advisor, has tripled the market.*
David and Tom just revealed what they believe are the 10 best stocks for investors to buy right now... and Electronic Arts wasn't one of them! That's right -- they think these 10 stocks are even better buys.
Click here to learn about these picks!
*Stock Advisor returns as of February 6, 2017
Teresa Kersten is an employee of LinkedIn and is a member of The Motley Fool's board of directors. LinkedIn is owned by Microsoft. John Ballard owns shares of ATVI. The Motley Fool owns shares of and recommends ATVI and Netflix. The Motley Fool recommends Electronic Arts. The Motley Fool has a disclosure policy.