5 Things DryShips Inc. Does Wrong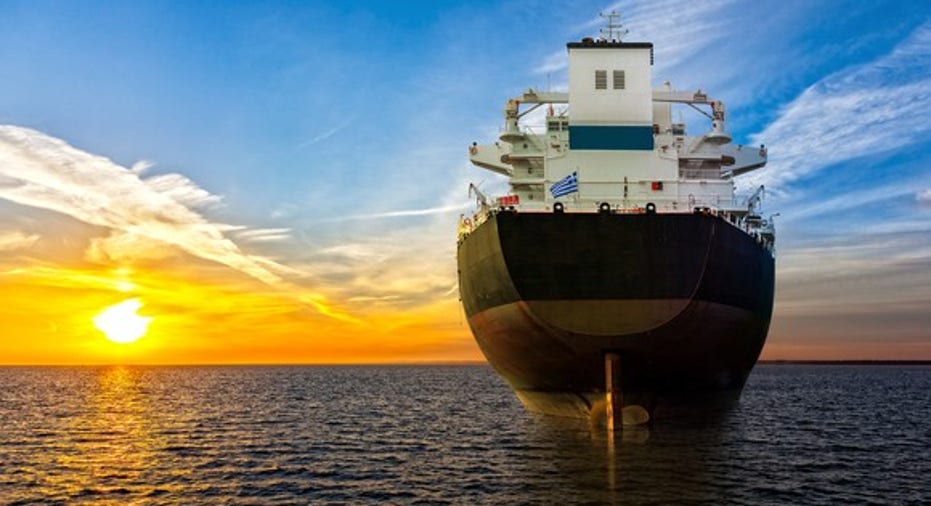 DryShips (NASDAQ: DRYS) has taken investors on a wild ride over the past few years. At one point last year, a perfect storm sent shares skyrocketing more than 2,000%. This year, however, is a different story, as the stock has bled out nearly its entire value. Needless to say, given this year's abysmal showing, DryShips is doing plenty of things wrong.
Continuing to pile on debt despite almost drowning
DryShips' entire focus last year was on survival after a near-fatal combination of plunging shipping rates and too much debt nearly ran the company into the ground. At its peak, the shipper had run up more than a $5.5 billion tab as it rapidly expanded its fleet. However, it spent the bulk of the last few years jettisoning vessels to get out from under the crushing weight of debt because it couldn't keep its head above water as shipping rates plunged.
DryShips appears to be on that same collision course after shoring up its balance sheet at the end of last year when its CEO threw it a lifeline by extending it a new credit facility. The company not only immediately put that credit to work on new acquisitions but recently freed up the newly acquired vessels that served as collateral for that credit line so it can use them to access bank debt once again and extend its current buying binge. Given its history, it won't take DryShips long to dig itself another hole.
Image source: Getty Images.
Diluting investors into the ground
In addition to using its credit line for deals, DryShips also tapped investors for equity capital. That said, because of its stock-price plunge, it was selling shares near the bottom. However, that didn't stop the company from launching several stock sales, which led to massive dilution for shareholders. From mid-January through mid-March, DryShips' outstanding share count ballooned from 8.7 million to 152.1 million before recently completing another reverse split to shrink the number back a bit. Meanwhile, more dilution is likely on the way given the company's recent registration for a $2 billion shelf offering.
Diworsification instead of focus
One of the hallmarks of DryShips' acquisition binges is that the company not only buys additional dry bulk ships to expand its core business but it diversifies into other segments such as tankers, gas carriers, and offshore drilling rigs. While diversification is often a good thing, in DryShips' case it has led to dire consequences in the past. For example, it couldn't afford its first foray into tankers and ended up unloading its entire fleet for less than its initial investment. Meanwhile, its former offshore drilling subsidiary has filed for bankruptcy.
One reason these attempts at diversification have failed -- other than the mountain of debt it used to finances the transactions -- is that DryShips simply doesn't have the scale in any one area to be the low-cost operator, which hurts it when shipping rates collapse. Contrast this with oil tanker company Nordic American Tanker (NYSE: NAT), which believes that its "homogenous Suezmax fleet is a key success factor." That's because Nordic American Tanker's focus on owning one type of vessel enables it to have a strict maintenance procedure, which lowers its costs. That'sone reason why Nordic's cash break-even rate of $11,000 per day, per ship is well below the $17,300 break-even estimate for Suezmax ships at its diversified rival Frontline (NYSE: FRO), which enables Nordic to make money at much lower levels than Frontline. Meanwhile, given that DryShips only owns a handful of several vessel types, it doesn't have the scale to compete with larger rivals on cost.
Image source: Getty Images.
A boatload of related-party transactions
One of the biggest red flags at DryShips is the transaction volume between the company and entities controlled its founder and CEO, George Economou. Late last year, for example, one of his companies, Sifnos Shareholders, provided Dryships with a $200 million credit line to stay afloat. Meanwhile, in 2015, it was Economou that took the company's tanker fleet off its hands so it could free up capital. Furthermore, these transactions go both ways, as companies controlled by the CEO often sell vessels to DryShips, which was the case with the four gas carriers it bought this year. While his willingness to provide support to DryShips is worth noting, more often than not he comes out the winner on these transactions.
Paying a dividend when it's bleeding cash
One reason DryShips has issued so much debt and equity in the past is that it needs money to buy more ships. However, despite this, the company surprisingly initiated a quarterly dividend earlier this year, agreeing to pay out a minimum of $2.5 million per quarter. That payout is a real head-scratcher and looks like a complete waste of money considering thatDryShips isn't yet generating positive cash flow andclearly could use the cash to finance additional acquisitions instead of issuing more shares or debt.
Investor takeaway
DryShips hasn't done much right this year, which is why its stock price has done nothing but sink. Unfortunately, that doesn't appear to be about to change, because the company didn't alter its course despite a brush with death last year. Investors are better off steering clear of this stock because the only thing DryShips seems to be good at is incinerating investor capital.
10 stocks we like better than DryShipsWhen investing geniuses David and Tom Gardner have a stock tip, it can pay to listen. After all, the newsletter they have run for over a decade, Motley Fool Stock Advisor, has tripled the market.*
David and Tom just revealed what they believe are the 10 best stocks for investors to buy right now... and DryShips wasn't one of them! That's right -- they think these 10 stocks are even better buys.
Click here to learn about these picks!
*Stock Advisor returns as of April 3, 2017
Matt DiLallo has no position in any stocks mentioned. The Motley Fool has no position in any of the stocks mentioned. The Motley Fool has a disclosure policy.