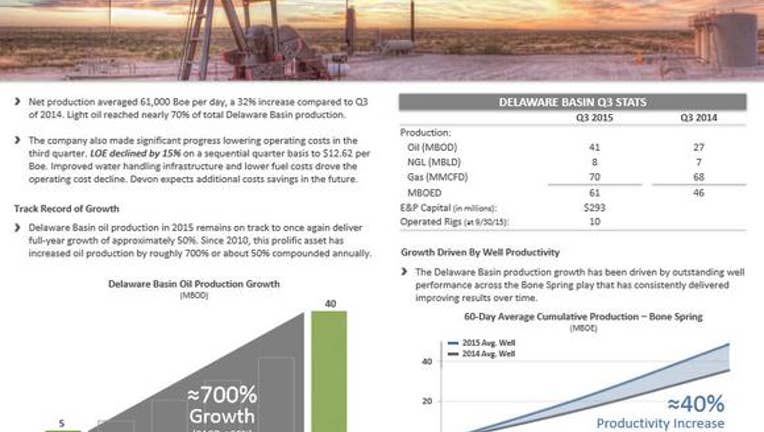 Devon Energy's operations continue to hold up well, despite persistently weak crude prices. That operational strength was on full display during the third quarter and was the key theme on the company's third-quarter conference call. Here are five keys to its success, which CEO Dave Hager noted on that call.
1. It was a record-setting quarterHager highlighted several notable achievements, including the fact that Devon "achieved record oil production" during the third quarter. While a number of its peers are letting production plateau or even slip because of weaker prices, Devon continues to push ahead, having grown its oil production 31% year over year.
2. We're exceeding our own expectationsNot only is Devon growing its oil production, but production growth has also been faster than anticipated. In fact, for the fifth straight quarter the company has exceeded its own guidance. Hager noted that Devon "raised our 2015 oil growth outlook for the second time this year."
One of the reasons Devon has been able to exceed its guidance is that its new wells are performing better than expected. We see this in the chart in the bottom right corner of the following slide, which shows a 40% productivity increase in Delaware Basin wells drilled in 2015 versus those drilled just last year.
Source: Devon Energy.
Two factors have played a role in this increased performance: an enhanced completion design and a greater focus on development drilling.
3. We controlledcostsDevon Energy isn't just focused on volume growth to help offset oil price weakness. It is just as focused on reducing its costs, in an effort to capture a higher margin per barrel produced. Hager noted that it's making great progress controlling its costs, with operating expenses coming in "significantlybelowguidance." Further, he noted that the company is "now on pace to save $1 billion of operating and capital costs in 2015versusouroriginalguidanceexpectations." Those cost savings are really helping Devon to deliver strong cash flow despite the weak oil price environment. In fact, cash flow last quarter was up 41% over the prior quarter because of the combination of higher production and lower costs.
4. We have a strong balance sheetA number of Devon's peers have struggled mightily during the downturn, primarily because of very weak balance sheets that were loaded down with a lot of debt. That, however, hasn't been an issue with Devon. Hager noted:
Not only did Devon enter the downturn with a strong balance sheet, but it also has other sources of cash that its peers don't have, namely its large stake in EnLink. That stake provides Devon with both cash flow and access to capital. For example, not only can Devon drop down midstream assets such as the Access pipeline to Enlink, but it can also sell down some of its ownership stake on the open market to raise additional capital. This strong access to capital is why Devon hasn't had to cut its capex as deeply as its peers during the downturn.
5. We're confident about our plan in 2016Looking ahead, Hager expects Devon Energy's "outstandingoperationalperformancetocontinueasweheadinto2016." That said, he does expect the company to pull back the reins on spending bringing it down from the $4.5 billion it spent this year to a range of $3 billion to $3.5 billion in 2016, which will roughly balance with its cash flow. However, even with that reduction, the company expects its oil production to grow by by a low-single-digit rate thanks to continued deflation in service pricing.
Investor takeawayDevon Energy has handled the downturn much better than a lot of its peers. The company has benefited from cost savings and better well performance, which, when combined with its strong balance sheet, provides Devon with the flexibility to continue to invest at a time when its peers had to hold back. These factors also put the company in a solid position heading into 2016.
The article 5 Things Devon Energy Corp.'s CEO Wants You to Know originally appeared on Fool.com.
Matt DiLallo has no position in any stocks mentioned. The Motley Fool owns shares of Devon Energy. Try any of our Foolish newsletter services free for 30 days. We Fools may not all hold the same opinions, but we all believe that considering a diverse range of insights makes us better investors. The Motley Fool has a disclosure policy.
Copyright 1995 - 2015 The Motley Fool, LLC. All rights reserved. The Motley Fool has a disclosure policy.