5 Things Cummins Inc. Management Wants You to Know For 2017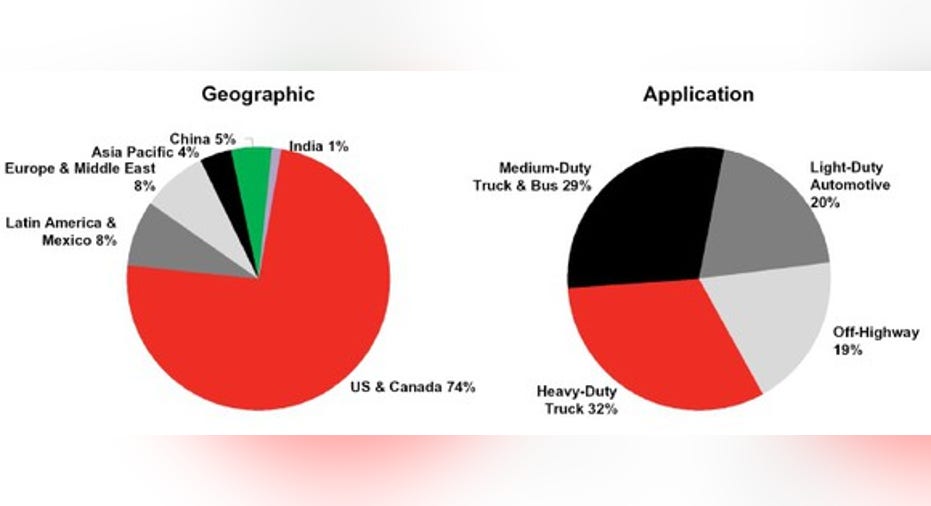 Image source: Getty Images.
Regardless of the macro headwinds, Cummins Inc. (NYSE: CMI) stock has absolutely crushed the market this year to climb a jaw-dropping 64% as of this writing. That even handily beats rival Caterpillar's (NYSE: CAT) 42% gains so far, compelling one to pause and think whether Cummins' growth prospects have really improved.
However, what Cummins management said during the company's recent earnings call suggest otherwise, indicating that the stock might have got ahead of itself. Here are five things management said you must know.
On the North American trucking market
Cummins' biggest challenge in 2016 was a slowdown in the North American trucking market. Trucking markets and the U.S./Canada region are integral sources of engine revenue for Cummins:
Cummins' engine segment sales mix for Q3 LTM. Image source: Cummins Q3 earnings presentation.
Cummins' engine sales slumped 33% during the nine months ended Sept. 27, with the biggest chunk coming off the key heavy-duty segment as sales of Class 8 trucks tapered. CEO Tom Linebargerdidn't mince words while talking about his outlook for the market:
"There is no sign of a pickup out there right now. I think what you have a situation is, for many, many months, we're still producing more than orders are coming in, and that hasn't changed."
With ACT Research projecting the Class 8 market to continue its "downward trajectory into 2017", engine sales might not pick up before 2018. That also means lower sales for Cummins' components segment, which is interrelated to engines and makes up about 20% of the company's total revenues. That leaves little hope for Cummins investors.
On off-highway markets
Off-highway markets account for almost 20% of Cummins' engine sales. With markets such as mining, oil, and marine stuck in a rut, Cummins' off-highway engine sales for the first nine months of the year slipped 29% and 41% from the comparable periods in 2015 and 2014, respectively.
There's little hope for recovery. Here's what President and COO Rich Freeland said for mining: "We are down 7% in mining this year, and again, no one is really calling for that to turn around this time, other than the aftermarket, at least."
Freeland's pessimism isn't unwarranted. Caterpillar, which has significant exposure to mining and oil and gas sectors, just called its 2017 consensus profit estimates of $3.25 per share, excluding restructuring, "too optimistic" given the headwinds. As Caterpillar expects to earn that exact amount per share this year, it is indirectly calling for a weaker 2017 as weakness in rail, agriculture, power generation, and marine add to ongoing challenges in mining and oil industries. Cummins caters to all these industries.
On China
China is Cummins' second-largest market after the U.S. in terms of asset base and accounts for roughly 8% of the company's total revenues. Cummins primarily operates there through joint ventures such as with Dongfeng and Beiqi Foton. China has proved a challenging market this year, and things continue to look murky. As Linebarger elaborated during the call: "Some OEMs have been aggressively discounting trucks this year to gain share in the near term while our partner Dongfeng has experienced a decline in the market share."
Despite a 30% jump in industry demand, Cummins' share in China's heavy-and-medium-duty truck markets slipped to 16.5% in Q3 from 17.9% in the year-ago quarter, reflecting its struggles to maintain share in a growing market. That could be a big concern going forward.
On 2017
Overall, Cummins management doesn't foresee a turnaround in 2017 and will probably rely on cost control to sail through. In Linebarger's words: "We do see some bottoming in some markets, but there is not an obvious instigator for turnaround. So we intend to enter 2017 much as we enter 2016, with a relatively conservative view on markets, and then trying to make sure how we get our cost appropriate, set appropriately for those markets and how we continue to fund the critical new products and new capabilities we need to succeed and grow in the market."
But there's only so much Cummins can do to cut operating expenses, which might be the reason it's thinking about selling off its filtration business according to Reuters. Last quarter, Cummins downgraded its full-year operating margin guidance to 11.3% from 11.6%-12.2%, and it remains to be seen if margins can improve next year.
On dividends and buybacks
The only silver lining for investors is that Cummins' dividend appears to be safe for now. During the call, CFO Pat Ward confirmed that the company still plans to "return 75% of operating cash flow to shareholders this year through a combination of dividend and share repurchases having returned $1.3 billion year to date."
CMI Free Cash Flow (TTM) data by YCharts
Cummins' cash flows have been really strong this year, and its currently paying out less than 60% of its net income in dividends. That leaves room for higher dividends even if profits decelerate next year. So investors can take solace in Cummins' dividends -- currently yielding 2.9% -- even if the stock gives up some of its gains going forward.
10 stocks we like better than Cummins When investing geniuses David and Tom Gardner have a stock tip, it can pay to listen. After all, the newsletter they have run for over a decade, Motley Fool Stock Advisor, has tripled the market.*
David and Tom just revealed what they believe are the 10 best stocks for investors to buy right now... and Cummins wasn't one of them! That's right -- they think these 10 stocks are even better buys.
Click here to learn about these picks!
*Stock Advisor returns as of Nov. 7, 2016
Neha Chamaria has no position in any stocks mentioned. The Motley Fool owns shares of and recommends Cummins. Try any of our Foolish newsletter services free for 30 days. We Fools may not all hold the same opinions, but we all believe that considering a diverse range of insights makes us better investors. The Motley Fool has a disclosure policy.