5 Things Amgen Inc.'s Management Wants You to Know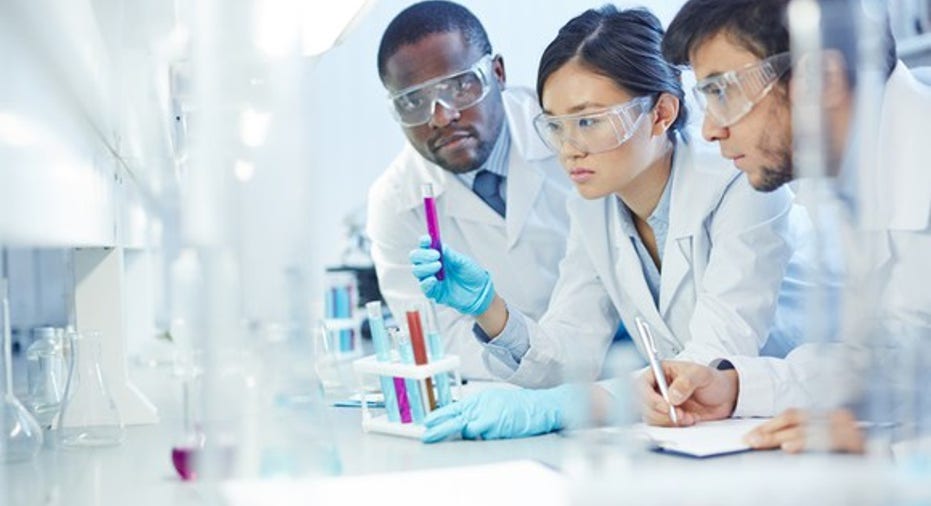 Amgen Inc. (NASDAQ: AMGN) reported its third-quarter results after the market closed on Thursday. Those results looked good overall, but the numbers only tell about the past. To find out about the biotech's future, listen carefully to what management has to say. Here are five key things Amgen's management team wants investors to know.(All quotes courtesy ofS&P Global Market Intelligence.)
Image source: Getty Images.
1. Good news and bad news for Enbrel
Year-over-year sales comparisons for Enbrel were as flat as a pancake without any butter on top. The good news was that Amgen was able to successfully increase pricing for the anti-inflammatory drug and didn't lose market share from the second quarter in the important rheumatology market.
What's the bad news? Competition is getting fierce. Based on Celgene's (NASDAQ: CELG) blow-out results in the third quarter, I'd say that much of that fierce competition stems from Otezla. While Enbrel treaded water, sales for Celgene's psoriasis and psoriatic arthritis drug nearly doubled year over year.
Celgene can point to Otezla's convenience factor as a big selling point. Enbrel is administered via injection, but Otezla is a pill. Celgene also can make the case that Otezla is just as effective as Enbrel is at treating psoriasis based on a late-stage study completed last year.
Hiking the price for Enbrel won't be a big help in the future. Amgen's executive vice-president of global commercial operations, Anthony Hooper, said the company expects "relatively littlebenefit from net selling price changes in 2017." He noted that pharmacy benefits managers are requiring more rebates to keep Enbrel's position on their formularies. It sounds like the good news for Amgen's top-selling drug might be fewer and farther between in the months ahead.
2. Perspective on the drug pricing debate
Amgen CEO Robert Bradway weighed in on the ongoing debate about high drug prices. Bradway agreed that healthcare costs need to be addressed but stressed that people "shouldn't lose sight of the fact that it's the economic and societal burden of disease that is the enemy." He added that "innovative biopharmaceutical drugs offer the promise of addressing that burden."
Pay-for-performance isn't a problem for Amgen. Bradway said his company accepts that itsproducts "need to deliver clear benefit" for patients and shouldn't be paid as much if they don't. Amgen has already made several pay-for-performance contracts with payers and expects to do more in the future.
Californians vote in November on Proposition 61, a ballot initiative that seeks to limit how much the state's agencies pay for prescription drugs. When asked about Proposition 61, Bradway said the initiative is "flawed." He noted that most of the major newspapers in California as well as many public entities in the state are also opposed to the proposition.
3. Bring on the biosimilars
One way of helping control drug costs is the introduction of new generic drugs and biosimilars. Amgen is poised to benefit from the growth of the biosimilar market. Bradway thinks that its biosimilar programs "will help generate long-term growth at Amgen."
The biotech scored its first regulatory approval of a biosimilar in September when the U.S. Food and Drug Administration gave a thumbs up for Amjevita. Bradway likes the potential for Amjevita, which is a biosimilar to AbbVie's (NYSE: ABBV) blockbuster Humira. However, he warned it could take a while before any revenue is generated. Amgen and AbbVie are embroiled in litigation over the biosimilar.
Amgen has also completed late-stage clinical studies for two other biosimilars with partner Allergan (NYSE: AGN). The companies have announced positive results for biosimilars to cancer drugs Herceptin and Avastin. Neither biosimilar has gained regulatory approval yet.
4. Optimistic -- especially about Repatha and Kyprolis
Bradway said "the long-term prospects of our business are bright."Much of Amgen's optimism stems from the potential for two drugs: Repatha and Kyprolis.
Image source: Amgen.
Amgen's management team acknowledges the challenges that cholesterol drug Repatha has faced in its first year on the market. Anthony Hooper noted that "high hurdles remain for both physicians and patients to gain access" to Repatha because of payer restrictions on the drug.The company might be able to jump those hurdles, though, when cardiovascular outcomes data is presented in the first quarter of 2017.
Kyprolis emerged as a big winner in third quarter, with sales increasing 34% from the prior-year period. Hooper said Amgen saw "strong early uptake from key markets in Europe combined with continued growth in the U.S." for the multiple myeloma drug. He did mention, though, that Kyprolis lost some market share in the U.S. as a third-line treatment (which can only be given after two other therapies prove unsuccessful) because of new competitors.
Amgen expects sales for Kyprolis as a second-line treatment to continue to grow. Sean Harper, executive vice president of research and development, also stressed that the company is committed to advancing the drug as a first-line treatment for multiple myeloma. Amgen is near completion of a study design for a combination of Kyprolis, Celgene's Revlimid, anddexamethasone in newly diagnosed transplant-eligiblemultiple myeloma patients.
5. What Amgen's looking to buy
The biotech reportedcash, cash equivalents, and marketable securities totaling $37.98 billion at the end of the third quarter. What might Amgen do with that money besides paying dividends and buying back shares? Look for more acquisitions of pipeline candidates and perhaps smaller companies.
Bradway said, "We're active in our review of opportunities, principally in our core therapeutic categories." However, Amgen doesn't want to pay too much for any acquisition opportunity. The company leans toward licensing early-stage candidates.
A bigger deal isn't out of the question, though. CFO David Meline said Amgen "will continue to look at larger opportunities."
A secret billion-dollar stock opportunity The world's biggest tech company forgot to show you something, but a few Wall Street analysts and the Fool didn't miss a beat: There's a small company that's powering their brand-new gadgets and the coming revolution in technology. And we think its stock price has nearly unlimited room to run for early, in-the-know investors! To be one of them, just click here.
Keith Speights owns shares of Celgene. The Motley Fool owns shares of and recommends Celgene. Try any of our Foolish newsletter services free for 30 days. We Fools may not all hold the same opinions, but we all believe that considering a diverse range of insights makes us better investors. The Motley Fool has a disclosure policy.