5 Stocks We're Never Selling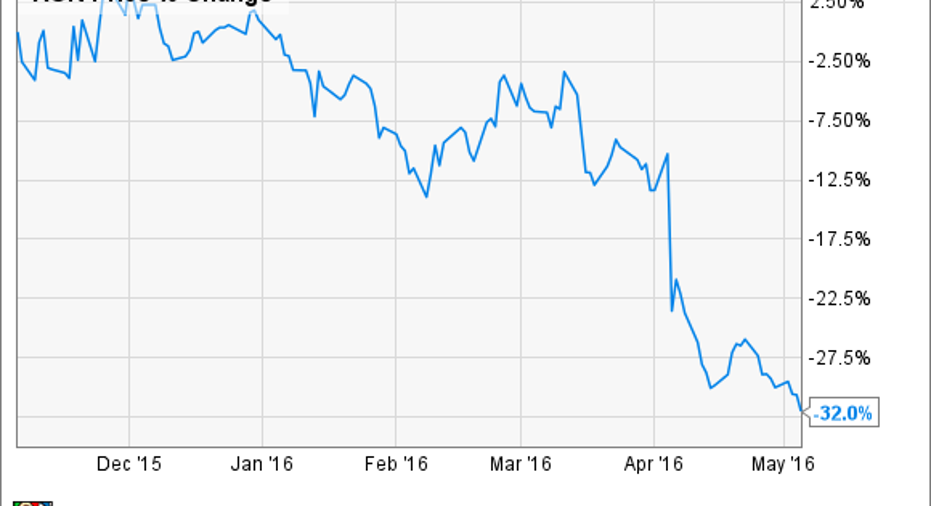 When it comes to investing, there's no disputing the best way to predictably generate wealth is to buy and hold great stocks over long periods of time. And we're not talking about weeks or months, but years -- or, better yet,decades-- of owning shares of these top-notch businesses.
So we asked five Motley Fool contributors to describe one stock they'llneversell. Read on to see which companies they chose and why:
JasonHall: Losing its deal withCostcohas hurtAmerican Express Company, no getting around that. But at the same time, there is a very important takeaway from the company's decision not to overpay to keep Costco: AmEx's management, led by incredibly well regarded CEO Ken Chenault, is thinking about the long-term health of the business, not making decisions because the short-term implications of those moves could put them on the hotseat. Excellent management is a rare and undervalued commodity.
There's also a wonderful long-term opportunity for the company. The vast majority of global transactions are still cash-based, but that's a trend that is slowly shifting to electronic payments, particularly as mobile technology expands into developing economies with growing middle classes. Over the next decade and change, the global middle class is expected to add around 1 billion new members, and there's little doubt that American Express will be one of the biggest beneficiaries of that growth.
To the contrary, now is a good time to bebuyingAmerican Express:
AXP P/E Ratio (TTM)data byYCharts
Although it's deserving that the stock price has fallen since earnings started declining in the aftermath of the Costco deal, probably not to this extent. Book value could fall in the near-term as the company sells off the last of its Costco-related loan book, but the stock trades for a trailing price to earnings ratio below 13, which can only be described as cheap compared to its historical multiple. This is especially true, since earnings are expected to stabilize from here, not decline further.
Bottom line: American Express is too good of a company, with too much upside, to sell. Factor in the long-term prospects and cheap valuation, now's a better time tobuy.
Todd Campbell: Investors should probably never say never, especially when it comes to biotech stocks where competition is fierce and patent losses can break a company's back. But if I reframe the question to "what stocks I have no intention of selling," then a few fit the bill, including Celgene Corp .
Celgene markets the massively successful multiple myeloma drug Revlimid. Since winning approval about 10 years ago, Revlimid has become the dominant treatment used to combat the cancer in both the first and second line setting and as a result, sales of Revlimid are expected to reach $6.7 billion this year.
Celgene also markets Pomalyst, a drug used in the third line setting against multiple myeloma, Abraxane, a pancreatic cancer drug, and Otezla, an oral drug for psorisis that launched last year and is on track to rack up sales of more than $1 billion in 2016.
All in, Celgene expects to deliver sales and profit of at least $10.75 billion and $5.60 per share in 2016, but what really gets me excited is the company's long-range forecast. Management predicts that sales will exceed $21 billion and that EPS will eclipse $13 in 2020. Given that forecast and a rock-solid balance sheet, I have no interest in unloading my shares.
George Budwell: I hold a fairly substantial position in the Botox-maker Allergan , and have no plans on selling in the foreseeable future, despite the stock's dreadful performance so far this year:
While it would be easy, and perhaps cathartic, to hit the eject button on this healthcare laggard, I'm not willing to do so because my underlying investing thesis hasn't changed. Rather, my view is that short-term market conditions have become unfavorable for large cap pharma stocks in 2016, but that's not a compelling reason to sell a top notch company like Allergan.
Allergan remains, to me, a great long-term buy and hold for two reasons. First off, Allergan's CEO Brent Saunders has a proven track record of creating shareholder value by taking an aggressive approach to mergers and acquisitions. So, I'm not particularly worried that the failed megamerger with Pfizer is the start of a new worrisome trend, where Saunders suddenly forgot how to execute this lucrative strategy. As such, I'm looking forward to his plans for the company once Allergan's generic drug unit is safely in the hands of Teva Pharmaceutical Industries later this summer.
Aside from Saunder's acumen at deal-making, Allergan also sports a diverse branded drug portfolio that is at the top of its class. The drugmaker'sAlzheimer's and Women's Health franchises, for instance, generated double-digit sales increases last year, and are showing no signs of letting up in 2016. So, even though Allergan's recent volatility isn't ideal from a shareholder's perspective, I'm willing to ride it out due to the company's stellar management team and strong product portfolio.
Andres Cardenal:Warren Buffett is one of the most successful investors ever alive, and he has built his massive fortune by investing in top-quality businesses and holding them for the long term. In Buffett's own words: "When we own portions of outstanding businesses with outstanding managements, our favorite holding period is forever."
Berkshire Hathaway is a diversified collection of businesses carefully selected by Warren Buffett himself because of their long-term fundamental strengths. The company operates in a wide variety of industries such as insurance and reinsurance, financial services, railroads, energy, utilities, manufacturing, services, and retail, among others. This degree of diversification can be enormously valuable in terms of keeping the risks at bay, when one economic sector is lagging, stronger performance in other industries should provide stability and predictability for investors in Berkshire.
Nearly 25% of profits come from insurance, and this business is a crucial advantage for Berkshire. Insurers receive premiums up front and pay claims later, sometimes these payments can even stretch out over several decades. Even if this money is not owned by Berkshire, the company can use it to invest for its own benefit, and this is a major return driver for investors.
From 1965 to 2015 Berkshire's market value per share has increased at an impressive annual growth rate of 20.8%, more than doubling the S&P 500 and its annual return of 9.7% in the same period. Now that Berkshire has reached a gargantuan scale, the company probably won't produce that kind of performance going forward, but that doesn't change the fact that Berkshire is still one of the soundest and more reliable companies to hold over the long term.
Steve Symington:I've made no mystery of my fondness for owning shares ofMarkel. After all, shares of the specialty insurer and financial holding company have climbed more than 140% since I opened my first position in a Roth IRA just over five years ago. Following the release of Markel'ssolid first-quarter 2016 resultslast week, my resolve has never been stronger toown a piece of this businessindefinitely in my personal portfolio.
To be fair, it's easy to feel good about owning Markel stock, as its shareholder-friendly approach is evident. Each of its annual shareholder letters respectfully begins with the greeting, "To Our Business Partners." And management's cash and stock bonus compensation is determined by the five-year rolling average growth in book value per share, ensuring their financial interests are aligned with those of Markel investors.
What's more, Markel employs a very Berkshire-esque business model -- which is why it's often referred to as a "mini-Berkshire" -- with its profitable core insurance segments, which in turn help provide resources to fund its investing operations helmed by renowned chief investment officer (and now co-CEO) Tom Gayner. Combine that with the contributions of its diversified non-insurance/non-investing businesses acquired, owned, and operated under the Markel Ventures banner, and Markel finds itself uniquely suited to the task of fostering compounding returns and consistently generating shareholder value with a long-term mind-set.
The article 5 Stocks We're Never Selling originally appeared on Fool.com.
Andrs Cardenal owns shares of Berkshire Hathaway and Markel. George Budwell owns shares of Allergan PLC, Berkshire Hathaway, and Pfizer. Jason Hall owns shares of American Express, Berkshire Hathaway, Costco Wholesale, and Markel. Steve Symington owns shares of Markel. Todd Campbell owns shares of Celgene and Costco Wholesale. The Motley Fool owns shares of and recommends Berkshire Hathaway, Celgene, Costco Wholesale, and Markel. The Motley Fool recommends American Express and Teva Pharmaceutical Industries. Try any of our Foolish newsletter services free for 30 days. We Fools may not all hold the same opinions, but we all believe that considering a diverse range of insights makes us better investors. The Motley Fool has a disclosure policy.
Copyright 1995 - 2016 The Motley Fool, LLC. All rights reserved. The Motley Fool has a disclosure policy.