5 Signs Under Armour Inc. Needs New Management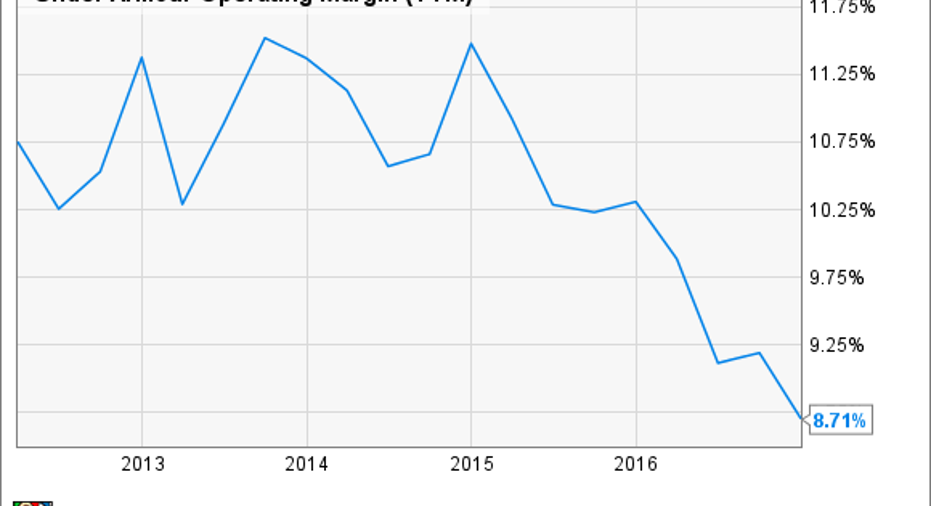 The past few quarters have been rough for Under Armour (NYSE: UA) (NYSE: UAA), the former high-growth darling of the sportswear and footwear industry. Its sales growth has been decelerating, and its margins have been contracting due to competition and excess inventory from the Sports Authority bankruptcy. That's why the stock plunged more than 50% over the past 12 months.
But amid those challenges, founder and CEO Kevin Plank has remained confident in Under Armour's long-term growth prospects. During lastquarter's conference call, Plank declared that Under Armour's "growth story is intact," and that its brand "is truly stronger than it's ever been."
Image source: Under Armour.
However, the company's abysmal performance over the past year suggests that it might fare better under a new leader. While it's technically impossible to remove Plank due to his voting power, letting another CEO lead the company could be a smart move. Let's take a look at five simple reasons Plank should take a time out.
1. Stopping the brain drain
Under Armour has lost a lot of key executives over the past two years. COO and CFO Brad Dickerson resigned inlate 2015. In 2016, chief merchandising officer Henry Stafford andchief digital officer Robin Thurston resigned. In January, CFO Chip Molloy, who had only held the position for a year, also stepped down.
The departures of so many key leaders during such a critical time indicate that there could be major issues with Plank's leadership. Therefore, bringing in a new leader to shift gears might prevent more key executives from departing.
2. Pointless and costly share class changes
Kevin Plank doesn't want outside investors to gain a significant voting share in his company. That's why he put the stock through several confusing ticker changes last year. First, UA approved non-voting Class C shares last March asa one-for-one dividend to Class A (retail investor) and Class B (Kevin Plank) shareholders.
But that caused a shareholder revolt, as investors claimed that the split diluted their stakes to help Plank maintain voting control. UA then settled the suit by paying a special $59 million dividend to Class C shareholders. But after that payment, the Class C shares underperformed Class A ones. To address those complaints, Under Armour renamed the Class A ticker to UAA, and the Class C shares to the classic UA ticker.
That entire mess didn't accomplish anything except protect Plank's voting stake and force UA to pay out an unintentional dividend. It also tells us that Plank is likely clashing with board members and investors behind the scenes -- which could be bad for the company's future.
3. All that "tech company" hype
Plank also frequently promotes Under Armour as a "tech" company. He notes that some of its apparel is made of high-tech fabric, and that the company has invested hundreds of millions of dollars on mobile apps like MapMyFitness, MyFitnessPal, and Endomondo. It secured a wearable partnership with HTC for its HealthBox bundlelast year, and developed connected apparel, footwear, and other workout products.
These "futuristic" products all appear to differentiate UA from the two heavyweights of the industry, Nike (NYSE: NKE) and Adidas (NASDAQOTH: ADDYY). But it's arguably just a marketing ploy to win over consumers and investors -- less than 2% of UA's revenues actually came from those widely hyped "Connected Fitness" products in 2016.
4. Its increasing dependence on footwear
Instead, Under Armour has become increasingly dependent on footwear, which generated over a fifth of its revenue last year. This market is a brutally tough one, which is dominated by Nike and Adidas, and has required UA to boost its marketing spend while reducing prices -- which has weighed down its operating margins over the past few years.
Source:YCharts
This casts a dark cloud over UA's future, since Nike and Adidas have much higher marketing budgets. To make matters worse, Adidas is currently executing a highly successful five-year turnaround plan to rotate its products more quickly, penetrate more urban markets, invest more heavily in e-commerce, and strengthen engagement campaigns with consumers, retailers, and partners.
As a result, Adidas' revenue growth has been accelerating, with 6% currency neutral growth in 2014, 10% growth in 2015, and 15% growth inthe first nine months of 2016. It's likely that some of those gains -- especially in North America -- came at UA's expense.
5. Over-promising and under-delivering
Lastly, Under Armour needs a leader who makes realistic promises. At the end of fiscal 2015, UA estimated thatits annual revenue would rise 25% to $4.95 billion in 2016. However, its 2016 revenue actually rose just 22% to $4.8 billion, and UA now expects sales to rise just 11-12% in 2017.
That slowdown casts doubts on Plank's claim that Under Armour can generate $7.5 billion in annual revenues infiscal 2018. Plank insists that the company is still on track to hit that target, but that would require its top line growth to accelerate to over 40% in 2018 -- which hardly seems realistic. Therefore, Under Armour needs a leader who sets realistic targets, instead of lofty ones that could severely burn investors.
10 stocks we like better than Under Armour (A Shares)When investing geniuses David and Tom Gardner have a stock tip, it can pay to listen. After all, the newsletter they have run for over a decade, Motley Fool Stock Advisor, has tripled the market.*
David and Tom just revealed what they believe are the 10 best stocks for investors to buy right now... and Under Armour (A Shares) wasn't one of them! That's right -- they think these 10 stocks are even better buys.
Click here to learn about these picks!
*Stock Advisor returns as of February 6, 2017
Leo Sun has no position in any stocks mentioned. The Motley Fool owns shares of and recommends Nike, Under Armour (A Shares), and Under Armour (C Shares). The Motley Fool has a disclosure policy.