5 Reasons to Buy Core Laboratories N.V. Now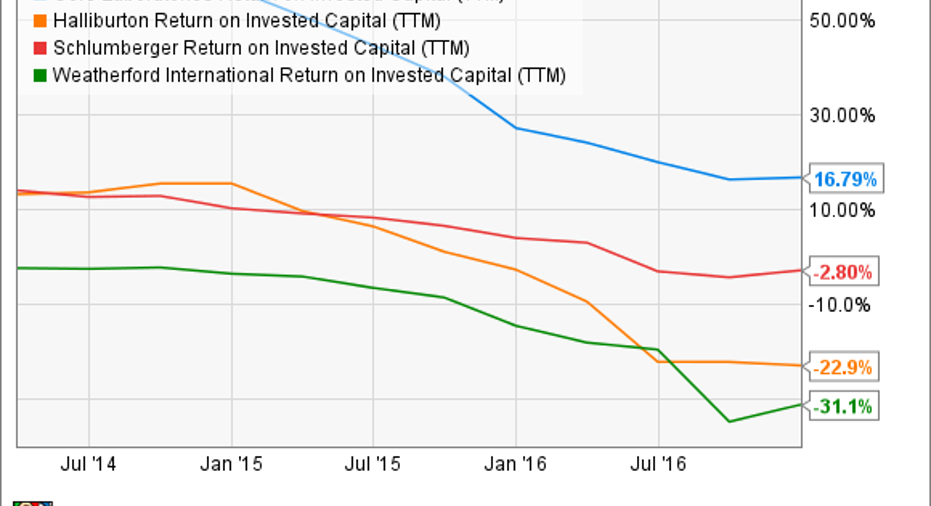 Over the past year, crude prices are up more than 20%. However, oil-field service company Core Labs (NYSE: CLB) hasn't participated in that rally. In fact, its stock is down about 4% over that same time frame even though its results have started to bounce back and it leads the sector in several key metrics. Here are five of the many reasons why now looks like an excellent time to buy this stock.
No. 1: The "V-shaped" recovery has already started to take hold
For months Core Labs has been preaching that a "V-shaped" recovery was about to unfold in the oil market. That prediction appears to be coming true. The company's fourth-quarter earnings release mentions that "as Core projected earlier this year, the Company's third quarter results established the bottom of the expected 'V-shaped' recovery that will continue into 2017." Fueling that firm belief is the view that the global crude oil market has become undersupplied due to declining legacy production and OPEC's output cuts. Because of that, Core expects oil inventories to continue to decline, which should drive energy prices higher throughout 2017.
Image source: Getty Images.
No. 2: Core's financial results have already started to rebound
That recovery has already materialized in Core's financial performance. After declining for several consecutive quarters, the company's revenue rose 3% last quarter, thanks to a 12% increase in U.S. land revenue. Earnings also increased, up 8% as a result of the higher revenue and expanding margins. The company expects this upward trend to continue in 2017 as a recovery in deepwater and international activity starts taking hold by the second half of this year. That recovery will be fueled by several projects announced recently. Overall, oil companies are expected to sanction more than twice as many major projects this year as last year.
No. 3: It leads the way in converting revenue to cash flow
Despite the challenging operating environment last year, Core Labs was a cash flow-generating machine, turning $0.20 of every dollar in revenue into free cash flow, which led the oil-field services sector. For perspective, leading oil-field service rivals Halliburton (NYSE: HAL) and Weatherford (NYSE: WFT) didn't generate any free cash flow last year. Though, Weatherford did turn $0.12 of every dollar of revenue in the fourth quarter into free cash flow, while Halliburton turned $0.18 of every dollar into free cash flow that quarter. Meanwhile, Schlumberger's (NYSE: SLB) free cash flow conversion rate was 9% for the full year.
No. 4: It sends most of that cash back to investors
Unlike other oil-field service companies that need to buy expensive equipment, Core Labs runs a rather asset-light business because its focus is on the technology side of things. Because of that, it typically sends the bulk of its cash back to investors via dividends and stock buybacks. While the company did sell some stock last year, it used the proceeds to repay roughly half of its outstanding debt and shore up its balance sheet, just in case industry conditions grew worse. However, with the downturn seemingly in the rearview mirror, Core recently restarted its stock-buyback program and will likely return an outsize portion of its growing stream of cash flow to investors as its financial results improve.
No. 5: It generates peer-leading returns, too!
Not only does Core Labs generate more cash flow per dollar of revenue than any other oil-field service company, but it leads the way in turning its investment dollars into tangible returns for shareholders. Evidence of this is the fact that it has the highest return on invested capital in the sector:
CLB Return on Invested Capital (TTM) data by YCharts.
In fact, as that chart shows, Halliburton, Schlumberger, and Weatherford have generated negative returns over the past year, which implies that they are eroding capital and shareholder value. The fact that Core Labs has done such an exceptional job generating returns throughout the downturn suggests that the company can do an even better job as conditions improve.
Investor takeaway
Both the oil market and Core Labs' financial situation have improved dramatically over the past year. About the only thing that hasn't improved is the company's stock price, which has surprisingly decreased in value. However, with the recovery just starting to gain momentum, the stock should eventually bounce back as a result, making now a great time to buy this top-tier oil-field service stock before it takes off.
10 stocks we like better than Core LaboratoriesWhen investing geniuses David and Tom Gardner have a stock tip, it can pay to listen. After all, the newsletter they have run for over a decade, Motley Fool Stock Advisor, has tripled the market.*
David and Tom just revealed what they believe are the 10 best stocks for investors to buy right now... and Core Laboratories wasn't one of them! That's right -- they think these 10 stocks are even better buys.
Click here to learn about these picks!
*Stock Advisor returns as of February 6, 2017
Matt DiLallo owns shares of Core Laboratories. The Motley Fool owns shares of and recommends Core Laboratories. The Motley Fool has a disclosure policy.