5 Reasons Marriott International Stock Looks Undervalued Now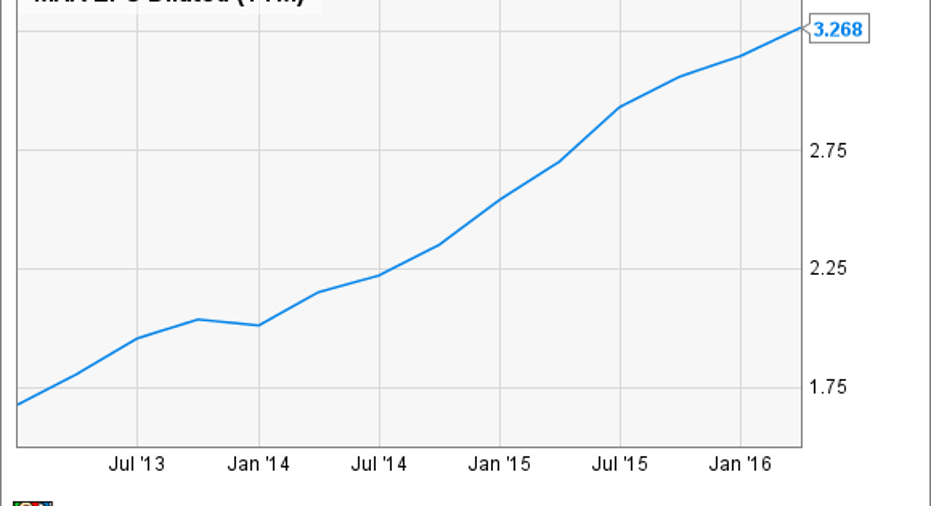 Despite increased global expansion, solid earnings, and a major new acquisition under way,Marriott International stock is still trading below analyst expectations and looks especially valuable now. Here are five reasons why:
1. The Starwood merger
Earlier this year, Marriott agreed to acquireStarwood Hotels in a deal valued at over $14 billion in stock and cash. Before theacquisition, Marriott was the second-largest hotel company in the world by number of properties and roomsbehind Hilton Worldwide . Once the Starwood acquisition completes, the new Marriott will be the largest hotel company in the world, with over 5,500 properties and 1.1 million rooms in more than 100 countries.
Image source: Marriott
With the acquisition, Marriott will now be more diversified, with more than 30 brands.There will be growing pains with the acquisition, such as assuring the integration of the two loyalty programs goes smoothly, and limiting the number of layoffs of those in duplicate roles. Those should be minor issues compared to the vast increase in operations and synergies between the two hotel giants, which had a combinedrevenue for full-year 2015 of more than $20 billion. Hilton's 2015 revenue was $11.3 billion.
The deal was recently cleared by European Union anti-competition regulators. However, the merger still needs approval in one key market: China. Marriott management is confident that it will get the green light there as well shortly, and once it does, then the merger should continue smoothly.
2. Solid EPS growth
Marriott has continued to steadily increase its earnings per share (EPS) over the last few years, nearly doubling since July 2013. For the first quarter of 2016, Marriott reported $0.87 EPS, up 19% year over year and above analyst expectations. Analysts now expect Marriott to post EPS of $3.73 for the full-year 2016, which would be about a 43% jump over full-year 2015.
MAR EPS Diluted (TTM) data by YCharts.
3. RevPAR growth
Revenue per available room (RevPAR) is a good metric to assess how efficiently and profitably a hotel is able to keep both occupancyand average daily rate high. If a hotel is able to charge a lot for rooms, but not able to keep them filled, orconverselyput rooms on sale to keep them filled, its RevPAR willsuffer.
Marriott increased its RevPAR 5% in 2015 over 2014, to an average of $132 per room worldwide. This was helped by a rise in both occupancy and average daily rate. Marriott expects RevPAR to continue growing by 3% to 5% year over year by the end of 2016 (not including the anticipated Starwood acquisition).
4. Global expansion
While higher RevPAR will help to drive higher revenue, even more important will be the more than 270,000 new rooms Marriott has in its development pipeline around the world. Marriott still has the majority of its properties in North America, but the company is intensely focused on increasing its footprint globally in important regions like Latin America, Africa, and especially China.
In 2014, Marriott acquired the African company Protea group, which included 117 properties in seven African countries, making Marriott the largest hotel brand on the continent.Marriott plans to expand that number further with an additional 40 properties in up to 13 African nations by 2020.Marriott management says that Latin America is "the youngest and fastest-growing region" for the company with almost 100 properties already open and nearly70under development.
As for China, the company is aggressively expanding in both the luxury and economical categories. Marriott recently signed a deal with China company Easter Crown Hotels to help bring 140 new Fairfield brand hotels to the region within five years, each with between 100 and 150 rooms.
5. Digital advancements
Marriott's mobile app which can be used as a room key. Image source: Marriott.
Marriott is putting an emphasis on making sure their business is keeping up with an advanced digital world and cultivating a younger consumer base. Marriott CIOBruce Hoffmeister is assuring that the company has the investment in mobile particularly.In 2015, Marriott launched a mobile app through which more than $1 billion in bookings were made.Marriott's mobile revenue grew 25% in 2015 year over year, and Hoffmeister said in an interview with The Wall Street Journal in May that he expects another big increase in 2016.
Marriott is now testing ways to allow customers to do much more than just book through their mobile device, including check in and out, pay through their mobile device or smartwatch, use the app as a key to enter hotel rooms, request services like concierge and room service, and more.
Marriott looks like a solid long-term buy
Marriott's stock is down nearly 10% over the last three months, which seems to be more from macro economic events such as Britain's Brexit decision and other events. Marriott's P/E is now just 20.5 times, compared to 23 times for the industry.With Marriott's solid earnings, the pending Starwood merger, and smart investments in global expansion and digital, Marriott looks like a solid long-term buy to take advantage of future growth.
The article 5 Reasons Marriott International Stock Looks Undervalued Now originally appeared on Fool.com.
Bradley Seth McNew owns shares of Marriott International. The Motley Fool owns shares of and recommends Marriott International. Try any of our Foolish newsletter services free for 30 days. We Fools may not all hold the same opinions, but we all believe that considering a diverse range of insights makes us better investors. The Motley Fool has a disclosure policy.
Copyright 1995 - 2016 The Motley Fool, LLC. All rights reserved. The Motley Fool has a disclosure policy.