5 Reasons Johnson Controls Is a Buy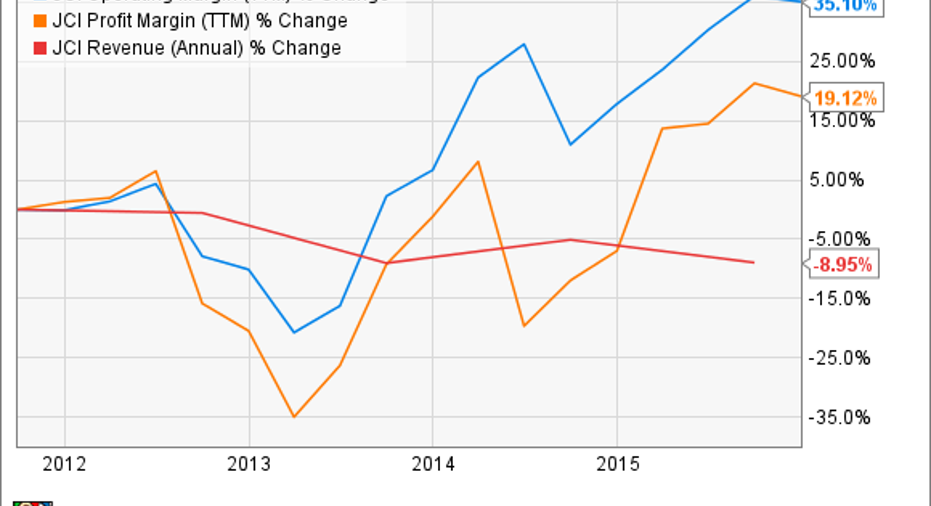 Source: pixabay.com.
With March coming in roaring, the winter landscape is melting into hints of color. That's not the only transformation under way. Johnson Controls , a company primarily associated with the automotive industry, is changing. Spinning off its auto interiors business, the company is executing a long-term plan to grow both its building efficiency and battery businesses. In addition, management plans a merger with Tyco International to expand its Internet of Things (IoT) presence. So with flowers beginning to bloom, now may be a good time for interested investors to brighten their portfolios and pick up some shares.Looks good from hereThough not a fire sale, shares of Johnson Controls appear inexpensive, trading about 25% lower than where they were 52 weeks ago -- during the same time, the S&P 500 is only down about 5%. There's no apparent cause for the precipitous decline. In fact, over the past five years, Johnson Controls' performance has been improving: net income is up more than 10% and the company has expanded its profit margin by nearly 20%.When stacked up against its peers, the company retains an attractive price tag. Falling between its larger competitors,Honeywell International and United Technologies , Johnson Controls sports a P/E below 17 times trailing earnings-- also a fair discount to its smaller competitor Ingersoll-Rand . Moreover, when stacking the company up against itself, the current price tag seems the most compelling. According to Morningstar, over the past 10 years, Johnson Controls has averaged a P/E of 25.89, considerably higher than the 16.46 multiple at which it is currently trading.
JCI P/E Ratio (TTM) data by YCharts
In terms of future earnings, the company is even more of a bargain, trading at less than 10 times forward earnings.As enticing as this seems, one should exercise caution -- looking only at P/E provides a limited perspective. Investors should not just consider a stock's valuation, they should also examine the company's performance as a business.... and hereOver the past five years, Johnson Controls has reported a nearly 9% drop on the top line. Although unfavorable, the inability to grow revenue should be taken in stride with how well the company has managed to improve its operational performance.
JCI Operating Margin (TTM) data by YCharts
During the same period, the company has managed to streamline its operations and derive more value from its sales. Management is optimistic that this trend will continue. In an investor presentation from last December, it stated that it hoped to expand its operating margin from about 6% in FY 2013 to about 11% in FY 2017. In part, management believes that its merger will Tyco will help bring this optimism to fruition, for it believes that the merger will yield about $500 million in operating synergies.
and from here ...While looking at large industrials, accounting for debt is a necessity since these are capital-intensive businesses. So looking at Johnson Controls from the perspective of its debt to equity is worthwhile to see how much management relies on debt to finance growth.
JCI Debt to Equity Ratio (Quarterly) data by YCharts
No red flags here. Compared to its peers, Johnson Controls appears fairly conservative. Management attributes a recent rise in debt (and a higher average debt level through FY 2016) to costs associated with a joint venture with Hitachi. However, the company forecasts that Hitachi will provide an additional $3 billion in revenue for FY '16.Doling out dividendsIn considering mature companies, investors must have realistic expectations. Johnson Controls, in business for over 130 years, has seen its days of rapid growth fade in the rearview mirror. Instead, the company offers stable growth and an attractive dividend -- especially compared with its peers -- which management intends to handle responsibly. In addressing the dividend policy and other capital allocation on its most recent earnings call, the company's chairman and CEO, Alex Molinaroli, said that he "would expect that we're going to make the right decisions as it relates to whether we return that to the shareholders or make investments."
JCI Dividend Yield (TTM) data by YCharts
Making consecutive payments since 1887, Johnson Controls has raised its dividend 35 times over the past 37 years. Over the past five years, the company has raised it about 60% from a quarterly payment of $0.18 in FY 2012 to $0.29 in FY 2016. Is this growth sustainable? Let the cash flowIt would appear so. One way to ascertain the safety of the dividend is to assess how much cash the company is generating. If a company is distributing cash to shareholders at a greater rate than it can generate it, the sustainability of the dividend is questionable.
JCI Free Cash Flow (TTM) data by YCharts
Here we see that not only does the company generate enough cash to cover its dividend increases, but it is doing so at a greater clip than its peers.The takeawayIn addition to looking attractively priced from several perspectives, the company's fundamentals also appear sound. Though this is a comprehensive look, interested investors should take a closer look before adding shares, which, at this price, seems like a pretty good bargain.
The article 5 Reasons Johnson Controls Is a Buy originally appeared on Fool.com.
Scott Levine has no position in any stocks mentioned. The Motley Fool owns shares of Johnson Controls,. Try any of our Foolish newsletter services free for 30 days. We Fools may not all hold the same opinions, but we all believe that considering a diverse range of insights makes us better investors. The Motley Fool has a disclosure policy.
Copyright 1995 - 2016 The Motley Fool, LLC. All rights reserved. The Motley Fool has a disclosure policy.