5 Reasons Advanced Micro Devices Inc. Stock Could Rise in 2017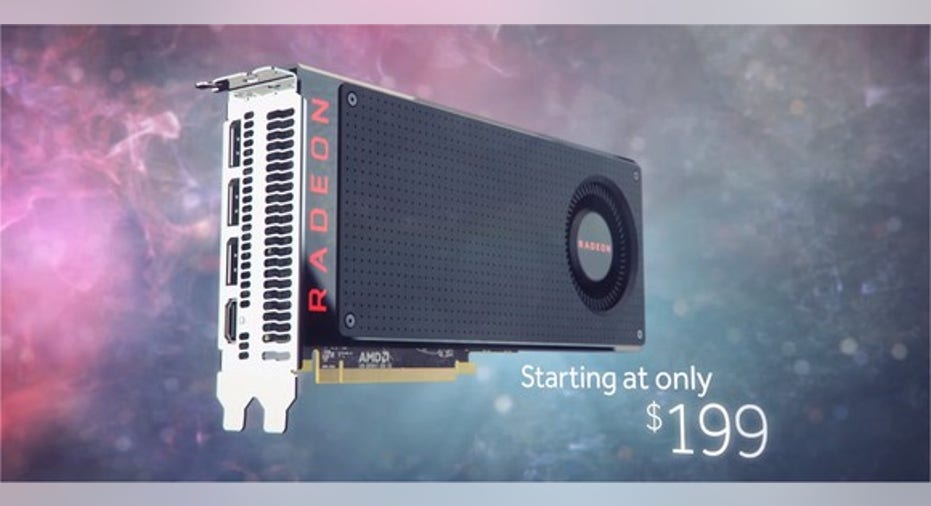 AMD (NASDAQ: AMD) has been one of the best performing tech stocks this year, surging over 230% and crushing the NASDAQ's 8% gain. However, these five catalysts could drive the stock even higher in 2017.
Image source: AMD.
1. Gaming console sales
AMD's turnaround in 2016 was fueled by robust sales of its semi-custom SoCs (system on chips) for Sony's PS4 and Microsoft'sXbox One. That turned the EESC (Enterprise, Embedded, and Semi-Custom) unit into its core pillar of growth, and offset declines at its Computing and Graphics unit.
That shift boosted AMD's quarterly revenue by8% annually during the second quarter this year (its first quarter of positive year-over-year growth in two years) and another 23% during the third quarter. That turnaround also lifted its non-GAAP earnings back into the black. Analysts now believe thatAMD can finish this year with 6% sales growth, compared to a 28% decline in 2015.
Console sales often wane after the first year, but Sony and Microsoft are both updating their consoles with slimmer form factors and beefier specs for 4K and VR gaming. These new versions should continue supporting AMD's EESC unit in 2017 and beyond.
2. Rising demand for VR ready PCs
Facebook'sOculus Rift and HTC's Vive piqued consumer interest in high-end VR games for PCs, but many current PCs aren't powerful enough for those headsets. The initial batch of "VR ready" PCs cost around $1,000, butAMD reduced that price to about $600 with its RX 480 graphics cards.
RX 480. Image source: AMD.
The Rift and Vive are still pricey, with respective price tags of $600 and$800, but those prices should come down next year as component prices decline and competition from mobile and console-based headsets heats up. When that happens, demand for AMD's low-end "VR ready" cards could rise and finally help it push back against market leader NVIDIA (NASDAQ: NVDA). However, NVIDIA is also eyeing the same market with competitively priced VR ready cards like the GTX 1060.
3. Vega's move into the high-end market
AMD also plans to launch itsnext-gen Vega GPUs in the near future. Leaked specs indicate that the Vega 10 will boast 12 teraflops of processing power, which outperforms the 11 teraflops squeezed out by NVIDIA's $1,200 GTX Titan X.
If AMD sticks with its strategy of selling cards at lower price points than NVIDIA, it might just win back some high-end users. But it's still a long road back -- research firm JPR claims that AMD controlled just 29% ofthe add-in board market in the third quarter, compared to NVIDIA's 71% share. NVIDIA also spent 44% more on R&D than AMD last quarter, indicating that it could quickly match the Vega challengers with its own next-gen chipsets.
4. Challenging Intel again
Over the past few years, AMD was marginalized in the x86 CPU market by Intel (NASDAQ: INTC). AMD offered cheaper chips, but Intel's Core CPUs crushed AMD's in terms of single-threaded performance (which is crucial for high-end gaming). According to PassMark GPU benchmarks, Intel CPUs now account for 83% of the x86 market, while AMD CPUs account for17%. That loss of market share, exacerbated by sluggish demand for PCs, caused AMD's x86 business to become a dead weight.
However, AMD doesn't plan to simply surrender this market to Intel. Its long-awaited Zen CPUs, which arescheduled to arrive early next year, promise to offer better single-threaded performance for game engines and improved multi-threaded performance for newer graphics APIs. Depending on how competitively they're priced against Intel's high-end Core i5 and i7 offerings, the Zen might help AMD finally regain some lost market share in the tough x86 market.
5. Being acquired by a bigger company
AMD is constantly cited as a potential takeover target for bigger chipmakers. Its enterprise value of $8.4 billion is fairly low compared to other chipmakers, and it's the only remaining licensee of x86 chips.
Intel, Qualcomm, Broadcom, Oracle, and even Microsoft were named aspotential suitors before, butno concrete talks have ever emerged. With the semiconductor market consolidating rapidly and AMD's finances improving, a hostile bidding war could theoretically erupt over the chipmaker in the near future. If that happens, we could see some big premium offers since AMD only trades at 2 times sales. By comparison, Intel and Qualcomm respectively have P/S ratios of 3 and 4.
The bottom line
At the beginning ofthe year, I questioned AMD's ability to survive its market share losses, sales declines, and rising debt. But under CEO Lisa Su, the chipmaker wisely used robust growth in its EESC unit to support the development of new chipsets to challenge NVIDIA and Intel. While it will still be tough to reclaim market share from those bigger rivals, AMD has given investors fresh hope that its stock could keep rising over the next few years.
10 stocks we like better than Advanced Micro Devices When investing geniuses David and Tom Gardner have a stock tip, it can pay to listen. After all, the newsletter they have run for over a decade, Motley Fool Stock Advisor, has tripled the market.*
David and Tom just revealed what they believe are the 10 best stocks for investors to buy right now... and Advanced Micro Devices wasn't one of them! That's right -- they think these 10 stocks are even better buys.
Click here to learn about these picks!
*Stock Advisor returns as of Nov. 7, 2016
Leo Sun owns shares of Qualcomm. The Motley Fool owns shares of and recommends Facebook, Nvidia, and Qualcomm. The Motley Fool owns shares of Microsoft and Oracle. The Motley Fool recommends Broadcom and Intel. Try any of our Foolish newsletter services free for 30 days. We Fools may not all hold the same opinions, but we all believe that considering a diverse range of insights makes us better investors. The Motley Fool has a disclosure policy.