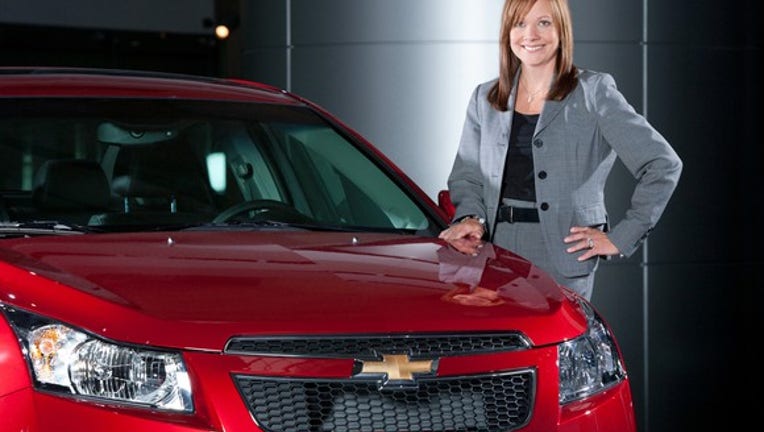 General Motors (NYSE: GM) CEO Mary Barra has led the automaker since 2014, and in that relatively short period of time, she's put her stamp on the way that the century-old vehicle manufacturer does business. With the pace of innovation and globalization still accelerating, GM has had to adapt quickly, and Barra has done a good job of leading the automaker forward to help produce record sales years for the industry. In particular, these five things that Barra has said reveal a lot about the future direction for General Motors and the auto industry, as a whole.
1. On autonomous vehicles
Barra is excited about the prospects for autonomous vehicles in the near future, and she's adamant that General Motors must play a leadership role in the space. The company's Cruise Automation unit in San Francisco is looking to expand, and Barra believes that the facility's location will give it access to top talent in the Bay Area to help drive the program forward. With the recent announcement of the Super Cruise hands-free highway driving system, GM is staking its claim to what will be a rapidly growing market in the years to come.
GM CEO Mary Barra. Image source: General Motors.
2. On connectivity and entertainment in vehicles
General Motors was a first mover with its OnStar system, and the automaker has done its best to leverage the lead that it built through that initial connectivity offering. Since then, vehicle owners have asked for greater levels of connectivity, whether it be voice and data access for business drivers on the go, or streaming audio and video opportunities for passengers. Barra knows the importance of keeping the driving experience both practical and fun, and GM will keep working to enhance its in-vehicle offerings to keep its customers loyal.
3. On the ride-sharing revolution
Many have seen ride-sharing services as a threat to General Motors and other automakers, as the ability to share vehicles might lead some would-be buyers to choose, instead, to use services like Uber and Lyft, and never buy their own cars. GM hasn't tried to thwart that trend; instead, it's looking to take advantage of changing consumer preferences through a close partnership with Lyft. By working with ride-sharing rather than trying to stop it, General Motors hopes it can sustain and enhance its brand's value and eventually win over more customers if their needs change and they suddenly require their own personal vehicles.
4. On being the first woman to lead a major automaker
Barra is the first woman to be CEO of a major player in the auto industry, but she's not interested in defining herself that way. Instead, she has stressed how women shouldn't go out of their ways to hurt their own career paths. Rather than deciding early on that the need to balance family and work life will make ambitious career aspirations impractical, Barra believes that women shouldn't pull themselves out of the fast track prematurely. By remaining open to various possibilities, the General Motors CEO believes that women can take advantage of opportunities that arise, and capitalize on them.
5. On GM's leadership role
When times change, many established industry players tend to dig in and defend their existing turf rather than look for ways to innovate. But Barra has resisted any such impulse at General Motors, instead seeking to expand its leadership role and define the course forward for the entire industry. By staying at the forefront of change, GM avoids the risk of being left behind, and Barra wants to make sure that never happens.
Mary Barra has been a pioneer at General Motors, and the automaker will continue to play a pivotal role in the future of the global auto industry. Under Barra's direction, GM has the opportunity to take advantage of its leadership position and continue to drive innovation in the years to come.
10 stocks we like better than General MotorsWhen investing geniuses David and Tom Gardner have a stock tip, it can pay to listen. After all, the newsletter they have run for over a decade, Motley Fool Stock Advisor, has tripled the market.*
David and Tom just revealed what they believe are the 10 best stocks for investors to buy right now... and General Motors wasn't one of them! That's right -- they think these 10 stocks are even better buys.
Click here to learn about these picks!
*Stock Advisor returns as of May 1, 2017
Dan Caplinger has no position in any stocks mentioned. The Motley Fool has no position in any of the stocks mentioned. The Motley Fool has a disclosure policy.