5 Must-See Quotes From UnitedHealth Group's CEO on Obamacare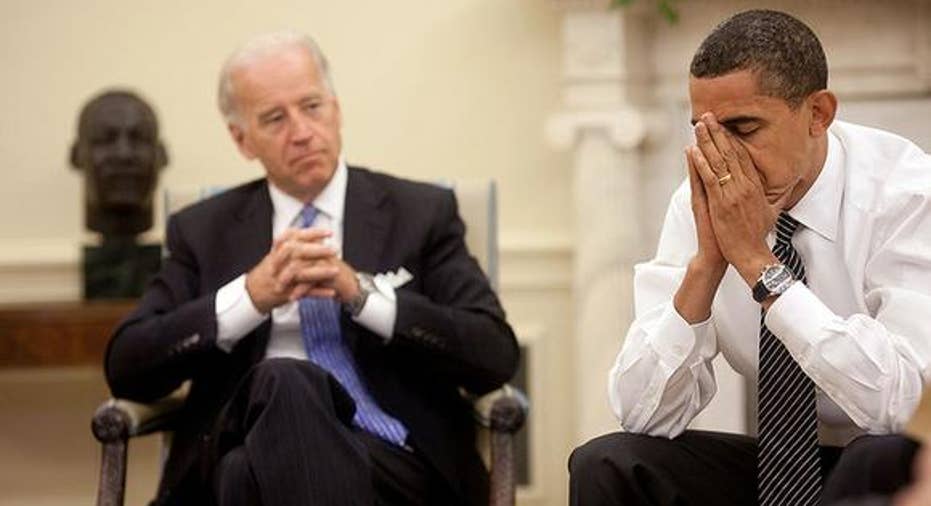 Image source: White House on Flickr.
The Patient Protection and Affordable Care Act, which you probably know best as Obamacare, has been a controversial law since day one. Yet, in spite of proponents and opponents bickering about its benefits and shortcomings, the law has hit on its primary goal of lowering the total number of uninsured people.
The Centers for Disease Control and Prevention's first-quarter data showed that 9.2% of adult Americans were currently uninsured, inclusive of Medicare enrollees. That's the lowest uninsured rate on record. Enrollment data from the Centers for Medicare and Medicaid Services at the end of June concurred with this assessment, as nearly 9.95 million people were paying customers via Obamacare's marketplace exchanges.
Must-see quotes from UnitedHealth Group's CEO However, as we recently learned when the nation's largest health-benefits provider, UnitedHealth Group , issued a downside revision to its full-year profit guidance, Obamacare's marketplace exchanges may not be a sustainable platform.
UnitedHealth's press release painted a picture of red ink for the company's marketplace plans, and suggested that it could pull out of Obamacare's exchanges beginning in 2017. Should it do so, more than 500,000 enrollees would be forced to seek out a new provider and potentially a new primary care physician. UnitedHealth also announced that it was paring back its advertising for 2016 in the hope of minimizing its exchange-based losses. This Obamacare bombshell came just days before UnitedHealth Group was to hold its annual investors-day conference. That event took place yesterday; here are the five quotes from UnitedHealth's CEO Stephen Hemsley that you absolutely must see.
Image source: Flickr user Vic.
There aren't any rays of sunshine
Perhaps the biggest keynote of Hemsley's opening remarks to investors concerning Obamacare is that absolutely nothing seems to be going right. Admittedly, UnitedHealth isn't giving Obamacare a lot of time to evolve, but the simple fact remains that consumers have far too much flexibility to change plans, and people who are enrolling for care are seeking medical care far more than insurers had anticipated. Long story short, UnitedHealth's losses from its Obamacare exchanges are expected to adversely impact its 2015 and 2016 full-year profits.
There's no single factor to blame
An interesting point by Hemsley is that there's not a single factor you can point your finger to that perfectly encompasses why the Obamacare exchanges aren't working for UnitedHealth Group. This is because the marketplace dynamics are still evolving. New health-benefit providers are still playing with their premium prices to determine what's optimal, and consumers are still adjusting to the purchasing process. It's likely going to take many more years before any concrete conclusions about the success or failure of Obamacare can be reached.
Image source: Pictures of Money via Flickr.
Taking the blame
It's a smart move, in my opinion, for Hemsley to put the onus of blame for UnitedHealth's recent woes on himself, and it gave the CEO a chance to pivot the discussion to UnitedHealth's non-Obamacare segments, which are actually performing quite well. Addressing the company's problems early, and being forthcoming, goes a long way with investors and Wall Street -- especially if its issues are easily fixable by simply pulling out of most, or all, of Obamacare's exchanges.
Keep this in mind
Although UnitedHealth's commentary suggests that there have been no rays of sunshine when it comes to its Obamacare plans, Hemsley's remarks imply that a complete pullout may not be likely, either. It's possible that there will be viable market opportunities for UnitedHealth in 2017, but it'll probably be much choosier about where it prices its plans.
Additionally, it's worth noting that UnitedHealth has been choosy about entering new markets before, only to have them turn out to be quite profitable. In 1999, UnitedHealth pared back its Medicare Advantage offerings after finding the market to be challenging. Today, however, Medicare Advantage comprises around a quarter of UnitedHealth Group's annual revenue, and it's a very profitable segment for the company. In time, it's possible Obamacare could be profitable for UnitedHealth, too, and it's willing to keep its eyes open for a shift in the market dynamics surrounding Obamacare's exchanges.
Image source: Flickr user Day Donaldson.
Obamacare isn't critical to our success
Lastly, Hemsley hammered home the point, once again, that UnitedHealth's business doesn't revolve around Obamacare. For UnitedHealth, Obamacare represents a low single-digit percentage of revenue, and while it would take a top-line hit by removing itself from some, or all, of the exchanges it's currently operating in beginning in 2017, it should actually see a medical-loss ratio decline, which would be beneficial to its profitability.
Ultimately, UnitedHealth may have been a little naive rushing into the exchanges as early as it did, just as it may be prematurely leaving without giving the marketplaces much of an opportunity to find an equilibrium. Still, the move to back away from a losing venture is almost always a smart one for insurers, and investors should feel pretty confident following the investors-day conference that UnitedHealth Group has a bright future.
The question that still needs to be asked, on a broader note is, "If UnitedHealth, the nation's largest insurer, is struggling on Obamacare's marketplace exchanges, then what chance do smaller insurers have of succeeding?" Only time will give us this answer.
The article 5 Must-See Quotes From UnitedHealth Group's CEO on Obamacare originally appeared on Fool.com.
Sean Williamshas no material interest in any companies mentioned in this article. You can follow him on CAPS under the screen nameTMFUltraLong, track every pick he makes under the screen nameTrackUltraLong, and check him out on Twitter, where he goes by the handle@TMFUltraLong.The Motley Fool recommends UnitedHealth Group. Try any of our Foolish newsletter services free for 30 days. We Fools may not all hold the same opinions, but we all believe that considering a diverse range of insights makes us better investors. The Motley Fool has a disclosure policy.
Copyright 1995 - 2015 The Motley Fool, LLC. All rights reserved. The Motley Fool has a disclosure policy.