5 Must-Read Quotes from Synaptics, Inc.s Management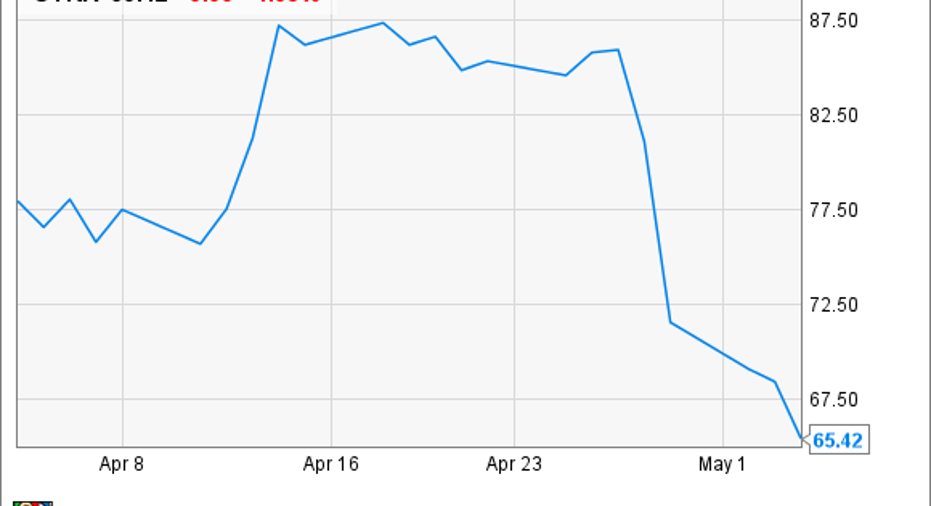 Image credit: Synaptics.
After announcing disappointing quarterly results and guidance that fell substantially short of expectations, shares of human interface technology specialist Synaptics (NASDAQ: SYNA) plunged.
It's not hard to see why, too. The company reported revenue of $402.5 million, broadly missing the company's previously issued guidance of between $430 million and $470 million.
To make matters worse, the company is looking for just $300 to $340 million in sales for the current quarter, which widely missed consensus expectations of $478.6 million.
Although the headline numbers were far from ideal, there's more to the story worth considering.Here are five quotes from Synaptics' most recent earnings call that investors that shed some additional light on the company's business.
High-end smartphone weakness taking its tollAccording to CEO Rick Bergman, the company saw a "precipitous drop in order levels within the smartphone market, specifically centered around [Synaptics'] display driver customers."
Bergman went on to blame this shortfall on "ongoing macroeconomic issues in the high end smartphone market."
It's worth noting that Apple (NASDAQ: AAPL) is known to be a major customer of Synaptics' display driver chips.
As if weak end-demand for iPhones weren't bad enough for Apple and its suppliers, the iDevice maker signaled to investors on its most recent earnings call that it plans to burn off more than $2 billion worth of channel inventory (with much of it being higher end iPhone inventory).
It's no surprise that the portion of Synaptics' display driver business that's tied to the high-end of the smartphone market is suffering a material near-term setback.
Adding some additional color to this, CFO Wajid Ali indicated that "more than half" of the shortfall that Synaptics is guiding to in its current quarter "is coming from [Synaptics'] display driver business." Ali also said that a "smaller amount" of the aforementioned shortfall is attributable to the company's "high-end smartphone business, primarily as it relates to touch."
A "temporary pause" in growthBergman says that the company views the fiscal third quarter miss and ugly fiscal fourth quarter guidance as a "temporary pause" in the company's growth.
Bergman continued, stating that Synaptics management is "anticipating normal seasonal patterns to return in the second half of the calendar year." Given that Apple is expected to launch new flagship iPhone models in September, and since Apple is likely to use newer display drivers in the new models, Synaptics should undoubtedly benefit from the ramp of these new phones.
Fingerprint authentication business is boomingOne area that Synaptics has been investing heavily in, particularly since its acquisition of Validity Sensors, is fingerprint authentication solutions for smartphones (i.e. "Touch ID" clones). Bergman said that the company has "secured double-digit fingerprint design wins from new customers in Asia and posted record quarterly revenues for this business.
"We've been very pleased that our fingerprint sensors have been designed into over 20 phones including several new Asian customers," Bergman noted.
It appears as though Synaptics' bet on Validity Sensors, and the proliferation of fingerprint authentication technology in the broader smartphone market, is paying off quite nicely.
ClearForce products gaining tractionBergman also highlighted the company's ClearForce pressure-sensing technology -- a clone of Apple's 3D Touch technology.
The executive talked up what appears to be the first publicly announced design based on ClearForce -- the Meizu Pro 6 smartphone -- and told investors to expect "a growing base of customers to implement [Symaptics'] ClearForce offerings over the course of the calendar year."
I suspect that as smartphone vendors aim to mimic Apple's 3D Touch functionality, Synaptics' ClearForce business should enjoy a similar trajectory to its fingerprint authentication business -- up substantially for a while to come.
The article 5 Must-Read Quotes from Synaptics, Inc.s Management originally appeared on Fool.com.
Ashraf Eassa has no position in any stocks mentioned. The Motley Fool owns shares of and recommends Apple. Try any of our Foolish newsletter services free for 30 days. We Fools may not all hold the same opinions, but we all believe that considering a diverse range of insights makes us better investors. The Motley Fool has a disclosure policy.
Copyright 1995 - 2016 The Motley Fool, LLC. All rights reserved. The Motley Fool has a disclosure policy.