5 Hidden Highlights From Nordstrom Inc.'s Annual Report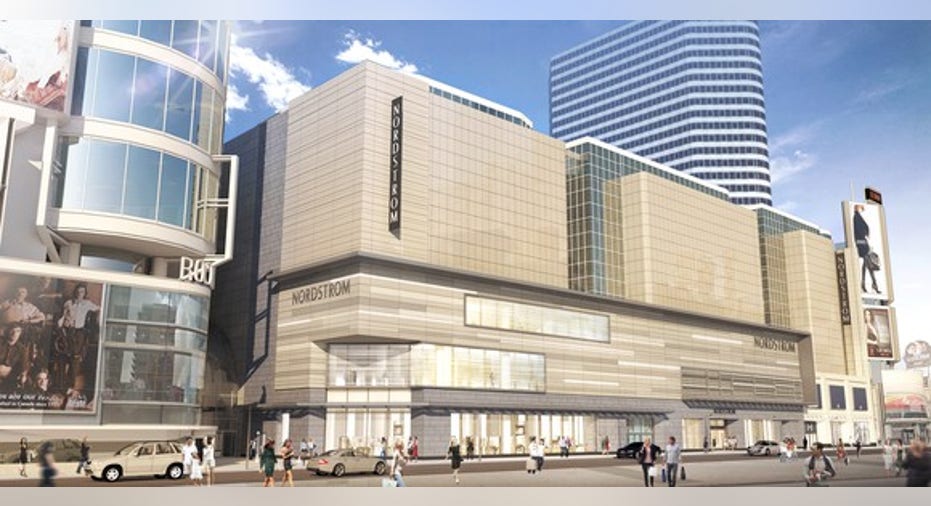 After several years of being a Wall Street darling, Nordstrom (NYSE: JWN) has fallen out of favor since 2015 as it has been hit by some of the same negative trends that have hurt the department store sector as a whole.
Nordstrom's recently released annual report confirms some of the bad news that has been making the rounds. That said, there were also some nice surprises for investors hidden within the report. Let's take a look at five important highlights.
Nordstrom has been hurt by falling mall traffic recently. Image source: Nordstrom.
Nordstrom ramped up its buyback program last month
During fiscal 2016, Nordstrom spent a fairly modest $277 million on share repurchases. However, the company ended the year with $1 billion of cash on hand, giving it plenty of ammunition to return more cash to shareholders this year.
With Nordstrom's stock price having fallen recently, management is doing just that. Between Jan. 28 and March 1, the company bought back $120 million of stock. As of March 1, Nordstrom's board had authorized an additional $500 million of share repurchases through Aug. 31, 2018.
If Nordstrom is able to build on its strong 2016 cash flow performance -- free cash flow was $550 million last year -- it could potentially complete the new buyback program by the end of fiscal 2017. Based on Nordstrom's current $7 billion market cap, this would be enough to reduce its share count by an additional 7%.
Canada is becoming meaningful
Nordstrom has invested heavily over the past five years to enter the Canadian market. The company's operations in Canada are finally starting to contribute a meaningful amount of revenue. Nordstrom's sales in Canada totaled roughly $300 million in 2016.
Last fall, Nordstrom opened two new Canadian stores, including a flagship store in downtown Toronto, bringing its store count in Canada to five. Nordstrom will open a sixth store in Canada this fall. The impact of this ongoing store expansion could help Nordstrom reach $500 million in revenue from Canada this year.
Nordstrom opened a flagship store in downtown Toronto last fall. Image source: Nordstrom.
Nordstrom's Canadian operations aren't profitable yet, due to the expense of opening new full-line stores. However, with no additional full-line stores planned after this year (at least for the next few years), Nordstrom should turn profitable in Canada soon.
Full-line store productivity is sinking
Nordstrom's domestic full-line stores remain quite profitable. However, that profitability is being undermined by falling sales per square foot.
In 2016, four-wall sales per square foot for Nordstrom's full-line stores plummeted 6.5% year over year to $346. That's the lowest level since at least 2010 and a full 10% below the recent peak of $385 reached in fiscal 2012.
Nordstrom still has significantly higher sales per square foot than most department stores. However, that is largely driven by the fact that most Nordstrom stores are located on prime real estate. Sales per square foot will probably decline again in 2017. If this trend continues, it may turn out that the real estate under Nordstrom's stores is worth more than the full-line business itself.
Gift card sales are surging
One piece of encouraging news in Nordstrom's annual report is that gift card sales are surging. At the end of fiscal 2016, Nordstrom had $389 million of outstanding gift card liabilities, up from $327 million a year earlier and $255 million at the end of fiscal 2013.
Nordstrom won't recognize revenue from these gift cards until they are redeemed. Thus, this gift card liability effectively represents guaranteed future sales. The accelerating growth in gift card sales stands in stark contrast to the company's slowing revenue growth and shows that people still see Nordstrom as a highly attractive brand.
Borrowing costs are about to decline
Nordstrom has a very good credit rating. Nevertheless, it does have a significant debt load, with about $2.8 billion of outstanding debt at the end of fiscal 2016. The company's net interest expense totaled $121 million last year, which was significant relative to its adjusted operating income of roughly $1 billion.
However, Nordstrom will get some interest expense relief starting in 2017. Next month, it will redeem $650 million of long-term debt that carries a 6.25% interest rate. It is being refinanced with new debt at lower interest rates. As a result, Nordstrom's annual interest expense will decline by about $11.6 million going forward, providing a small but sustainable earnings boost.
10 stocks we like better than NordstromWhen investing geniuses David and Tom Gardner have a stock tip, it can pay to listen. After all, the newsletter they have run for over a decade, Motley Fool Stock Advisor, has tripled the market.*
David and Tom just revealed what they believe are the 10 best stocks for investors to buy right now... and Nordstrom wasn't one of them! That's right -- they think these 10 stocks are even better buys.
Click here to learn about these picks!
*Stock Advisor returns as of February 6, 2017
Adam Levine-Weinberg owns shares of Nordstrom. The Motley Fool recommends Nordstrom. The Motley Fool has a disclosure policy.