5 Dates for Disney Investors to Circle in December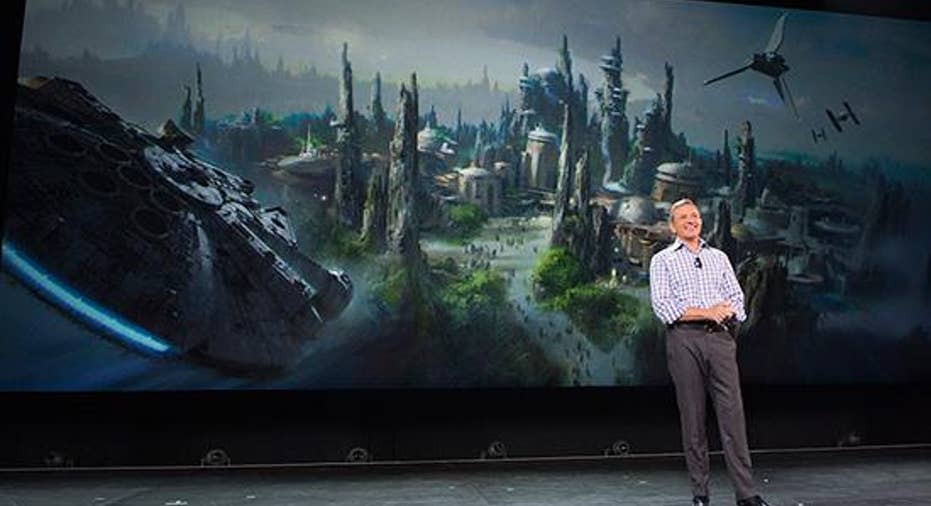 Image source: Disney.
It's going to be a big month forDisney. Obviously this is the month when Star Wars: The Force Awakens opens, but there's a lot more going on at the media giant than just the seventh installment of the colossal franchise.
Let's take a look at a few of the days that should turn heads at the House of Mouse.
Dec. 1We may as well start with today. Star Wars Launch Bay opened at Disney's Hollywood Studios. This is Disney World's least-visited park, but Star Wars is a major part of the strategy to boost its sluggish attendance levels.
Star Wars Launch Bay may not seem very exciting. There are no rides. It's just movie props and exhibits. However, a major attraction is the ability to have a photo taken with Chewbacca and Darth Vader. The initial wait for both experiences shortly after this morning's debut was more than an hour for each experience. Expect this to be a popular attraction all month long.
Dec. 8Ant-Man may have been one of the least successful Marvel movies under Disney's watch, but it's all relative when it comes to Marvel releases. Ant-Manstill topped $180 million in domestic ticket sales, eventually ringing up $518.5 million worldwide.
Now it's time to see how it fares in the video market. Ant-Man will be out on DVD and as a digital download a week from today.
Dec. 15If Ant-Man was weak relative to Marvel's string of blockbusters, this summer's Fantastic Fourreboot fared even worse. It rang up just $56 million in stateside ticket sales and $168 million worldwide. The good news for Disney is that it wasn't the studio behind the big-budget bomb. Fox has held on to movie rights to that particular movie franchise.
Fantastic Four hits the home video and DVD market two weeks from today. Fox is the one on the hook for the dud, but Disney naturally continues to collect royalties on the franchise. It's always possible that the movie finds an audience after flopping at the movie theater, but that's not likely to happen.
Dec. 18There's a little movie called Star Wars: The Force Awakens opening at your local multiplex on Dec. 18. Many of the initial screenings have already sold out, something that doesn't happen very often. There's a good chance that this becomes the highest-grossing movie of all time, but that wouldn't be very surprising.
Late DecemberThere's a new restaurant opening this month at Disney World's Magic Kingdom. Jungle Navigation Co., Ltd. Skipper Canteen is currently in construction at the park's Adventureland area, just a few steps away from the classic Jungle Cruise ride.
The Jungle Cruise-themed restaurant will have unique dining rooms, and the staff will be donning Jungle Cruise Skipper costumes, so you can be sure that there will be plenty of puns in play. Disney announced this summer that it would open in late 2015, and if that doesn't change, that means that the new themed restaurant will open later this month.
The article 5 Dates for Disney Investors to Circle in December originally appeared on Fool.com.
Rick Munarriz owns shares of Walt Disney. The Motley Fool owns shares of and recommends Walt Disney. Try any of our Foolish newsletter services free for 30 days. We Fools may not all hold the same opinions, but we all believe that considering a diverse range of insights makes us better investors. The Motley Fool has a disclosure policy.
Copyright 1995 - 2015 The Motley Fool, LLC. All rights reserved. The Motley Fool has a disclosure policy.