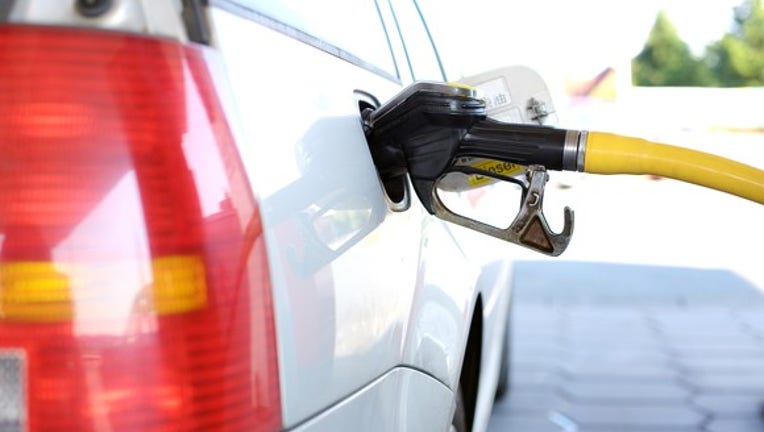 "Money may not buy happiness, but I'd rather cry in a Jaguar than on a bus." -- Francoise Sagan
Automobiles are part of America's history and culture, and while electric and hybrid vehicles are growing in acceptance and prevalence, most of us are still buying a lot of gas each year. Thus, you might be a little unsettled to hear that the folks at AAA Mid-Atlantic are estimatingthat the price of gas will rise between $0.30 and $0.60 per gallon this summer.
Image source: Getty Images.
The best way to deal with gas prices is to use a credit card that helps you save money on it, by paying you cash back or rewards. Here are some of the best credit cards for your consideration:
BankAmericard Cash Rewards
This card offersa hefty 3% cash back on your gas purchases, along with 2% back on spending at supermarkets and wholesale clubs and 1% back on everything else. It charges no annual fee, which is a big plus. (A card that paid you 3% back and charged an annual fee of $95 essentially would have you waiving your cash back on your first $3,167 in spending.) The card is not great, though, if you spend a lot at gas stations and supermarkets and wholesale clubs, because it caps those 3% and 2% rewards at $2,500 per quarter (which is about $830 per month). Exceed the limit and you'll only earn 1% back. Folks with BankAmerica checking or savings accounts can get an extra 10% if they have their cash back deposited with BankAmerica. Those who are Bank of America Preferred Rewards customers can earn bigger bonuses of between 25% and 75%. The card also offers a $100 reward once you charge $500 in your first 90 days. (Read ourfull reviewof BankAmericard Cash Rewards to learn more.)
Blue Cash Preferred Card from American Express
For the right cardholder, this card can deliver a lot of cash back. Its main offering is 6%cash back at supermarkets (on up to $6,000 in annual spending, after which it becomes 1% cash back), 3% cash back at gas stations, and 1% cash back on everything else. If you spend $6,000 or more at the supermarket (that's about $115 per week), you're looking at $360 or more in cash back just for that. The card does sport a $95 annual fee, but many people will find it well worth that. If you're not one of those, you might prefer the Blue Cash Everyday Card from American Express, which chargesno annual fee and offers 3% back at the supermarket, 2% back at gas stations, and 1% back on everything else. The card also has a special offer in effect as of this writing: If you apply by May 3, 2017, you can earn 10% back on what you spend at U.S. restaurants in the first six months -- up to earnings of $200. On top of that, you can earn $150 if you spend $1,000 on the card in your first three months. (Read our full review of the Blue Cash Preferred from American Express to learn more.)
PenFed Platinum Rewards
PenFed (short for Pentagon Federal) is a credit union, requiring you to be a member (and keep an active account) before you can take advantage of its offerings. Fortunately, it's not hard to become a member. If you're not in the military and don't qualify in any of several other ways, such as working for or belonging to certain organizations, you can simply join either Voices for America's Troops or the National Military Family Organization by payingdues that were recently just $17. What does that getyou when it comes to gas? A whopping 5 points per dollar spent at gas stations, that's what. (Plus 3 points for supermarket spending and 1 point for everything else.) That translates to about 4.25% in cash back for gas. Until June 30, 2017, new cardholders who charge at least $1,500 in purchases in their first three months will get a $100 statement credit. There's no annual fee if you meet certain requirements.
Costco Anywhere
The Costco Anywhere card is only available to Costco members, and memberships start at $55for a household. For members, though, this card's gas benefits are hard to beat. You can enjoy a substantial 4%back on gas spending -- and you'll save even more if you buy your fuel from Costco itself, which sports very competitive gas prices. The card also offers 3% back on travel and restaurant spending, 2% back on purchases at Costco (and Costco.com), and 1% back on everything else. If you travel a fair amount and eat out a lot, you can really clean up with this card. (The gas rewards are capped at $7,000 in annual spending, which is $583 per month or $135 per week. Surpass $7,000 and you'll receive 1% back.) There's no annual fee as long as you have your Costco membership, and your earnings are redeemable for cash or merchandise at Costco stores.
Citi Double Cash Card
The Citi Double Cash Card pays2% back on all your spending -- 1% when you make a purchase and then another 1% when you pay off that sum. That's clearly not the best cash-back deal you can get for gas spending, but if you're getting 2% back on everything, that can beat an arrangement where you get 3% or 4% back on gas and 1% back on most other spending. There's no annual fee. (Read our full review of the Citi Double Cash Card to learn more.)
Note that each of these cards is generally great for many people -- but will vary in how perfect it is for you. Learn more about these contenders to see which one(s) make the most sense for you, given your needs, your preferences, and your spending habits. Spend a little time estimating how much you spend on gas and other categories, and see which card will pay you the most.
5 Simple Tips to Skyrocket Your Credit Score Over 800!Increasing your credit score above 800 will put you in rare company. So rare that only 1 in 9 Americans can claim they're members of this elite club. But contrary to popular belief, racking up a high credit score is a lot easier than you may have imagined following 5 simple, disciplined strategies. You'll find a full rundown of each inside our FREE credit score guide. It's time to put your financial future first and secure a lifetime of savings by increasing your credit score. Simply click hereto claim a copy 5 Simple Tips to Skyrocket Your Credit Score over 800.
Selena Maranjian owns shares of American Express and Costco Wholesale. The Motley Fool owns shares of and recommends Costco Wholesale. The Motley Fool recommends American Express. The Motley Fool has a disclosure policy.