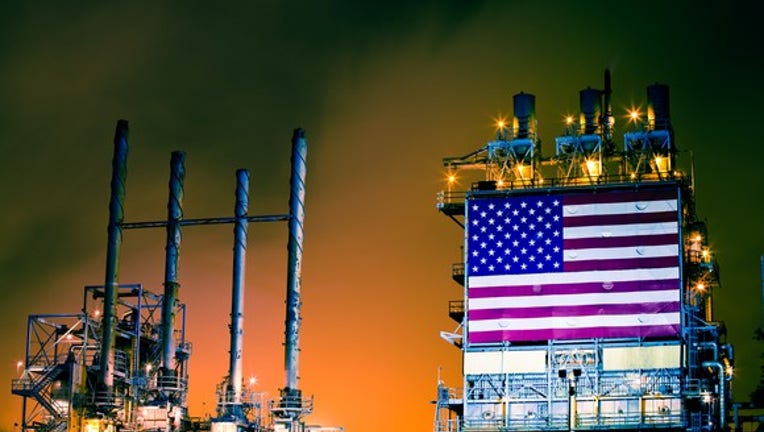 President-elect Donald Trump is determined to re-energize manufacturing in America. At the heart of his campaign lay proposals to renegotiate trade deals and implement policies directed at helping blue-collar America, rather than serving the interests of the global elite. While the ultimate repercussions of such policies on US and global growth are unclear, it's fair to say the aim is a relative shift toward manufacturing in the US. So let's take a look atfive stocks set to benefit from his presidency.
Union Pacific Corporation is likely hoping that President-elect Trump can increase US coal production. Image source: Union Pacific Corporation website.
Since we don't know if Trump's policies will lead to an overall reduction in global growth, it makes sense to focus on companies directly exposed to US manufacturing.
Data source: Company reports. Analysis and chart by author.
As you can see below, these stocks are having a good 2016 so far, and each one received a boost upon Trump's triumph.
Union Pacific Corporation & CSX
Having looked atUnion Pacific at the start of the year, it's clear the railroad's upside potential in 2016 lay with higher energy prices, a better market for agricultural crops, and the hope that strength in certain end markets (autos, construction) would help offset any weakness in coal and energy.
While it's fair to say neither Union Pacific nor CSX Corp has seen any meaningful improvement in carload volumes, Union Pacific CEO Lance Fritz sees "certain segments of the economy, such as grain and energy, are showing signs of life," particularly as oil prices are up 17% year to date. Moreover, If Trump succeeds in revitalizing coal and energy production in the US, the railroad sector will surely benefit.
As to which stock to favor,Union Pacific and CSX Corp are very similar in terms of operational metrics, and given the discount Union Pacific now trades at compared to CSX, it makes sense to prefer Union Pacific.
Cognex Corporation
As noted in the table above, Cognex is a global play on the willingness of industries to make capital expenditures on machine vision solutions. As such, it's hard to see how it will be an immediate beneficiary at first. But here's the thing: much of its growth in places like China is coming from the secular (spending not tied to the economy) growth of developing world companies' use of automated production techniques.
Meanwhile, in the Americas Cognex's growth relies more on a mix of secular growth, expansion into newindustry verticals (such as logistics and mobile terminals), andoverallindustrial capital spending conditions.Alas, the latter has been weak, with CEO Rob Willet claiming on the last earnings call that "spending by U.S. manufacturers in many industries remains lackluster." In fact, the Americas region -- Cognex's traditional strength -- only contributed 29% of total company revenue in the first nine months.
Nevertheless, Cognex has exceeded expectations so far this year -- management forecasts revenue to grow 18% to 21% in the fourth quarter -- but its growth could be even higher next year if US industrials feel more confident and start capital spending again.
MSC Industrial Direct Co. Inc. & WESCO International
When output at US industrial companies picks up, they start ordering more supplies. As such, companies like MSC Industrial Direct and WESCO International are great stocks to play a Trump presidency.
MSC is particularly interesting because it's operationally geared to any kind of recovery. The company has suffered margin compression in the last couple of years. It's partly due to the industrial slowdown, but also down to management's actions in trying to expand sales by consolidating a fragmented industry, and chasing national accounts -- which tend to be lower margin.
President-elect Donald Trump favors American industry. Image source: Getty Images.
In other words, MSC Industrial has been doing all the hard work to position itself for growth, and if it comes from Trump-inspired spending in the US industrial sector the company could be a big winner.
Turning to WESCO International, its significant exposure to heavy industries such as oil, gas, metals, and mining has hurt the company in 2016. In fact, going back to the recent third quarter results, management was forced to cut full-year sales, margin and EPS guidance amid talk of "continued weaknesswith contractors serving the industrial market."
The corollary is obvious, if these industries have been hardest hit, then they are the ones likely to see the strongest recovery -- in terms of year on year growth -- if Trump's plans are successful.
10 stocks we like better than Union Pacific When investing geniuses David and Tom Gardner have a stock tip, it can pay to listen. After all, the newsletter they have run for over a decade, Motley Fool Stock Advisor, has tripled the market.*
David and Tom just revealed what they believe are the ten best stocks for investors to buy right now... and Union Pacific wasn't one of them! That's right -- they think these 10 stocks are even better buys.
Click here to learn about these picks!
*Stock Advisor returns as of November 7, 2016
Lee Samaha has no position in any stocks mentioned. The Motley Fool owns shares of and recommends Cognex and MSC Industrial Direct. The Motley Fool recommends CSX and Wesco International. Try any of our Foolish newsletter services free for 30 days. We Fools may not all hold the same opinions, but we all believe that considering a diverse range of insights makes us better investors. The Motley Fool has a disclosure policy.