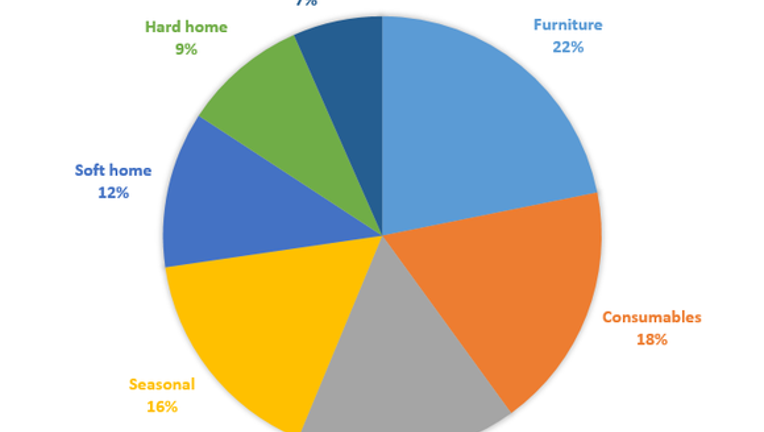 Big Lots' stock is up 15% over the last three months, thanks in part to good news in the retailer's fourth-quarter earnings report. Sales improved for the eight straight quarter, and earnings were surprisingly strong.
Big Lots has a unique approach to retailing that sets it apart from many of its rivals. With that in mind, let's take a closer look at what makes this company tick.
Rebounding growth
Annual let income: Source: Company financial filings.
After four straight years of declining earnings (exacerbated by a failed expansion into Canada), Big Lots finally returned to profit growth in 2015. Even better news for investors, though, is that those net income gains have been powered by a return to consistent revenue growth.
The company has posted eight straight quarters of comparable-store sales growth following a two-year slump in 2012 and 2013. The latest annual comps growth of 1.8% trailed Target's 2.1%, but beat Wal-Mart's 1.2%. Importantly, Big Lots managed that result without any contribution from e-commerce, which is boosting both Target and Wal-Mart's growth figures.
Diverse revenue streamsBig Lots' inventory tends to change frequently, which is one of the drawbacks of relying on closeout merchandise to deliver hefty savings to customers. Still, it generates revenue from a diverse range of products -- everything from food to consumer electronics.
Furniture is Big Lots' largest and most profitable product category. Source: Company financial filings.
The company's single biggest product segment is furniture (accounting for 22% of sales), and it's also the one responsible for almost all of Big Lots' recent growth. In 2015, the furniture division jumped 8% higher, offsetting drops in consumables, seasonal, and consumer electronics. Diversity is good for this business, but Big Lots' tends to succeed, or fail, based on furniture sales.
Highly seasonal businessThe holiday season is important for most retailers, but for Big Lots, it is absolutely critical. The fourth quarter accounts for slightly more than 25% of sales, but is responsible for generating nearly two-thirds (64%) of profit for the entire year.
Source: Company financial filings.
As a result, the risks to the operation all spike in the final three months of the year, when it's important that the management team execute on its inventory management goals while doing its best to keep customer traffic humming without slashing prices too far.
Improvingprofitability CEO David Campisi and his team have struck a good balance lately between sales and profitability growth. Gross profit margin has ticked higher in each of the last three fiscal years, rising from 39.2% of sales in 2013 to 39.5% in 2014 and 39.8% last year -- expanding the gap between it and its rivals:
BIG Gross Profit Margin (TTM) data by YCharts
Yet Big Lots' operating expenses are higher than either Wal-Mart's or Target's, which is why its net profit margin significantly trails those larger competitors.
Shrinking share count In 2014, Big Lots initiated a quarterly dividend payment, and has subsequently raised that payout twice. But management clearly favors stock buybacks as the main channel for returning cash to shareholders. The retailer spent over $200 million in each of the past two fiscal years repurchasing shares, compared to about $35 million in dividends.
As a result, Big Lots' outstanding share count is plummeting, down by a quarter in the last five years.
BIG Average Diluted Shares Outstanding (Annual) data by YCharts
The shrinking pie helps explain how earnings per share have only slipped by 7% since 2011, even though net income is down 31% over that time. Investors can expect that trend to continue: Management aims to deliver almost $300 million to shareholders in 2016, with the great majority of that that total dedicated to stock buybacks.
The article 5 Charts That Explain What Big Lots Inc. Shares Are Doing originally appeared on Fool.com.
Demitrios Kalogeropoulos has no position in any stocks mentioned. The Motley Fool recommends Big Lots. Try any of our Foolish newsletter services free for 30 days. We Fools may not all hold the same opinions, but we all believe that considering a diverse range of insights makes us better investors. The Motley Fool has a disclosure policy.
Copyright 1995 - 2016 The Motley Fool, LLC. All rights reserved. The Motley Fool has a disclosure policy.