5 Charts That Explain Netflix Inc.'s Q1 Earnings Report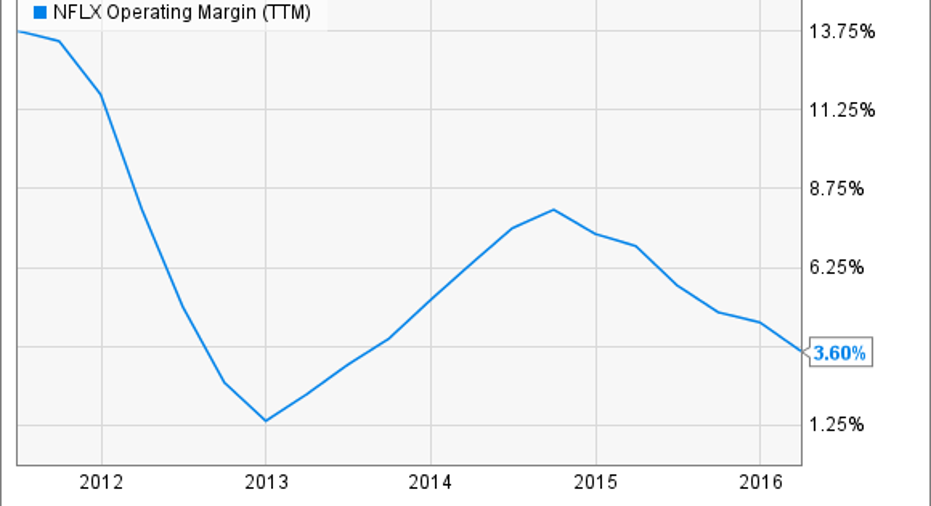 Source: Netflix.
Netflix posted first-quarter earnings results that included a mix of good and bad news for investors. On one hand, the streaming-video giant beat its own growth forecast as its service expanded to global availability.
Yet profitability shrank, and a soft membership growth outlook for the coming quarter helped push the stock back to below $100.
Here's a look at the Q1 results through five key charts.
1. Record membership growth
NFLX Revenue (Quarterly YoY Growth) data by YCharts
Netflix's 24% sales spike was its best growth rate in over a year, as the company added 6.7 million new subscribers, trouncing its previous high-water mark by over 1 million additions.
The expansion pace was also well above management's January guidance, which CEO Reed Hastings explained was due to all the buzz around new shows such as Making a Murderer and House of Cards, Season 4. Prospective members signed up in droves to get access to Netflix's growing content catalog.
2. Becoming more global
Sales by geography. Source: Netflix financial filings.
Most of the subscriber gains came from international markets, as the company launched in over 100 new countries last quarter. 36% of sales now come from outside of the U.S., up from 30% a year ago. Hastings hasn't set a hard target for a long-term revenue split, but it's likely the company will eventually get the majority of sales from markets outside of the U.S., somewhere between 60% and 80% of the total.
3. Getting less profitableThe international expansion process soaked up almost all of Netflix's earnings this quarter, leaving operating income of just $49 million on a sales base of nearly $2 billion. That translates into just a 2.5% operating margin, down from 6.2% in the prior year period.
NFLX Operating Margin (TTM) data by YCharts
Still, in light of the costly investments in geographic expansion, profitability trends are looking good. Contribution margin climbed to 36% of sales in the mature U.S. market from 31% last year, and management still believes it will reach 40% by 2020.
The international business is still losing money, but it's headed in the same positive direction: Contribution margin is forecast to improve from negative-16% in this quarter to negative-11% in Q2.
4. Spiking obligations
Streaming obligations by quarter. Source: Netflix financial filings.
Streaming obligations, the funds that Netflix has committed to pay for its content, spiked by 13% to over $12 billion. The reason for that unusually large jump was the international market expansion, executives explained in the earnings conference call. At least for now, those areas operate at a loss as they don't yet have enough members to offset the content costs.
Remember these obligations include commitments for shows several years into the future, and aren't projected expenses for the year ahead. In terms of actual spending, Netflix expects to forks out about $5 billion on content in 2016.
5. Where the money's goingThat content expense will be larger on a cash basis, though -- closer to $6 billion -- because of the increasing drag from original TV shows and movies. These pieces of content require more upfront cash to produce, and since Netflix is devoting a larger portion of its spending to originals (over widely availablelicensed programming), cash flow has turned sharply negative.
NFLX Cash from Operations (Quarterly) data by YCharts
Netflix executives have made the case that these bets are well worth the cash sacrifice. Besides being the key driver behind strong membership gains lately, original content is generating more viewing hours, which keeps existing subscribers happy.
Hit shows also help lift the brand in the eyes of TV fans, and that should make it easier for Hastings and his team to pass along price hikes that will more than offset the increased costs from shifting into an original-content-focused service.
The article 5 Charts That Explain Netflix Inc.'s Q1 Earnings Report originally appeared on Fool.com.
Demitrios Kalogeropoulos owns shares of Netflix. The Motley Fool owns shares of and recommends Netflix. Try any of our Foolish newsletter services free for 30 days. We Fools may not all hold the same opinions, but we all believe that considering a diverse range of insights makes us better investors. The Motley Fool has a disclosure policy.
Copyright 1995 - 2016 The Motley Fool, LLC. All rights reserved. The Motley Fool has a disclosure policy.