5 Can't-Miss Quotes From TransEnterix's First-Quarter Earnings Conference Call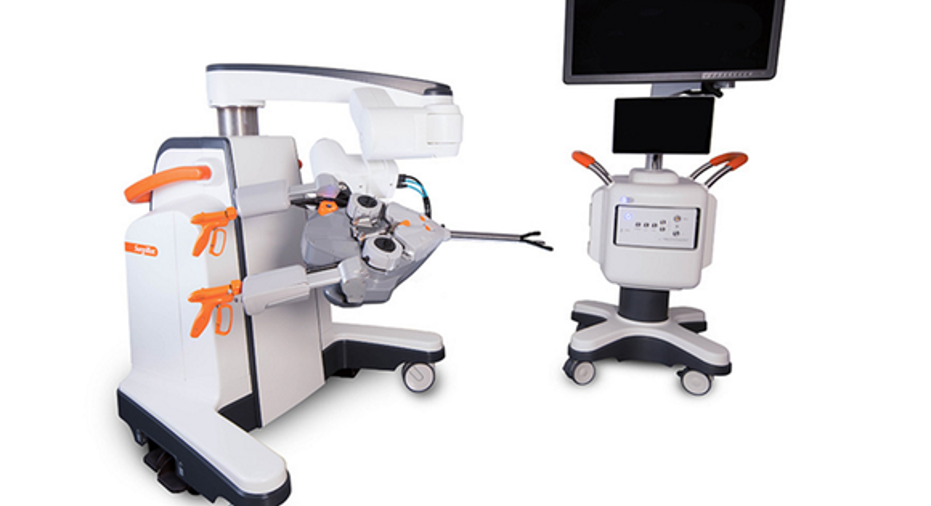 Image source: TransEnterix.
The FDA dashedTransEnterix's hopes to compete against Intuitive Surgical in the U.S. robotic surgery market this year when it rejected an application for approval of TransEnterix's SurgiBot system last month.During its first-quarter conference call, TransEnterix management offered up insight into its strategy following the FDA's rejection.
Should you consider buying or selling shares in this upstart? Here are five quotes from TransEnterix's first-quarter earnings conference call that may offer insight into whether or not this stock is worth owning in portfolios.
No. 1: Moving on
After the FDA determined the SurgiBot approval application failed to establish that SurgiBot should be cleared under the 510(k) pathway, speculation has centered on what that decision means for SurgiBot's future.
Unfortunately, based on Pope's comments, it seems that any hope that TransEnterix could lobby for de novo consideration of SurgiBot is gone. De novo consideration would have allowed for SurgiBot to be reclassified to a class 2 device that could conceivably reach the market sooner than if the company has to pursue a new 510(k) application that includes clinical data.
Since management thinks a new 510(k) application is necessary, ostensibly meaning a substantial investment in time and money would be required, the company has decided to shelve SurgiBot for now to focus on the ALF-X, its other robotic surgery system.
No. 2: Kicking tires
The ALF-X is already approved for sale in Europe, and since TransEnterix acquired rights to it last year, a total of 18 hospitals have tested out the system.
Hospital operators appear willing to consider the ALF-X as an alternative to Intuitive Surgical's da Vinci because of ALF-X's features and potentially lower per-procedure costs. The ALF-X system includes haptic feedback and an eye-tracking camera that surgeons may prefer, but importantly, the system allows for the reuse of instruments that can substantially reduce a hospital's procedure cost and boost its bottom line.
Although ALF-X's advantages appear to resonate with buyers enough to get them to test the system, TransEnterix has yet to close any sales. Investors probably shouldn't hold that against the company, because that fact isn't totally unexpected. After all, these are costly systems that require lead times that are getting increasingly longer now that there are two systems hospitals can choose between.
No. 3. Getting to the finish line
Management hopes it can learn from SurgiBot's failure, and it's laying the groundwork to file for FDA approval of the ALF-X under the 510(k) pathway by the end of the year. An application for the ALF-X should be more compelling than it was for SurgiBot because the ALF-X already has a CE Mark, and there's already clinical experience that's associated with using the device that could overcome FDA safety concerns.
However, it remains to be seen whether or not the robustness of the data available for the ALF-X will result in a regulatory OK. The FDA has tightened up its scrutiny of robotic surgery ahead of what is likely to become a more competitive landscape, and the information supporting the CE Mark approval in 2011 may no longer be as convincing as it once was.
Investors may get some more clarity on the likelihood of an approval after TransEnterix's management sits down with the FDA to learn more about the reasons behind its rejection of SurgiBot. That hasn't happened yet, but it should happen soon. However, even after such a meeting occurs, there won't be any guarantees that ALF-X will get a green light. After all, TransEnterix's management was pretty darn confident that it could get SurgiBot on the market, and that didn't happen.
No. 4: Competition mounts
Intuitive Surgical is a robotic surgery titan that dominates the industry, and it's not about to give up its market share easily. Intuitive Surgical is attempting to win orders by offering refurbished systems at a lower upfront cost. That discount may offset some of the competitive advantage the ALF-X may have in terms of procedure costs, but it's unclear what hospitals will ultimately find most attractive.
TransEnterix believes hospitals will, in the end, go with newer technology, rather than retreads. That may be true, or it may not be true. Until TransEnterix closes a sale, how this will play out is all speculation, especially since we don't know if Intuitive Surgical's creative deal-making suggests it might eventually be willing to reduce prices on newer systems if faced with losing a sale.
No. 5: Keeping the lights on
One of the biggest knocks against TransEnterix has been its cash burn rate and the risk of dilution. Therefore, Slattery's remarks on the company's financial position are encouraging.
Last quarter, TransEnterix's operating expenses totaled $15 million. It spent $8.4 million on R&D, $1.7 million on sales and marketing costs, and $2.2 million on general and administrative costs. Overall, spending in the quarter was up a lot from the $9.8 million the company spent in the same quarter a year ago.
To slow the pace of that spending, the company is shuffling around personnel and that could reduce some SG&A related costs in the U.S. this year. The company didn't offer up guidance on total operating expenses for 2016, but since Slattery believes its cash position can get them deep into 2017, it would seem that any more dilution from stock offerings will happen next year, rather than this year.
Tying it together
There's no telling when (or if) hospitals will agree to purchase the ALF-X system. Also, given SurgiBot's failure, there's plenty of reason to be nervous about ALF-X's chances for U.S. approval in 2017.
If management can close sales in Europe, it would give the company a lot more financial flexibility to advance ALF-X (and potentially SurgiBot again) in the U.S., but that's still a very risky bet. Because of that, it may be best to take a wait-and-see approach and focus on other investments right now.
The article 5 Can't-Miss Quotes From TransEnterix's First-Quarter Earnings Conference Call originally appeared on Fool.com.
Todd Campbell has no position in any stocks mentioned.Todd owns E.B. Capital Markets, LLC. E.B. Capital's clients may have positions in the companies mentioned. Like this article? Follow him onTwitter where he goes by the handle@ebcapitalto see more articles like this.The Motley Fool owns shares of and recommends Intuitive Surgical. Try any of our Foolish newsletter services free for 30 days. We Fools may not all hold the same opinions, but we all believe that considering a diverse range of insights makes us better investors. The Motley Fool has a disclosure policy.
Copyright 1995 - 2016 The Motley Fool, LLC. All rights reserved. The Motley Fool has a disclosure policy.