5 Cant Miss Quotes From Hasbro Inc.'s Q1 Earnings Call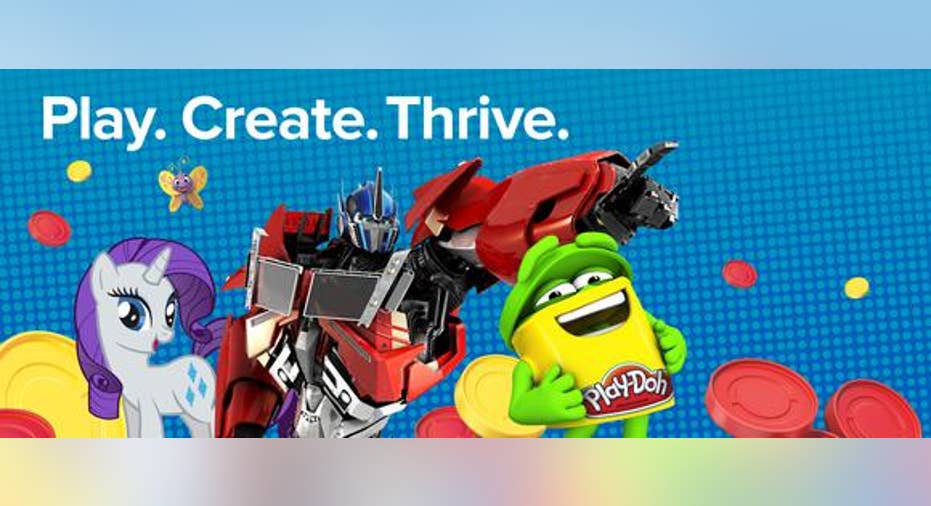 Hasbroreported first quarter 2016 earnings this week. The toymaker posted record revenue and earnings, thanks largely to its increasing ties with Walt Disney. Hasbro stock has returned 35.6%, including dividends, during the one-year period through April 18, reflecting the company's strong business performance.
My purpose here isn't to rehash the earnings results -- you can read my coveragehere--but to supplement the earnings release with essential color from Hasbro's analyst conference call. Here are five key things you should know.
Image source: Hasbro
1. Six of the top 10 brands are franchise brandsFrom CEO Brian Goldner's remarks:
Given the hype that surrounded the release of Star Wars: The Force Awakens, it might be easy to forget that Hasbro is about much more than just its Star Warslicensing deal and other lucrative ties to Disney. Hasbro also has significant breadth and depth among its various franchise offerings, which are its keyinternal brands.
2. Franchise brand strength was greater than key results suggestHasbro's revenue for its franchise brands increased 1% year-over-year, or 4% on a constant currency basis. Some investors might infer from these numbers that franchise brands are struggling, but Goldner's remarks address why this isn't the case:
The entertainment and licensing segment's year-over-year revenue decreased a whopping 30% due to a toughcomparison that included a large, multi-year digital streaming deal recorded in the first quarter of 2015. Goldner stripped out the impact from this deal in his quote above, and 9% growth in franchise brands in constant currency is a solid result.
3. Star Wars2016 revenue could be in line with its 2015 revenueFrom Goldner's remarks:
It's obviously great news that Hasbro continues to project that Star Warstoys could bring in about the same revenue in 2016 as they did last year. The company expects to release toys based on the stand-alone film Rogue One in the fall.
4. Economicchallenges among selectemerging market retailersFrom CFO Deb Thomas' remarks:
It's important to distinguish between consumers and select retailers here. Management said that the company continues to experience strong consumer demand for its products in the emerging markets. It projects that these markets will experience double-digit revenue growth on a constant currency basis in 2016.
A few retailers in the emerging markets, however, apparently ran into economic challenges, so Hasbro wrote off some revenue that management believed it would be unable to collect. The retailers involved are not its primary, larger customers. Management would not provide their geographic locations, other than to respond to an analyst's question by saying they're not located in Brazil.
5. Hasbro is gaining market shareFrom Goldner's remarks:
Hasbro is gaining market share, which means it's taking business from other toy companies. Goldner also stated elsewhere on the call that the company is benefiting from the robust toy market. That means the company's revenue growth is being driven by a combination of the toy market's expansion and Hasbro's growing market share. This is a great scenario.
If Hasbro's revenue were only expanding in line with the growth in the overall market, the company would likely be in for some trouble when the industry growth stalls, as it inevitably will at some point. It's a testament to management's strategy and execution that Hasbro is stealing market share from others in the industry.
The article 5 Cant Miss Quotes From Hasbro Inc.'s Q1 Earnings Call originally appeared on Fool.com.
Beth McKenna has no position in any stocks mentioned. The Motley Fool owns shares of and recommends Hasbro and Walt Disney. Try any of our Foolish newsletter services free for 30 days. We Fools may not all hold the same opinions, but we all believe that considering a diverse range of insights makes us better investors. The Motley Fool has a disclosure policy.
Copyright 1995 - 2016 The Motley Fool, LLC. All rights reserved. The Motley Fool has a disclosure policy.