5 Best Casino Stocks to Buy in 2016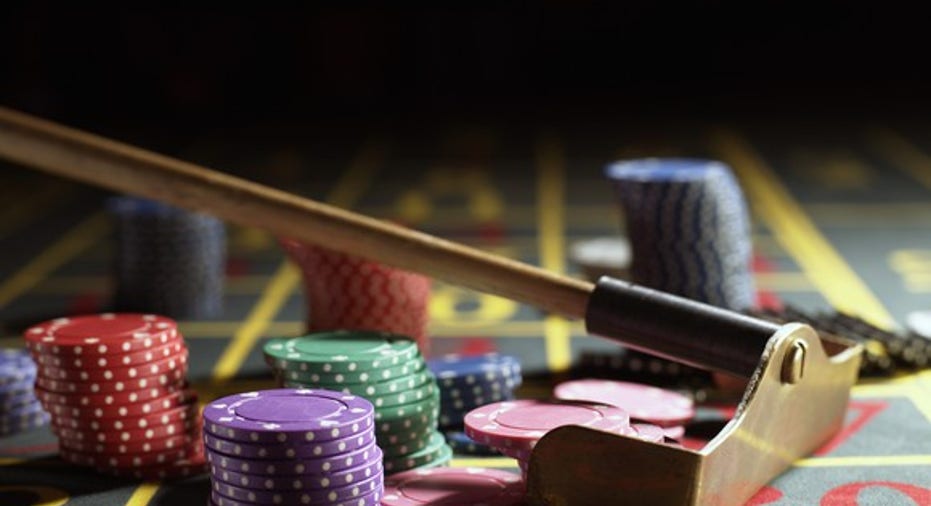 Image source: Getty Images.
Over the past two years, it might have served investors better to gamble in an actual casino than to gamble on casino stocks. After sudden and unanticipated issues in Macau, a sluggish Las Vegas market, and enough drama to make even the most poker-faced investor squirm, it's hard to see which company may still rise to the top. Still, with some of the most encouraging news from Macau in 24 months, and interesting new investments worldwide, the casino industry could look much better in 2016.
| | | | | | | | |
| --- | --- | --- | --- | --- | --- | --- | --- |
| Company | Price (as of Sept. 6) | Market Cap | Revenue Growth (latest quarter, YOY) | Earnings Growth (latest quarter, YOY) | P/E Ratio (TTM) | Dividend Yield | YTD Return |
| Las Vegas Sands | $54.65 | $42.5 billion | (9%) | (30%) | 26 | 5.6% | 25% |
| MGM Resorts International | $24.70 | $13.6 billion | (5%) | 386% | N/A | 0% | 11% |
| Wynn Resorts | $92.55 | $9.33 billion | 2% | 25% | 28 | 2.2% | 34% |
| Melco Crown Entertainment | $14.20 | $7.12 billion | 17% | 27% | 82 | 0.5% | (15%) |
| Isle of Capri Casinos | $17.40 | $715 million | (2%) | 228% | 14 | 0% | 29% |
Data source: Yahoo! Finance. YOY = year-over-year; TTM = trailing twelve months; YTD = year to date. Table source: Author.
Macau could be turning around
Macau's downturn since the summer of 2014, when the Chinese government set legislation in place limiting visitation and spending there, has taken billions in market cap off many of these companies, as Macau's total gaming revenue has been cut almost in half during those two years. However, things seem to be turning around in Macau, and the companies most focused there could get a surge the rest of this year.
Las Vegas Sands (NYSE: LVS) and Wynn Resorts (NASDAQ: WYNN) are the ones best positioned in Macau now, and have received much of their year-to-date price increases in the last few days alone, since Macau's August gaming revenue numbers came in at positive year-over-year growth for the first time in 26 months.
Wynn Resorts recently opened its biggest casino in the world in Macau; the $4 billion investment comes with over 1,700 hotel rooms and much more. Wynn Resorts is lucky that the long-awaited opening of this resort coincides with what may be the start of Macau's regrowth, or better yet, may have helped cause it.
Las Vegas Sands is still by far the dominating player in Macau, especially on the Cotai Strip (where Wynn's new resort is). Later this monthLas Vegas Sands is opening its own new Cotai Stripresort, called the Parisian. With its four other properties there, Las Vegas Sands now has nearly 13,000 rooms total, and far more gambling tables in Macau than its competitors. Las Vegas Sands also offers an industry-high dividend yield, above 5%, and greater diversification with properties in Singapore and Las Vegas as well.
Las Vegas Sands' new Parisian resort on the Cotai Strip in Macau. Image source: Las Vegas Sands.
Melco Crown Entertainment (NASDAQ: MPEL) gets nearly all of its revenue in Macau, and opened its second resort on the Cotai Strip in May. Melco Crown's own turnaround looks underway as in the most recent quarter, Melco Crown's adjusted property EBITDA (earnings before interest, taxes, depreciation and amortization) rose nearly 20% year over year. However, while Melco Crown is likely to gain from the Macau turnaround, its lack of diversification adds risk if Macau's turnaround is short-lived or sluggish.
Betting on Las Vegas' non-gaming growth
MGM Resorts International (NYSE: MGM) gets the smallest percentage of its revenue from Macau of the companies listed here -- about one-third of its total -- but that could change in 2017, when MGM opens its own Cotai resort.
However, where MGM is growing most promisingly is in Las Vegas, which contributes about half of its total revenue. MGM dominates the Las Vegas Strip, controlling around 50% of the hotel rooms on the Strip across its many different properties there. While gambling revenue is growing only slowly in Las Vegas, MGM is making big investments in convention and other entertainment growth, such as its recently opened 20,000-seat arena, and massive new convention centers at some of its properties that look promising for future earnings growth.
MGM's recently opened 20,000-seat arena. Image source: MGM Resorts.
Wynn is also upping its ante in Las Vegas with recently announced plans to overhaul its Las Vegas property with a 38-acre clear-water lagoon, in a project it's calling "Paradise Park." This development is not expected to open until 2020, meaning MGM is still the undisputed leader in Vegas for now, but Wynn's growth there is something to watch.
A small-cap value play
The four casino companies mentioned above are all mammoth corporations in the gaming industry, but don't overlook the much smaller Isle of Capri Casinos (NASDAQ: ISLE) which could have great growth opportunity at a very low price. Isle of Capri's market cap is a fraction of Las Vegas Sands' or MGM's, but its impressive sales and earnings growth in recent years make its industry-low P/E of just 14 look attractive.
Isle of Capri operates just 15 properties across seven U.S. states (none of which are Nevada). The company reported its fiscal 2016 full-year earnings on Aug. 30, and even though revenue dipped 2.5% year over year, net income increased more than threefold. The stock stayed relatively steady but could go up from here, as 2017 earnings per share are expected to grow another 9.6%, for a forward P/E of just 12. This growth is likely to be driven by a new property that opened in late June, as well as by other operational efficiency initiatives.
The best casino stocks in 2016
Isle of Capri's low cost could make it a good value play for future earnings and stock-price growth, but be sure to understand the risk of this small regional casino -- it would likely not fare well competing directly with the bigger players in places like Las Vegas, which could limit its long-term growth potential. That's similar to Melco Crown, which could be a good bet on renewed Macau growth, but is risky for its lack of diversification. Therefore the three biggest companies -- Las Vegas Sands, Wynn, and MGM -- are still the best positioned for new growth in 2016.
A secret billion-dollar stock opportunity The world's biggest tech company forgot to show you something, but a few Wall Street analysts and the Fool didn't miss a beat: There's a small company that's powering their brand-new gadgets and the coming revolution in technology. And we think its stock price has nearly unlimited room to run for early in-the-know investors! To be one of them, just click here.
Seth McNew owns shares of Las Vegas Sands. The Motley Fool has no position in any of the stocks mentioned. Try any of our Foolish newsletter services free for 30 days. We Fools may not all hold the same opinions, but we all believe that considering a diverse range of insights makes us better investors. The Motley Fool has a disclosure policy.