4 Ways Hillary Clinton's Energy Policy Would Transform America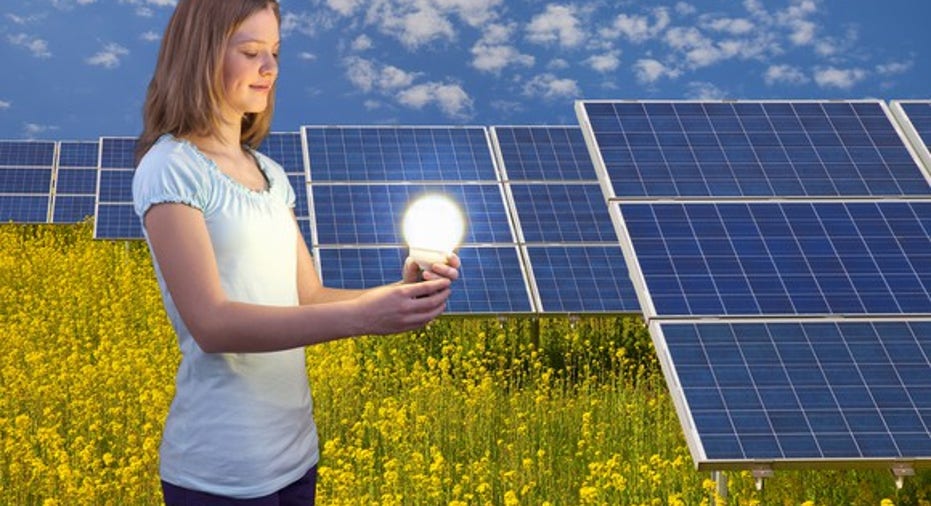 There's little doubt the presidential campaign has become an even more wild and woolly affair in the past week or so, but in just a couple days the election will be over. Americans will have to choose whether Democratic nominee Hillary Clinton or Republican candidate Donald Trump will be the 45th president of the United States.
Image source: Flickr via Marc Nozell.
And the decision is not inconsequential, because whoever it is that takes the oath of office on Jan. 20, he or she will eventually be signing into law policies that will have a direct impact on you and your investments. Today, we'll take a brief look at four ways Hillary Clinton intends to directly affect the energy markets if she ascends to the Oval Office.
1. Make climate change a Day One priority
Pointing to the drought in California and flooding that's occurred in Miami and Annapolis, Clinton says her first day in office will be characterized by setting "bold, national goals that will be achieved within 10 years" of taking office. But she says it's not a top-down approach she's advocating, but rather one that also requires participation from states and local communities, whether they're urban, suburban, or rural.
Clinton proposes giving communities the financial resources necessary to achieve her goals by awarding $60 billion in grants for four key items:
Clean power: accelerating deployment of wind, solar, geothermal, hydro, nuclear, and carbon capture and sequestration solutions.
Energy waste: adopting and enforcing advanced building energy codes for new construction while upgrading existing buildings.
Energy-efficient transportation: creating a national network of electric and other advanced energy fueling stations.
Industrial competitiveness: supporting low-carbon manufacturing by developing a new "Buy Clean" product labeling system that will recognize the efforts of businesses as well as reward them through public and private procurement procedures.
Image source: Getty Images.
2. Invest in clean energy and manufacturing
With the goal of making the U.S. a 21st century "clean-energy superpower," Clinton calls for modernizing the nation's electric grid while paving the way for renewable energy and transmission projects by expediting the permitting process.
According to the Energy Department, the aging gridcosts the economy between$18 billion and $33 billion every yearin lost output and wages, spoiled inventory, delayed production, and damage to infrastructure.
Clinton says she will also make good on the U.S. commitment to double investment in clean energy innovations that was set down at the Paris climate change talks last year. She promises toinvest $10 billion in "Make It in America Partnerships" to develop domestic clean energy and advanced vehicle manufacturing as a means of creating jobs and bringing new innovations to market.
3. Help transition to a clean-energy economy
Pursuing climate justice means prioritizing challenge grants for low-income families to reduce energy costs through rooftop solar and residential energy efficiency, encouraging more solar projects, and investing in clean transportation to reduce pollution.
Image source: Getty Images.
Clinton made waves earlier this year when she was quoted as saying, "We're going to put a lot of coal miners and coal companies out of business,"a statement that was all too similar to the one President Obama made when he was first campaigning for office about bankrupting coal companies. Since then, dozens of coal miners have gone belly up as cheap natural gas has assumed a greater share of energy delivered in the U.S. Globally, renewable forms of energy, led by solar power and wind, have overtaken coal as the world's largest source of installed power capacity.
Clinton, though, insists she was referring to transitioningcoal-country regions of the U.S. away from mining and directing them toward cleaner pursuits. Her planincludes a $30 billion program that would encourage clean-energy development in their communities, but paying them benefits while the changeover occurs. A new Coal Communities Challenge Fund to support locally driven economic development strategies would also be created.
4. Focus on pollution and energy-efficiency standards
Clinton wants to expand carbon pollution and energy-efficiency standards by limiting carbon emissions from power plants, reducing methane emissions from oil and natural gas production, extending fuel economy standards through 2025, expanding biofuel availability, and ensuring that energy-efficient building codes are factored into federal mortgage underwriting programs.
Making the U.S. a global climate leader
Clinton says her proposals will help the U.S. meet or exceed the Paris Climate Agreement protocols for its pollution reduction commitments. It will put the country on track to deliver a reduction of more than 80% of U.S. greenhouse gas emissions by 2050. Climate change will also become a continentwide priority of her administration as she forges a new North American Climate Compact.
Image source: Flickr via U.S. Embassy.
The result will alter how investors look at the companies that operate in legacy industries, as well as those that would benefit from the creation of these expanded or new energy-efficiency programs.
Anything can happen between now and Nov. 8, when voters go to the polls, but it's important that voters have a clear understanding of what they're voting for when they enter the polling booth, as the ramifications of their decision will be far-ranging when they come out.
A secret billion-dollar stock opportunity The world's biggest tech company forgot to show you something, but a few Wall Street analysts and the Fool didn't miss a beat: There's a small company that's powering their brand-new gadgets and the coming revolution in technology. And we think its stock price has nearly unlimited room to run for early in-the-know investors! To be one of them, just click here.
Try any of our Foolish newsletter services free for 30 days. We Fools may not all hold the same opinions, but we all believe that considering a diverse range of insights makes us better investors. The Motley Fool has a disclosure policy.