4 Things Zillow Group Management Wants You to Know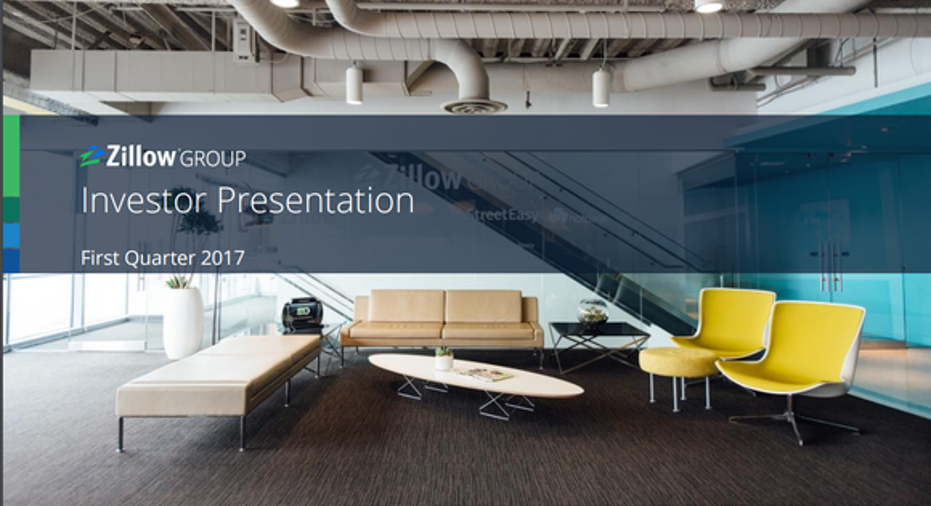 Zillow Group(NASDAQ: Z) (NASDAQ: ZG) management shared some important insights with investors during its first quarter earnings presentation. The company bested its quarterly guidance and upped its annual forecast, pushing the stock about 7% higher since the release. Here's what you need to know.
1. Zillow guides higher
Here's a look at key numbers and full-year guidance from the company:
| Metric | Q1 Guidance | Q1 Results | Original 2017 Guidance | Updated 2017 Guidance |
| --- | --- | --- | --- | --- |
| Total revenue | $234.5 million | $245.8 million | $1,040 million | $1,057 million |
| Premier Agent revenue | $171.0 million | $175.3 million | $750 million | $761 million |
| Mortgages revenue | $17.5 million | $20.3 million | $78.5 million | $81.0 million |
| Operating expenses | $249.5 million | $244.6 million | N/A | N/A |
| Net loss | ($16.6 million) | ($4.6 million) | ($30.2 million) | ($24.5 million) |
Data source: Zillow. Chart by author.Guidance represents midpoint of the range.
Zillow made it clear that things are going even better than planned. By increasing the company's outlook for the full year, management confirms that this was not just a one-off quarter of outperformance.
Image source: Zillow.
2. Premier Agent ZIP code auctions are working
ThePremier Agent programis the primary driver of ad revenue for Zillow and was responsible for 71% of the top line in the first quarter.The company recently announced that it had enabled a new feature for its advertising platform. Last year, agents advertised on Zillow by ZIP code, paying a fixed fee determined by a ZIP code's popularity based on lead generation. This year, the process moved to an auction-based system where the advertising fee would be determined by the agents themselves. The higher the bid, the greater the share or number of ad impressions where the agent's contact info would appear.
So far, the transition has been an outstanding success for the company. Here's how CEO Spencer Rascoff described it during the earnings call, "In our 20 most important markets, we saw a significant increase in participation, which led to a 10% increase in revenue independent of traffic growth."
3. The CFPB requests additional information
Any time a government regulator asks for more information, it can make investors nervous.
CFO Kathleen Philips updated investors on a compliance review of Zillow's digital co-marketing program between agents and lenders. Here's how she described it: "Over the past two years, the Consumer Financial Protection Bureau, or CFPB, has been reviewing our program for compliance with the Real Estate Settlement Procedures Act, or RESPA, which is a regulation designed to protect consumers."
The RESPA act does not permit lenders to give payments to real estate agents for leads. Co-marketing is allowed -- lenders paying a real estate agent's portion of an ad cost is not.
The company wouldn't state the exact amount of ad business at risk. CFO Kathleen Philips said it was a small portion of overall revenue,but she couldn't predict when the CFPB might be expected to finish its compliance review of the program.
4. Zillow introduces a new metric
Zillow pulls in ad revenue by showing real estate agents that its portfolio sites command the lion's share of internet traffic among home buyers. It's only natural for ad dollars to follow the site's ability to generate leads. This quarter, the company announced a new metric around site traffic that will be reported on a quarterly basis. Rascoff elaborated on the new metric:
Here's how the new metric of quarterly results looks, based on data from Zillow:
| Year | Q1 | Q2 | Q3 | Q4 |
| --- | --- | --- | --- | --- |
| 2015 | 977.8 million | 1,082.7 million | 1,119.9 million | 959.3 million |
| 2016 | 1,298.3 million | 1,431.4 million | 1,403.8 million | 1,189.7 million |
| 2017 | 1,533.0 million | | | |
Data source: Zillow. Chart by author.Total visits for the three months ended March31, 2015 include visits for Trulia from Jan. 1 to March31, 2015, to facilitate comparability to more recent periods. Effective Feb. 17, 2015, Zillow Group acquired Trulia.
Management tells it like it is
In Zillow's quarterly earnings calls, shareholders can take advantage of the opportunity to hear directly from company leadership as they break down the latest quarter and the outlook going forward. This quarter's webcast was no exception, and for me, this is still a strong business worth owning.
10 stocks we like better than Zillow Group (A shares)When investing geniuses David and Tom Gardner have a stock tip, it can pay to listen. After all, the newsletter they have run for over a decade, Motley Fool Stock Advisor, has tripled the market.*
David and Tom just revealed what they believe are the 10 best stocks for investors to buy right now... and Zillow Group (A shares) wasn't one of them! That's right -- they think these 10 stocks are even better buys.
Click here to learn about these picks!
*Stock Advisor returns as of May 1, 2017
Frank DiPietro owns shares of Zillow Group (A shares) and Zillow Group (C shares). The Motley Fool owns shares of and recommends Zillow Group (A shares) and Zillow Group (C shares). The Motley Fool has a disclosure policy.