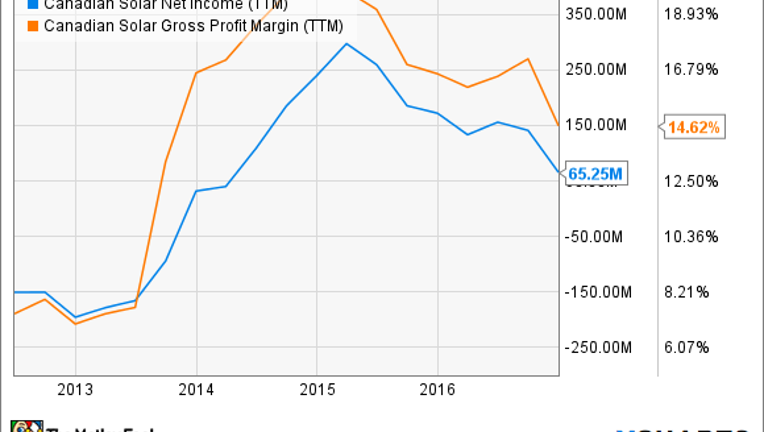 Canadian Solar Inc (NASDAQ: CSIQ) is one of the biggest and most well-known solar manufacturers in the world. But it's still far from a household name for energy investors, even within the world of renewable energy.
But as solar energy gets cheaper and the industry expands, this is a solar company you'll want to keep track of. Here are a few things you may not know about the solar giant.
Image source: Getty Images.
Canadian Solar has nearly 10% of global solar capacity
Canadian Solar had 400 MW of ingot, 1 GW of wafer, 2.44 GW of cell, and 6.17 GW of module capacity at the end of 2016. By mid-2017 the figures will rise to 1.2 GW of ingot, 2 GW of wafers, 4.49 GW of cells, and 6.97 GW of modules, making it one of the biggest manufacturers in the world.
To put this capacity into perspective, GTM Research estimates that 78 GW of solar was installed globally in 2016 and as much as 85 GW will be installed this year. That means that between one in nine and one in ten solar panels installed came from Canadian Solar. That's a huge market share, and if weaker competitors fall in the next year or two as financial conditions worsen the company's position in the market could get stronger.
Project development is a big part of Canadian Solar
After building itself as a solar panel manufacturer, Canadian Solar is now one of the biggest solar project developers in the world. The pipeline reflects this, according to the latest earnings release:
This pipeline can be viewed as either a positive or a negative for the company's operations. In the past, the project business has been highly profitable, and the captive source of demand keeps the manufacturing plant operating. But lately the project development business has seen margins shrink, and some projects are even selling for a loss. Depending on how margins end up, this could ease the pressure on debt or make it worse.
Canadian projects were a huge windfall
What really got Canadian Solar into the development business was a series of projects the company built in Canada. The way some of Canada's renewable biddingrules were written, the company had very little competition and made a windfall between 2013 and 2015. The spikes in profits and margins you see below are no coincidence, and neither is the recent decline in both as windfall profits subsided.
CSIQ Net Income (TTM) data by YCharts
Investors thinking that those profitable years are going to come back are going to be sorely disappointed. The one-time gains from Canadian solar projects aren't coming back, and countries around the world have become smarter about their bidding processes, meaning there are fewer windfall opportunities to be had. That's something to keep in mind when looking at the company's finances in the future.
Short-term debt drives Canadian Solar
One of the risk factors in Canadian Solar is its massive $2.5 billion in debt (not including liabilities held for sale). What's jarring is that $1.6 billion of that debt is short-term, meaning it's due within a year.
A lot of Chinese solar manufacturers were built on this short-term debt structure, so this isn't something new in the industry. But it's not exactly a stable capital structure to build a business on, and if financing dries up the company could be in serious trouble.
Short-term debt hasn't been a problem for Canadian solar yet, but it's something investors should be aware of, especially in a rapidly changing solar world.
10 stocks we like better than Canadian SolarWhen investing geniuses David and Tom Gardner have a stock tip, it can pay to listen. After all, the newsletter they have run for over a decade, Motley Fool Stock Advisor, has tripled the market.*
David and Tom just revealed what they believe are the 10 best stocks for investors to buy right now... and Canadian Solar wasn't one of them! That's right -- they think these 10 stocks are even better buys.
Click here to learn about these picks!
*Stock Advisor returns as of April 3, 2017
Travis Hoium has no position in any stocks mentioned. The Motley Fool has no position in any of the stocks mentioned. The Motley Fool has a disclosure policy.