4 Things to Know Aout Ciena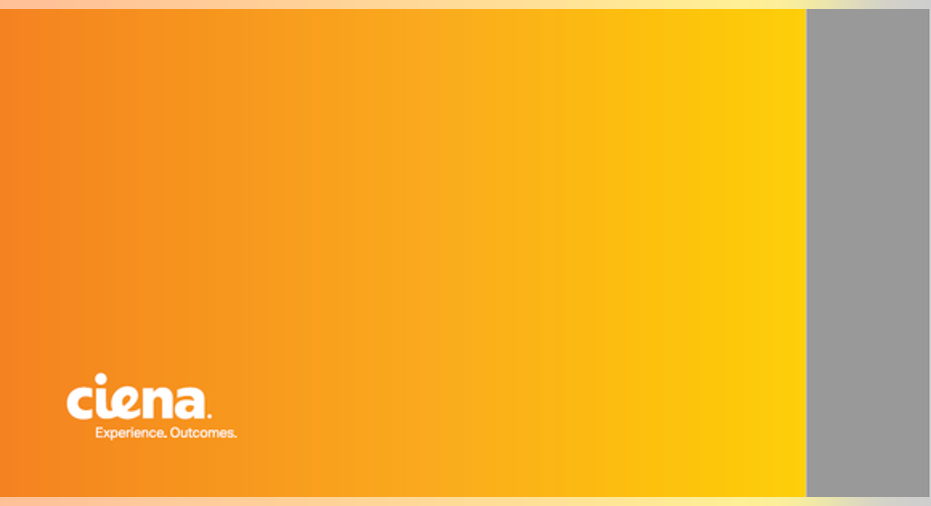 Ciena (NYSE: CIEN) may be a stock for growth-oriented investors to keep an eye on. The company makes optical networking equipment, along with software and services that help transmit vast amounts of voice, data, and video across networks.
Ciena shares had run up from a low of $15.62 last summer to $26.17, but pulled back after the company's most recent earnings report on March 8. In that report (for the first fiscal quarter in 2017), revenues were up 8.4% year over year (but down sequentially) to $621 million, and earnings per share were $0.26, missing analysts' estimates by $0.03.
Shares sold off initially, but two analysts -- Wells Fargo's Jess Lubert and Dougherty & Company's Catharine Trebnick -- immediately reiterated outperform ratings after the somewhat disappointing report. Moreover, management pointed the way toward continued growth across its portfolio. Let's dive in to some highlights.
Image source: Ciena.
1. It's taking market share
Ciena prides itself on having invested early in an open platform with a diverse portfolio -- allowing its networking, data center, and web customers to pick from a variety of products, and add, alter, or drop network elements as necessary, and in a seamless fashion. In the company's 2016 annual report, CEO Gary Smith wrote:
This bet appears to be paying off, as the company says it now has a leading position in many applications, such as data center interconnect, and multivendor network orchestration, which requires openness and flexibility. Basically, instead of locking its customers into a particular hardware regime, Ciena has invested in a diverse suite of technologies, and opened its technologies up to developers with its Emulation Cloud and DevOps Toolkit.
The results seem to be excellent -- at least relative to the industry. Ciena cited recognition as an industry leader in several segments in its annual report.
On the latest conference call, the company reiterated that it was growing faster than the market, and should continue to do so. The market, it forecast, is growing in the mid-single digits, so expect high-single-digit growth for Ciena.
This appears to be true, especially when you compare Ciena's results to those of competitor Infinera (NASDAQ: INFN). Infinera had a terrible year, and its most recent quarter showed year-over-year growth of negative 30%, a stark contrast from Ciena's 8.4% gain.
2. The debt picture is getting better
Ciena has been using its recent strength to take care of its balance sheet. The company reduced its convertible debt by $46 million in the quarter and its term loan by $93 million, though it still has a ways to go as it has $1.25 billion in debt and convertible notes.
The company is not necessarily in any danger here -- cash and short-term and long-term investments topped $1 billion, so Ciena should have plenty of cash to pay off the $185 million that comes due in June 2017. Still, the company's ratio of EBIT (earnings before interest and taxes) to interest expense in 2016 was only roughly 3, so interest expense is taking up a good chunk of potential earnings. Telecom equipment is not the most stable business, so debt reduction could go a long way in de-risking the company.
3. India is a big growth driver
The company grew its Asia-Pacific revenues nearly 60% year over year in the most recent quarter, despite not being in China. Its main growth driver in the Asia-Pacific region is India. As Smith explained on the call, there is a very large build for 4G capability going on in India right now, and Ciena is reaping the gains of seeds it's been sowing in the region for years (transcript via Seeking Alpha):
The Asia Pacific region accounted for about 14% of revenue in the most recent quarter.
4. It's losing a leader
While Ciena has performed very well in a cyclical, competitive market, it is about to lose a key executive. Francois Locoh-Donou has been with Ciena for almost 20 years, and is currently the company's chief operating officer. However, this year he will take over the reins as CEO of F5 Networks (NASDAQ: FFIV). Smith assured investors on the call that a succession plan was underway and the company has a very deep bench. Nevertheless, someone with the skills to be a CEO will surely be missed, so investors must watch how the company executes going forward.
It appears as though Ciena is performing strongly in the market for optical networking gear. Nevertheless, it is losing its COO, and remains subject to the investment cycles of large telcos. AT&T and Verizon make up more than 27% of the company's revenue, so any further slowdown with those clients could be reason for caution. The company currently trades at 39 times earnings, though only 11 times forward estimates, so continued strong growth and increasing margins are built into the current price. Still, those who believe in a renewed cycle for optical networking spend may wish to give Ciena a look.
10 stocks we like better than CienaWhen investing geniuses David and Tom Gardner have a stock tip, it can pay to listen. After all, the newsletter they have run for over a decade, Motley Fool Stock Advisor, has tripled the market.*
David and Tom just revealed what they believe are the 10 best stocks for investors to buy right now... and Ciena wasn't one of them! That's right -- they think these 10 stocks are even better buys.
Click here to learn about these picks!
*Stock Advisor returns as of February 6, 2017
Billy Duberstein owns shares of AT and T. The Motley Fool owns shares of and recommends Infinera and Verizon Communications. The Motley Fool has a disclosure policy.