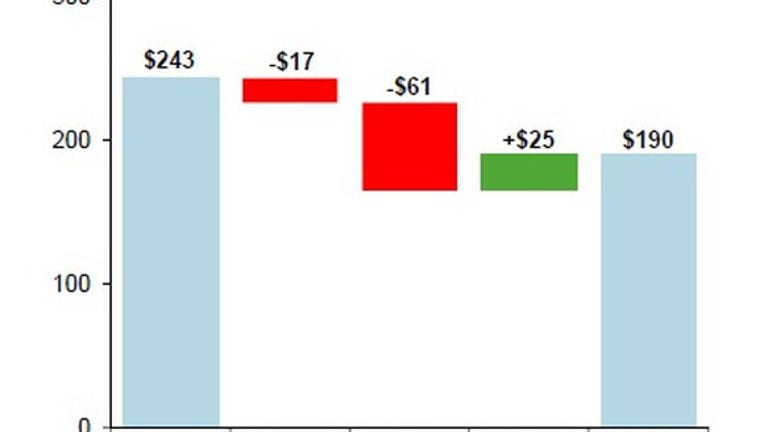 Image source: PotashCorp.
Not many expectedPotashCorp(NYSE: POT)stock to end 2016 in green, but it looks poised to do just that, having gained almost 12% in just the past month after a mute performance for the better part of the year. Counting in dividends,PotashCorpinvestors are now sitting on 20% total returns this year compared to Mosaic (NYSE: MOS), which has earned its investors 14% in total returns so far.
Is PotashCorp stock headed for a strong 2017? The answer lies in what PotashCorp's CEO Jochen Tilk had to say about four key areas duringthe company's recent earnings call.
On potash markets
The turmoil in potash markets sent PotashCorp's and Mosaic's net profits tumbling almost 68% and 57%, respectively, in the past three years. Tilk, however, is optimistic about 2017:
Potash prices plummeted to decade lows this year after key potash-consuming nations, China and India, delayed contracts by several months. Now that both countries have signed contracts, Tilk expects demand to shift into next year, which should support prices. However, prices may not recover much if China and India again delay contracts in 2017. Moreover, prices are still way off previous highs, as evidenced below.
Image source: PotashCorp.
My concern is that even if potash prices firm up in 2017, weak nitrogen markets could offset much of the gains for PotashCorp.
On nitrogen markets
Not many know that nitrogen is an integral part of PotashCorp's portfolio, having contributed almost31% to its total gross profit in 2015. In fact, nitrogen was the biggest dampener for PotashCorp in the third quarter, and it was also responsible for the company's full-year earnings downgrade.
Image source: PotashCorp's Q3 Earnings Presentation.
When asked about his outlook for 2017, here's what Tilk said:
In other words, oversupply could put a lid on nitrogen prices. North America's largest nitrogen producer, CF Industries (NYSE: CF), doesn'texpect prices to recover before 2018. Worse yet, CF projects lower corn acreage next year, which could dent demand for nitrogen -- a key nutrient for corn -- further. None of it bodes well for PotashCorp.
On key project Rocanville and production costs
Ramping up of its Rocanville potash plant, which is also the world's largest potash facility with nameplate capacity of six million tonnes, counts among PotashCorp's key cost-cutting moves. Tilk highlighted how important Rocanville is during the call:
Rocanville's significance lies in the fact that at full capacity, it can produce potash at costs as low as $45-$50 per tonne. For perspective, PotashCorp incurred $106 in costs per tonne of manufactured potash last quarter.
Needless to say, Rocanville could be a game-changer. If the plant hits full capacity next year, as projected, PotashCorp's margins could get a much-needed boost amid depressed nutrient prices.
On its merger with Agrium
The biggest highlight for PotashCorp investors this year was the company's announcement to merge with Agrium Inc.(NYSE: AGU). Tilk expects to unlock substantial value from the deal, once its completed:
While Agrium's retail arm should reduce PotashCorp's exposure to the volatile fertilizers markets, the real financial benefits, or "operating synergies" as the companies call it, will only be known after the merger, which is awaiting regulatory approval.
All said, investors may want to keep PotashCorp on their radar, as 2017 will likely be an important year thanks to Rocanville and the merger.
10 stocks we like better than PotashCorp When investing geniuses David and Tom Gardner have a stock tip, it can pay to listen. After all, the newsletter they have run for over a decade, Motley Fool Stock Advisor, has tripled the market.*
David and Tom just revealed what they believe are the 10 best stocks for investors to buy right now...and PotashCorp wasn't one of them! That's right -- they think these 10 stocks are even better buys.
Click here to learn about these picks!
*Stock Advisor returns as of Nov. 7, 2016.
Neha Chamaria has no position in any stocks mentioned. The Motley Fool has no position in any of the stocks mentioned. Try any of our Foolish newsletter services free for 30 days. We Fools may not all hold the same opinions, but we all believe that considering a diverse range of insights makes us better investors. The Motley Fool has a disclosure policy.