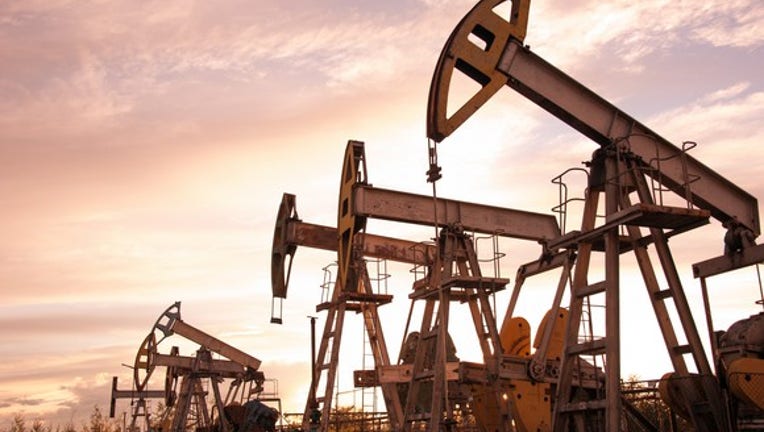 When it comes to investing in the oil and gas industry, there are few things that will give you a better picture of what's going on in the sector than listening to the conference calls of the oil-services giants. Halliburton's (NYSE: HAL) most recent conference call certainly lived up to that reputation as CEO Dave Lesar handed out a few nuggets of information that every oil and gas investor should consider before making any investment decisions for the future. Here are the four most important things that Lesar said on the call that you should know.
Image source: Getty Images.
Today's modest gains aren't the recovery we're looking for
One of the things that many investors in the oil and gas industry have noticed as of late has been the uptick in rig counts across the United States. This gradual uptick over the past four or five months has really encouraged investors and industry people to expect to see some gains. However, CEO Dave Lesar was quick to point out that the kind of rigs being hired and the wells being drilled aren't necessarily the kind of activity that's going to improve the income statements of service companies.
Lesar isn't alone in saying this. Helmerich & Payne (NYSE: HP) CEO John Lindsay has been saying for a couple of quarters that many of the rigs being added to the active count have been older-specification rigs rented out by private-equity companies trying to drill the cheapest wells possible, and eke out a quick return. These are the kinds of opportunities that both Halliburton and Helmerich & Payne aren't interested in pursuing because they're extremely low margin and aren't worth deploying assets.
Recovery coming in some places, not so much in others
Even though Lesar said that the activity that has returned to North America is pretty low-hanging fruit, he also mentioned how the international recovery will take place a little later, with other places lagging well behind.
Since Halliburton's business is much more tied to North American activity than most of its peers, don't be surprised if the company is the first of the major oil-services companies to see an earnest uptick in income.
The dynamics of the oil market have changed
Something that investors need to consider is that shale drilling has created a profound impact on how the oil market works. It's not just the distribution of the top-producing countries, but something even deeper than that, Lesar explains:
This isn't a market of long periods of feast and famine as it used to be. Companies in this industry are going to have to be much more prudent about managing inventories, fleets of equipment, and balance sheets. Chances are that the swings in oil prices will be more frequent, but the range of prices will be much tighter than what we have seen over the past few decades.
The timing of it all
For many investors, it all comes down to timing -- guessing when the market will finally turn for the better. Here's when Lesar thinks we should finally start to see sustained upticks:
That does sound promising, but if this most recent downturn has taught us anything, it's that these predicitons may not necessarily come true. After all, these same people were saying that the recovery would start to take root in the middle of 2015.
What a Fool Believes
From an investor's standpoint, there was a lot to chew on in Halliburton's most recent conference call. While many people will get caught up looking at the minutiae -- such as when the market will turn, and why the recent uptick isn't necessarily benefiting oil services -- don't overlook the fact that one of the largest oil-services companies in the world is talking about sweeping changes to the dynamics of the oil market taking place. This shift to shorter industry cycles and shale's role as a swing producer is going to have a profound impact on how investors should approach this market in the future.
Forget the 2016 Election: 10 stocks we like better than Halliburton Donald Trump was just elected president, and volatility is up. But here's why you should ignore the election:
Investing geniuses Tom and David Gardner have spent a long time beating the market no matter who's in the White House. In fact, the newsletter they have run for over a decade, Motley Fool Stock Advisor, has tripled the market.*
David and Tom just revealed what they believe are the ten best stocks for investors to buy right now... and Halliburton wasn't one of them! That's right -- they think these 10 stocks are even better buys.
Click here to learn about these picks!
*Stock Advisor returns as of November 7, 2016
Tyler Crowe has no position in any stocks mentioned. You can follow himat Fool.comor on Twitter@TylerCroweFool.
The Motley Fool owns shares of Halliburton. Try any of our Foolish newsletter services free for 30 days. We Fools may not all hold the same opinions, but we all believe that considering a diverse range of insights makes us better investors. The Motley Fool has a disclosure policy.