4 Things Gilead Sciences' CEO Says to Expect in 2017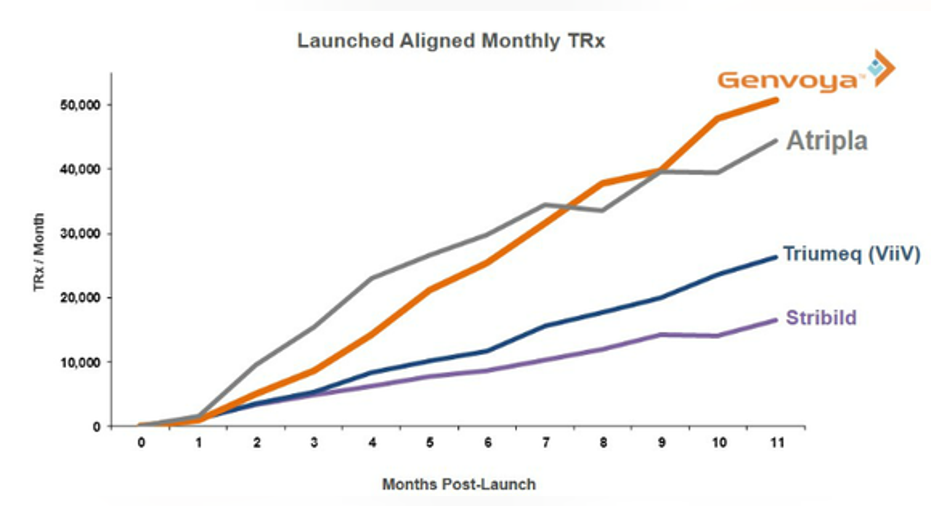 Anyone expecting a surprise from Gilead Sciences' (NASDAQ: GILD) presentation at the 35th Annual J.P. Morgan Healthcare Conference on Monday would have walked away disappointed. John Milligan, Gilead's CEO, stuck to his game plan for how the big biotech will move forward. Here are four things Milligan said to expect from Gilead Sciences in 2017.
Image source: Getty Images.
Extend leadership role in HIV
While Gilead's HIV drugs based ontenofovir disoproxil fumarate (TDF) -- specifically Truvada, Atripla, Complera, and Stribild -- continue to make the company a lot of money, Milligan didn't blink at stating the TDF era is over. The new dawn for Gilead is with its tenofovir alafenamide (TAF) drugs. Milligan said that the biotech intends to extend its leadership role in HIV in 2017 with TAF drugs Genvoya, Descovey, and Odefsey.
Genvoya became the fastest-growing HIV drug ever in its first year of launch, easily topping Stribild and Viiv Healthcare's Triumeq. Atripla had held the top spot until 2016 -- Genvoya's first full year on the market.
Image source: Gilead Sciences.
Yet another TAF drug could be on the way soon. Gilead expects to announce results from a late-stage clinical study of bictegravir in mid-2017 with a potential regulatory submission in the third quarter.
Milk the HCV cash cow
Milligan characterized the hepatitis C virus (HCV) landscape as "kind of a different market" now. Patients are being cured by Gilead's drugs, including Sovaldi, Harvoni, and Epclusa, and are then exiting the medical system. Fewer patients are starting treatment. The patients that do start aren't as sick as the ones who took Sovaldi and Harvoni when they first launched. And the treatment periods now tend to be shorter.
As a result, Gilead's goal is to try to get more patients. Milligan admitted that this isn't an easy task. The company has launched both branded and non-branded marketing campaigns in the U.S. and Japan to increase awareness of HCV. It's too soon to know how effective this strategy will be.
Still, though, Milligan noted that Gilead's HCV franchise continues to generate great cash flow. The biotech isn't looking for further growth in this market, but Gilead should keep making plenty of money from its HCV drugs for years to come.
Expand into new therapeutic areas
With a lesser emphasis on HCV, Gilead is turning to other therapeutic indications for future growth. Milligan highlighted three areas in his comments at the J.P. Morgan conference.
Expanding into the non-alcoholic steatohepatitis (NASH) market is a natural next step for Gilead. Around 12 million Americans suffer from the liver disease. Gilead intends to especially go after the roughly 3 million of them with NASH-related fibrosis. These patients are the hardest to treat and present the greatest unmet medical need.
Gilead has three pipeline candidates targeting NASH. Milligan gave the most attention to selonsertib (GS-4997), which showed promising results in a phase 2 study. Two late-stage clinical studies of the oral ASK1 inhibitor are being conducted in 2017 and 2018. Gilead also has a couple of experimental NASH therapies in mid-stage clinical trials -- ACC inhibitor GS-0976 and FXR agonist GS-9674.
Another therapeutic focus area is oncology. Milligan emphasized two pipeline candidates that could hold promise. GS-5745 is currently in a late-stage study targeting treatment of gastric cancer. The experimental drug is also is in a phase 2 study in combination with Bristol-Myers Squibb's Opdivo in treating gastric cancer.Syk inhibitor entospletinib is in a couple of phase 2 clinical studies. Milligan thinks the drug could have a "fast regulatory pathway" in the acute myeloid leukemia (AML) indication.
Milligan also mentioned Gilead's foray into the autoimmune disease market with filgotinib. He thinks the pipeline candidate could become one of the first JAK inhibitors to win approval for treating Crohn's disease. Filgotinib is in multiple late-stage clinical studies targeting treatment of Crohn's disease, rheumatoid arthritis, and ulcerative colitis.
Use its huge cash stockpile in smart ways
The Gilead Sciences presentation at the J. P. Morgan conference began by highlighting some of the company's successes in 2016. Included in these highlights were revenue of $23.1 billion, $13.2 billion in operating cash flow, and $31.6 billion in cash, cash equivalents, and marketable securities as of Sept. 30, 2016. John Milligan also pointed out that Gilead had returned 98% of its free cash flow to shareholders.
Running out of time for his presentation, Milligan ended his remarks with a very brief reference to Gilead maintaining its strong operating and financial discipline. Expect to see the biotech continue to return cash to shareholders in 2017 in the form of nice dividends and stock buybacks.Milligan might have spent a nanosecond in his presentation on what investors are most interested in: the prospects for acquisitions.
Meeting expectations?
I don't doubt that Gilead Sciences will successfully extend its leadership position in HIV. The company is realistic and sober about the prospects in the HCV market, but I think Gilead will continue to benefit from solid cash flow from its HCV drugs. That cash flow should benefit shareholders in 2017 through increased dividends and more share repurchases.
The biggest question mark for Gilead, though, is how effectively the company can expand into new therapeutic areas. I like the biotech's opportunities in NASH especially. However, it's probably still a few years out before Gilead can capitalize on its current pipeline candidates. That increases the importance that Gilead makes some smart strategic acquisitions. While Milligan didn't announce any surprises at the J. P. Morgan event, many investors are hoping he will do so soon.
10 stocks we like better than Gilead Sciences When investing geniuses David and Tom Gardner have a stock tip, it can pay to listen. After all, the newsletter they have run for over a decade, Motley Fool Stock Advisor, has tripled the market.*
David and Tom just revealed what they believe are the 10 best stocks for investors to buy right now... and Gilead Sciences wasn't one of them! That's right -- they think these 10 stocks are even better buys.
Click here to learn about these picks!
*Stock Advisor returns as of January 4, 2017
Keith Speights owns shares of Gilead Sciences. The Motley Fool owns shares of and recommends Gilead Sciences. The Motley Fool has a disclosure policy.