4 Things Facebook, Inc. Management Wants You to Know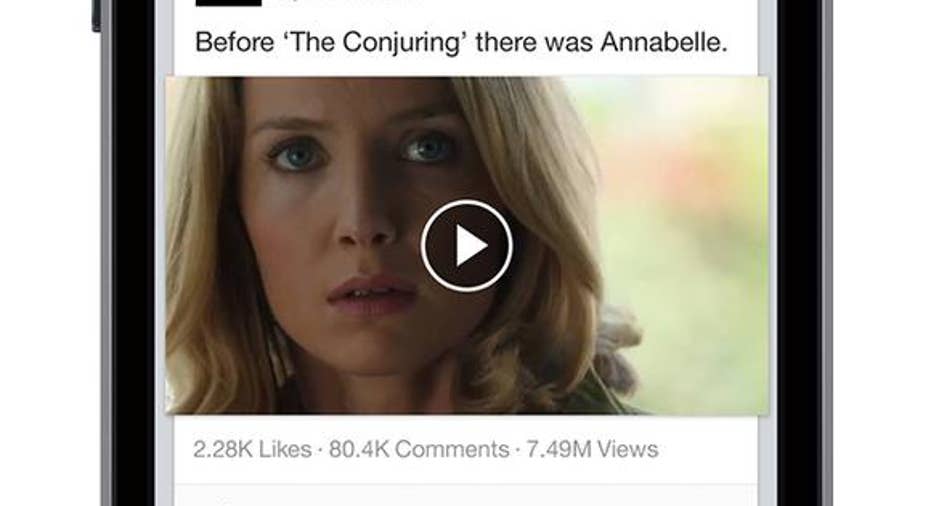 Facebook's first quarter was huge. Revenue and EPS soared, and sequential user growth accelerated. But there's more to Facebook's first-quarter results than the fast-growing figures highlighted in its earnings release. For a closer at the company's business, including some of its key catalysts today and where it expects future growth to come from, Facebook's first-quarter earnings call provides some useful insight.
Here are four particularly useful insights from the company's most recent quarterly conference call.
Facebook CEO Mark Zuckerberg (right) in his office. Image source: Facebook.
Mobile is keyIt's no surprise that mobile advertising is essential to marketers today. But it's worth emphasizing what Facebook is seeing about the priority marketers are giving mobile, and how this is benefiting the company's business.
Facebook COO Sheryl Sandberg explained:
As marketers prioritize a shift to mobile, Facebook is benefiting. Marketers are hungry to tap into the company's 989 million mobile daily active users. This shift continues to play a key role in driving the company's revenue; Facebook's first-quarter mobile advertising revenue was up 75% from the year-ago quarter, and it now accounts for 82% of total ad revenue.
"Thumb-stopping creative"As a mobile-centric company, Facebook is keeping tabs on the sort of products that are helping accelerate marketers transition to mobile. And video -- one of Facebook's strongpoints -- is arguably the greatest catalyst. Indeed, video's success in grabbing users' attention has led the company to give mobile video ads a new name: "thumb-stopping creative."
Facebook video ad. Image source: Facebook.
Sandberg explained the significance of video as a driver for the company, and why it's an opportunity for marketers:
Instagram's impact on Facebook's business is significant When asked about Instagram's impact on Facebook's ad growth in 2016, Sandberg explained that the younger social platform is having a meaningful impact on the results.
Sandberg's emphasis that the company's strong results were driven by both very strong ad revenue growth from Facebook and Instagram highlights how Instagram is turning into a business in its own right.
Monetizing messaging apps will take time One of Facebook's longer-term initiatives is messaging apps. Investors are probably hoping the company can eventually meaningfully monetize its natively built Messenger service and its 2014-acquired WhatsApp for several reasons. First, they each have a huge user base; Messenger and WhatsApp's respective monthly active user counts are at about 900 million and 1 billion, respectively. Second, Facebook paid a whopping $22 billion for WhatsApp, so you can bet investors are eager for a long-term return on investment.
Facebook Messenger. Image source: Facebook.
But though management is beginning to roll out some means for monetization for Messenger, it's still going to take some time -- long enough for a rollout of ads on the platforms to feel natural. And monetization is still not a first priority -- even on Messenger.
"For Messenger and WhatsApp, our focus right now continues to be on growth and engagement," Sandberg explained. "We are not rolling out any monetization products on WhatsApp right now. We did start that process at F8 on Messenger."
While these are some of the most interesting takeaways from Facebook's first-quarter conference call, it was full of interesting tidbits for investors. For shareholders interested in learning more about the company, it's worth a listen. Investors can listen to a saved file of the call on the Investor Relations portion of Facebook's website.
The article 4 Things Facebook, Inc. Management Wants You to Know originally appeared on Fool.com.
Daniel Sparks has no position in any stocks mentioned. The Motley Fool owns shares of and recommends Facebook. Try any of our Foolish newsletter services free for 30 days. We Fools may not all hold the same opinions, but we all believe that considering a diverse range of insights makes us better investors. The Motley Fool has a disclosure policy.
Copyright 1995 - 2016 The Motley Fool, LLC. All rights reserved. The Motley Fool has a disclosure policy.