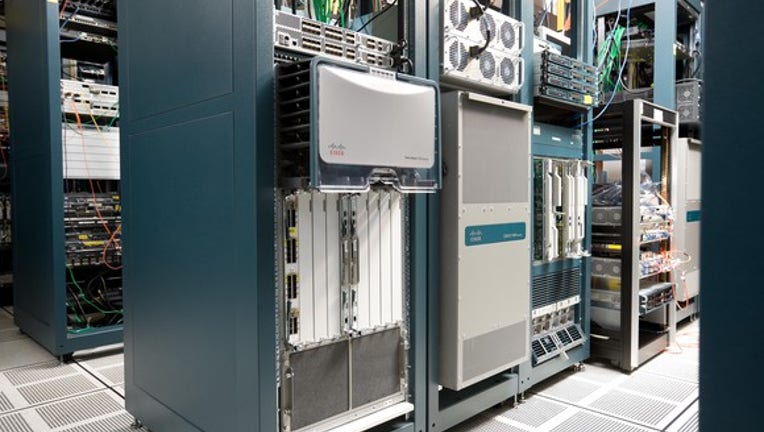 Image source: Cisco Systems.
Cisco Systems (NASDAQ: CSCO) beat analyst estimates when it reported its fiscal first-quarter results on Nov. 16, but there was plenty of bad news for investors to consider. Collaboration and data center, two growth segments, posted revenue declines, and switching, Cisco's core business, reported a decline, as well. Revenue during the second quarter is expected to contract by 2% to 4%, adjusted for divestitures, a disappointing outlook that sent shares of the networking hardware giant tumbling.
The details beyond the headline numbers are important. Cisco's earnings conference call was packed with valuable pieces of data that can help investors fully understand the company's results. Here are four key quotes from management that stood out, taken from the transcript provided by Thomson Reuters.
Security continues to shine
One of Cisco's major growth initiatives is security, a business that has been growing at a double-digit rate in recent quarters. Because the security business is shifting toward subscriptions, the 11% revenue growth Cisco reported during the first quarter doesn't fully reflect how much progress the company is making. CEO Chuck Robbins went into the details:
That big jump in deferred revenue suggests that Cisco's security business will continue growing at a rapid pace going forward. Robbins also pointed out that Cisco is the only company with security product revenue exceeding a $2 billion annual run rate and growing at a double-digit pace. Acquisitions are driving some of this growth, but Cisco's strategy of offering integrated security solutions appears to be working.
Explaining the weak guidance
Cisco's second-quarter guidance fell well short of expectations, with analysts expecting the company to grow sales. Robbins discussed the one major factor behind the weak guidance:
Product orders from service providers slumped 12% year over year, while every other customer group posted flat or positive order growth. Macro-economic uncertainty, something we've heard from Cisco before, is one component, as is the uncertainty created by the U.S. election. Robbins was optimistic that President-elect Trump would enact business-friendly policies, potentially reversing some of these headwinds. But the company is not modeling any improvement, thus the weak guidance.
The shift to subscriptions
Security isn't the only segment where a shift to subscription and recurring revenue is hurting near-term results. When asked by an analyst about the exact impact of this shift, CFO Kelly Kramer laid out the details:
Moving toward a recurring revenue model should make revenue more predictable, but for now, it's hurting Cisco's top-line numbers. Revenue that was once recognized all at once is being spread out over time. In the near term, this shift makes Cisco's results look worse than they really are. However, even adjusting for the negative impact of the subscription shift, Cisco's guidance still calls for a sales decline.
Repatriation
With President-elect Donald Trump promising to allow companies holding cash overseas to bring it back into the country at a 10% tax rate, Cisco's mountain of overseas cash may finally be put to good use. Kramer outlined the company's priorities:
At the end of the first quarter, Cisco had about $71 billion of cash and investments on its balance sheet, along with $34.8 billion of debt. Borrowing costs are low for Cisco, with the company paying just $198 million in interest during the first quarter. But some debt reduction is likely.
I suspect a major boost to the buyback would be in the cards in the event of repatriation. Cisco may also raise its dividend more than it would have otherwise, or implement a special one-time dividend. This is all speculation at this point, but I think it's safe to say that the company would return some of that cash to shareholders.
10 stocks we like better than Cisco Systems When investing geniuses David and Tom Gardner have a stock tip, it can pay to listen. After all, the newsletter they have run for over a decade, Motley Fool Stock Advisor, has tripled the market.*
David and Tom just revealed what they believe are the ten best stocks for investors to buy right now... and Cisco Systems wasn't one of them! That's right -- they think these 10 stocks are even better buys.
Click here to learn about these picks!
*Stock Advisor returns as of November 7, 2016
Timothy Green owns shares of Cisco Systems. The Motley Fool recommends Cisco Systems. Try any of our Foolish newsletter services free for 30 days. We Fools may not all hold the same opinions, but we all believe that considering a diverse range of insights makes us better investors. The Motley Fool has a disclosure policy.