4 Takeaways From Chevron's Q1 Earnings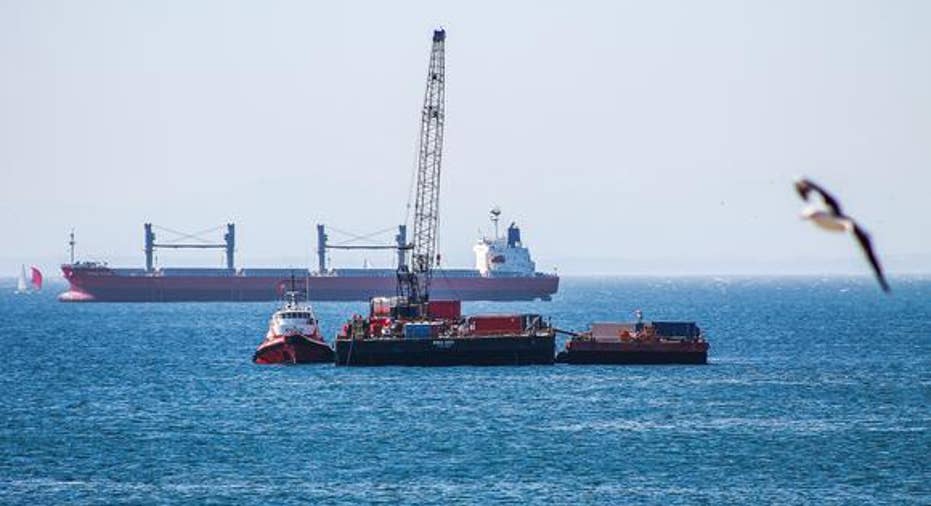 Oil tanker. Source: Pixabay
The first quarter was a terrible one for Chevron . Because of Brent prices that averaged just $34 per barrel in the time period, Chevron's net income fell to a loss of $0.39 per share, from a profit of $1.37 per share in first quarter of 2015. Revenue dropped 31.8% year over year to $23.56 billion, and the company's upstream division lost $1.46billion. Yet despite it all, Chevron's stock has held up rater well considering the results.
The following are four key takeaways from Chevron's earning report.
1. Chevron's large upstream division and substantial percentage of pre-productive projects hurt the companyChevron's earnings were poor and its cash flow from operations was just $1.1 billion, or $2.1 billion if removing the effect of the change in working capital, because the company's downstream is smaller than that of its peers. For the first quarter, Chevron's downstream division made just $735 million. By contrast,ExxonMobil's downstream and chemicals division made a cumulative $2.3 billion in the quarter.BP's downstream division deliveredunderlying replacement cost profit before interest and tax of $1.8 billion for the quarter.
Chevron's upstream cash flow was also deeply negative because the company has substantial large projects such as Gorgon, Wheatstone, and others that aren't producing any revenues but are consuming cash.
2. The first quarter might be the low pointAlthough Brent crude prices averaged $34 per barrel for the first quarter, the price of the commodity now sits $44 per barrel. Given the improving fundamentals in the sector, the higher-than-$30-per-barrel prices might stay. U.S. oil production has retreated around 100,000 barrels per day per month for several months. The management teams of both BP and Schlumberger have both said in their conference calls that they see the market moving closer to balance by the end of 2016.
Given that Chevron has an annual sensitivity of $350 million per barrel for every $1 change in the Brent crude price, Chevron's upstream segment earnings could be $875 million better if Brent averages $44 per barrel for the second quarter. The company's actual cash flow increase might be a little lower than what the sensitivities indicate due to the fact that Chevron typically gets realized prices below Brent.Chevron's operating cash flow and earnings will also increase as more of its major projects come online.Management expects to restart Train 1 at the Gorgon over the next few weeks and to achieve Train 1 ramp-up within six to eight months from the initial start-up.Wheatstone is on schedule to produce its first LNG around mid-2017.
No. 3 Chevron's debt isn't a problem and management is committed to being cash flow neutral in 2017Because Chevron's cash flow from operations didn't cover its capex spending or dividend payment, the company had to borrow a net $3.8 billion, which raised Chevron's debt ratio to 22% from 20%.
Chevron added $3.8 billion of net debt for the quarter. Source: Chevron investor relations.
Although rising debt might be alarming for any other company, the increasing debt isn't a big problem for Chevron - for now. That's because Chevron is still modestly levered at the moment, and management is comfortable with having a debt ratio of 30% or slightly higher at certain points in the cycle.
Next year does seem like the one where Chevron wants to get its cash flow in order. Chevron management is really committed to being cash flow-neutral at that time. It's said that it might adjust capex within the range of $17 billion to $22 billion higher or lower to balance out the cash flows to ensure neutrality.
4. Management didn't raise the dividend, but ...Although ExxonMobil raised its dividend by 2.7% in the quarter, Chevron didn't raise its dividend because the company's challenging first quarter really held the company back. There is some hope for a dividend raise over the next two quarters, however.
Chevron's management has said it will look at future cash flows to determine whether to raise its dividend. Given that Chevron management believes the company will reach cash flow neutrality with $52 Brent in 2017, Brent prices just need to go slightly higher to reach that magic $52 level. If Brent prices rise above that level and stay there, Chevron management's decision to increase the dividend will be much easier.
One caveat for the $52 per barrel number is that Chevron's projections for 2017 include non-core asset divestment of $3 billion to $8 billion for the year. If Chevron fails to cut its capital expenditures or operating expenses to make up for that, the company will need higher Brent prices to balance its cash flow.
Investor takeawayAlthough Chevron's first quarter was pretty terrible from a financial perspective, higher Brent crude prices and increasing production will improve the company's financial performance. Chevron's debt isn't too much a problem, and the company is on track to be cash flow neutral in 2017 if Brent crude can average $52 per barrel for the year. If Brent can rally to $52 or higher in the near term and sustain those levels, Chevron will probably raise its dividend this year.
The article 4 Takeaways From Chevron's Q1 Earnings originally appeared on Fool.com.
TMFJay22 has no position in any stocks mentioned. The Motley Fool owns shares of and recommends Chevron. The Motley Fool owns shares of ExxonMobil. Try any of our Foolish newsletter services free for 30 days. We Fools may not all hold the same opinions, but we all believe that considering a diverse range of insights makes us better investors. The Motley Fool has a disclosure policy.
Copyright 1995 - 2016 The Motley Fool, LLC. All rights reserved. The Motley Fool has a disclosure policy.