4 Reasons Why Falling Oil Prices Are Worse Than You Think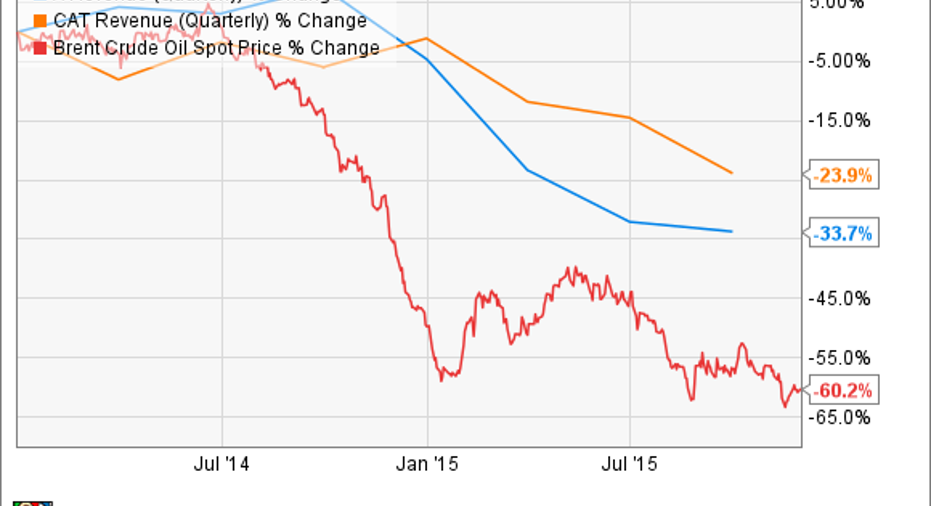 Falling oil prices have a sweeping impact on the domestic economy, for both better and worse. No one is going to complain about paying less for gasoline at the pump and some businesses love the lower cost of oil. But the fall of oil isn't good for everyone.
Here are a few places where falling oil prices will have a negative impact on the economy and stocks you might own.
Adam Galas: While U.S. consumers are certainly benefiting from the cheapest gas prices in years, there is a dark side to low oil prices. Perhaps the biggest is that well-paying oil sector jobs are being lost at a prodigious rate.
For example, oil service giants Schlumberger , Halliburton , and Baker Hughes have, among the three of them, announced 51,000 layoffs since the oil crash began.
Add in mounting layoffs from integrated oil giants and numerous independent U.S. oil and gas producers, and it's estimated that worldwide oil job losses have now reached 200,000. Unfortunately for oil workers, these layoffs aren't likely to stop anytime soon.
As Schlumberger CEO Paal Kibsgaard told analysts during the company's most recent earnings call, "The likely recovery in our activity levels now seems to be a 2017 event."
Things are also likely to get worse due to industry consolidation that naturally occurs during an oil slump. For instance, Schlumberger is in the process of buying Cameron International, the world's seventhlargest oil services company, for $12.7 billion.
That's not even the biggest oil services merger currently underway. That honor goes to Halliburton, which is buying up Baker Hughes for $34.6 billion.
Such megamergers naturally bring with them a hunt for synergistic cost savings, often in the form of elimination of overlapping business unit employee positions. That means even more job cuts might be in the offing.
That's especially true the longer the oil bust lasts, which even some of the most experienced minds in the industry can't predict. In the words of Halliburton Chairman, and CEO Dave Lesar, "In my 22 years in this business, I've never seen a market where we've had less near-term visibility... we are managing this business on a near real-time basis, customer-by-customer, district-by-district, product line-by-product line, and, yes, even crew-by-crew."
Travis Hoium: The energy industry isn't a stand-alone business in the global economy, so a decline in oil prices doesn't just impact energy companies. There are companies that supply fracking material, housing for workers, insurance, and other goods consumed by energy companies. But I'd like to focus on energy's contribution to the decline in commodities like steel.
Energy is one of the largest consumers of commodities like steel and aluminum, which are used to produce everything from drilling rigs to pipelines. You can see below that U.S. Steel has seen demand drop like a rock since oil prices started to decline because capital investment has been cut by an estimated $200 billion this year alone. This weak demand in energy has combined with growing imports from China (from oversupply there) to crush steel demand.
X Revenue (Quarterly) data by YCharts.
Even further down the supply chain is a company like Caterpillar , which builds equipment that extracts raw materials that go into creating steel and is even used directly by the energy industry itself. In the third quarter, machinery, energy, and transportation sales dropped 19% from a year earlier and sales are expected to fall another 5%-10% in 2016.
Energy is a highly capital-intensive business that drives hundreds of billions of dollars in economic activity every year. So, when oil prices drop and investment is shelved the impact reaches much farther than just energy related companies. Steel and industrial equipment are two industries negatively affected more than you might think.
Jason Hall:Falling oil prices do a world of good for the U.S. economy, but there's one potential negative consequence that many people don't know about: It could actually hurt American manufacturing if cheap oil is here to stay.
One of the bright spots in American manufacturing is the petrochemical industry, which produces chemicals used to make everything from car tires to fertilizer to fabrics. According to the American Chemistry Council, chemical companies have committed $153 billion in new investment in production in the U.S. over the next decade.
The council estimates that this will create more than 800,000 permanent jobs, paying an average salary of over $69,400 and generating more than $322 billion in annual economic output.
Cheap oil could throw a wrench in those investments, though, because cheap, plentiful domestic natural gas is an ideal feedstock to produce the raw ingredients manufacturers need, but it's not the only feedstock that can be used.
Crude oil can also serve to produce many of these products, but it's more expensive to process. However, cheap oil is making overseas chemical manufacturing using oil cost competitive with American chemical manufacturing, because lower overseas labor costs offset the difference.
Bottom line: If oil stays low for an extended period of time, we may see projects get delayed or even cancelled, meaning fewer new good-paying manufacturing jobs being created in the U.S. That's not even factoring in the job losses in the gas fields since less natural gas will be needed for domestic manufacturing.
Rich Smith: And here's another "bad" thing about falling oil prices -- which at first seems like a "good" thing: When oil prices fall, gas prices fall with them.
Good news, right? But consider this: When gas prices fall, consumers tend to be more willing to buy gas-guzzling cars, trucks, and SUVs, because, after all, gas is cheap!
Now here's the problem: Cheap oil prices, and cheap gas prices, never last. The increased buying of gas guzzlers increases demand for gas, which increases demand for oil, which drives the price of both gas and oil back up. It may take a while for this to happen, but it always happens, and it will happen again to today's low gas prices.
In fact, a recent Consumer Federation of America survey revealed that car buyers expect to see gas prices rise from the $2 today, to perhaps $3.20 a gallon in as little as two years -- a 60% increase, and more than a dollar more than the $2 that gas costs today.
Unfortunately, that's not the end of the bad news. Research shows that every $1 rise in the price of gas results in about a 10% decline in the resale value of a full-size SUV (for example). To put that in perspective, Kelley Blue Book puts the average price of a new car (truck, or SUV) at $33,560 today. The fuel efficiency on such a new vehicle is about 25 mpg. Times, say, 12,000 miles driven per year, that works out to about 480 gallons of fuel consumed per year -- or roughly $960 spent on gas annually.
A $1 increase in gas prices will therefore cost a driver an extra $480 a year at the pump -- and an additional $3,356 in depreciation! Total damage: $3,836 for every $1 move in gas prices back toward "normal."
And that, dear friends, is how good news about falling oil prices quickly turns into bad news.
It's all about perspectiveFalling oil prices may or may not be beneficial to you personally, but for the economy as a whole, oil has both positives and negatives. Job losses, more oil consumption, and industries negatively affected by low oil prices are just a few bad side effects. Something to think about next time you are paying $2 per gallon for gasoline.
The article 4 Reasons Why Falling Oil Prices Are Worse Than You Think originally appeared on Fool.com.
Adam Galas has no position in any stocks mentioned. Jason Hall has no position in any stocks mentioned. Rich Smith has no position in any stocks mentioned. Travis Hoium has no position in any stocks mentioned. The Motley Fool owns shares of and recommends Halliburton. Try any of our Foolish newsletter services free for 30 days. We Fools may not all hold the same opinions, but we all believe that considering a diverse range of insights makes us better investors. The Motley Fool has a disclosure policy.
Copyright 1995 - 2015 The Motley Fool, LLC. All rights reserved. The Motley Fool has a disclosure policy.