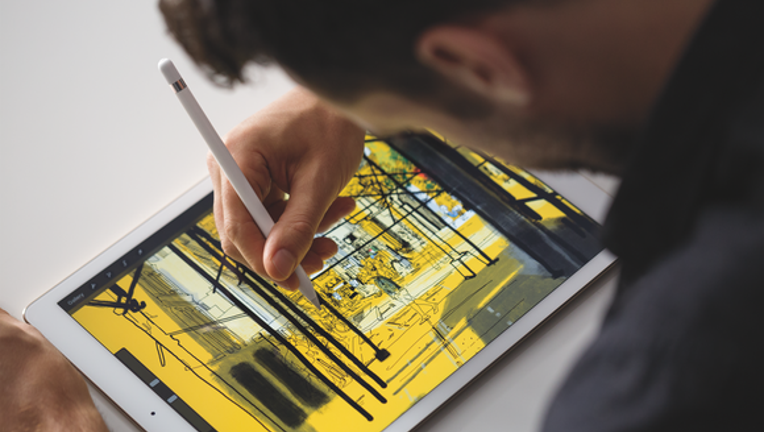 One key trend that Apple (NASDAQ: AAPL) investors have taken note of recently is the company's precipitous rise in research and development spending. As a percentage of revenue, Apple's R&D expenditures would historically stay within a 2% to 4% range, but in recent years this has climbed to 4% to 6%. That translates into an awful lot of spending in dollar terms when you factor in Apple's growing top line (2016 notwithstanding).
The most obvious explanation is that Apple is investing in future products that it won't talk about yet, which it certainly is doing. But that's just one of four different reasons why Apple's R&D investments have grown. CFO Luca Maestri spoke at the Goldman Sachs Technology and Internet Conference 2017 earlier this week, and he laid out why this line item on the income statement continues to grow.
Image source: Apple.
1. A growing product portfolio
Apple has always prioritized product depth over product breadth, which has historically helped contribute to R&D cost discipline. Even as the company still only offers a handful of devices within each product family, far fewer than some of its more prolific rivals, the portfolio is still expanding:
2. Investing in services
The Mac maker has grand ambitions of doubling its services business over the next four years. But even now, the current growth that the services business is enjoying requires a lot of investment in order to scale across Apple's massive user base.
3. More in-house development
This is perhaps the most important: Apple has in-sourced the development of many core technologies. The most meaningful of which being its A-series of processors, and designing processors is incredibly expensive. But doing so gives Apple greater control over its product roadmaps, instead of being at the mercy of suppliers' roadmaps. For instance, the Mac is still very much dependent on Intel's roadmap.
4. Future products
And of course, as mentioned above, Apple is investing in future products that aren't contributing to the top line quite yet.
Whether the pipeline includes a self-driving electric car, an augmented reality headset, or that mythical toaster/fridge remains to be seen. I'm still keeping my fingers crossed on the latter.
10 stocks we like better than AppleWhen investing geniuses David and Tom Gardner have a stock tip, it can pay to listen. After all, the newsletter they have run for over a decade, Motley Fool Stock Advisor, has tripled the market.*
David and Tom just revealed what they believe are the 10 best stocks for investors to buy right now... and Apple wasn't one of them! That's right -- they think these 10 stocks are even better buys.
Click here to learn about these picks!
*Stock Advisor returns as of February 6, 2017
Evan Niu, CFA owns shares of Apple. The Motley Fool owns shares of and recommends Apple. The Motley Fool has the following options: long January 2018 $90 calls on Apple and short January 2018 $95 calls on Apple. The Motley Fool recommends Intel. The Motley Fool has a disclosure policy.