4 Reasons to Buy HP Inc. Stock in 2017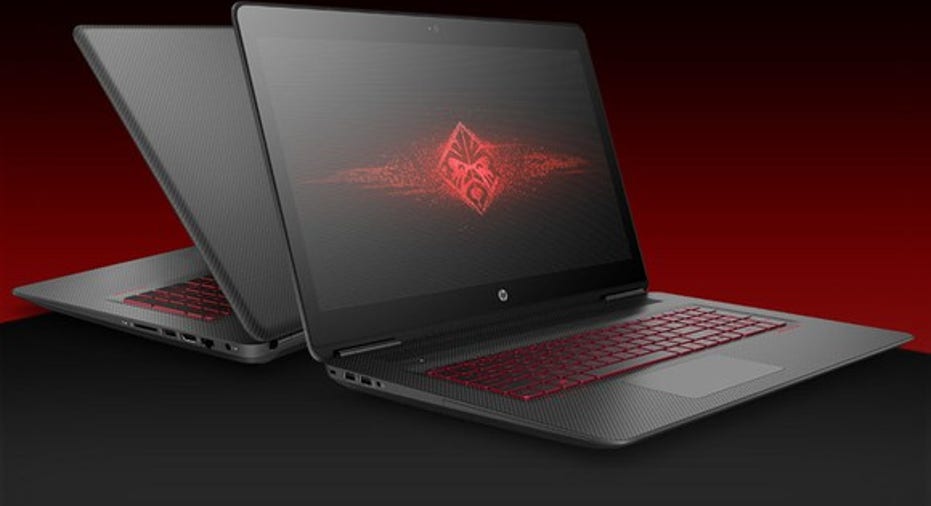 After the stock price climbed nearly 30% in value last year, some investors may think HP's (NYSE: HPQ) upside in 2017 is limited. Pundits seem to think so, as they did for much of last year. In addition, the consensus analyst price target is $16.10 a share -- all of 6% above HP's current stock price -- which amounts to a hold rating.
But before removing HP from a list of stocks to buy in 2017, there are several reasons why this year could prove to be every bit as strong as 2016. That's especially true for growth and income investors, in light of the fact that HP's dividend yield is near the top of the tech heap. But there are three other reasons HP should deliver on the growth side of the equation as well.
Image source: HP.
King of the hill
With each successive quarterly global PC sales report, the headlines inevitably go something like this: "PC Sales Nosedive. Again." The thing is, while the global PC market is declining, HP sales are booming. Last quarter,personal systems -- home to HP's PC sales -- generated $8 billion in revenue, up 4% year over year and 7% sequentially.
Each segment within the unit improved, led by a 6% jump in notebook sales. Because of these strong results, HP is within striking distance of unseatingLenovo (NASDAQOTH: LNVGY) as the top PC seller on the planet. In 2016's third quarter, HP held a 20.4% market share, up from 18.8% the prior year. Lenovo? Though its piece of the PC pie got larger, the increase was nominal, with its market share climbing to 20.9% from 20.2%. By the time year-end sales results are released, HP could find itself looking down on all PC manufacturers, including Lenovo.
When cheap is good
After HP's stellar 2016 run, it would be logical to assume the stock is priced fairly high. The good news for investors in search of value is that nothing could be further from the truth. At just 10 times trailing earnings, HP is one of the least expensive stocks in tech. HP shares are trading at a mere nine times earnings expectations.
And it gets better.
HP shaved nearly $3 billion in expenses last fiscal year, and if not for a $816 million tax benefit in 2015's fourth quarter, combined with a nearly $500 million tax-provision hit last quarter, HP would have increased net earnings from operations to $1 billion, compared with $699 million the prior year after the tax adjustment. Revenue was flat in the fourth quarter, but HP is growing its bottom line.
What about printing?
HP's printing unit sales declined 8% last quarter, dragged down by a 12% drop in supply sales, which is handily the division's largest segment. That can't be good, right? Actually, last quarter HP took a significant step in the right direction in remedying its printing woes. In the company's 2016 third quarter, total print sales were down 14%, led by a whopping 18% nosedive in supply sales.But help is on the way.
HP's $1.05 billion deal for Samsung's (NASDAQOTH: SSNLF) print unit is set to close this summer, which should really make things interesting. In addition to "more than 6,500" patents and cutting-edge technology, the acquisition of Samsung's printing division includes a supply segment, which should give HP a significant boost where it counts. There's also 3D printing -- a market poised to skyrocket -- and HP's newish Jet Fusion lineup could give existing players a real run for their money.
Show me the money
In addition to being one of the least expensive stocks in its sector, HP also pays one of the highest dividends. At 3.5%, HP's yield isn't the highest, but it's bumping up against the top dividends around. With cash and equivalents of $6.29 billion, and a long, stable history of paying its shareholders, HP's dividend should be safe for years to come.
Thanks to its industry-leading dividend, its position as the soon-to-betop PC manufacturer, an improving printing unit, and shares that are ridiculously cheap, HP stock is a buy for most any growth and income investor in 2017.
10 stocks we like better than HP When investing geniuses David and Tom Gardner have a stock tip, it can pay to listen. After all, the newsletter they have run for over a decade, Motley Fool Stock Advisor, has tripled the market.*
David and Tom just revealed what they believe are the 10 best stocks for investors to buy right now... and HP wasn't one of them! That's right -- they think these 10 stocks are even better buys.
Click here to learn about these picks!
*Stock Advisor returns as of January 4, 2017
Tim Brugger has no position in any stocks mentioned. The Motley Fool has no position in any of the stocks mentioned. The Motley Fool has a disclosure policy.