4 Reasons Amazon Is Winning the Smart Speaker Wars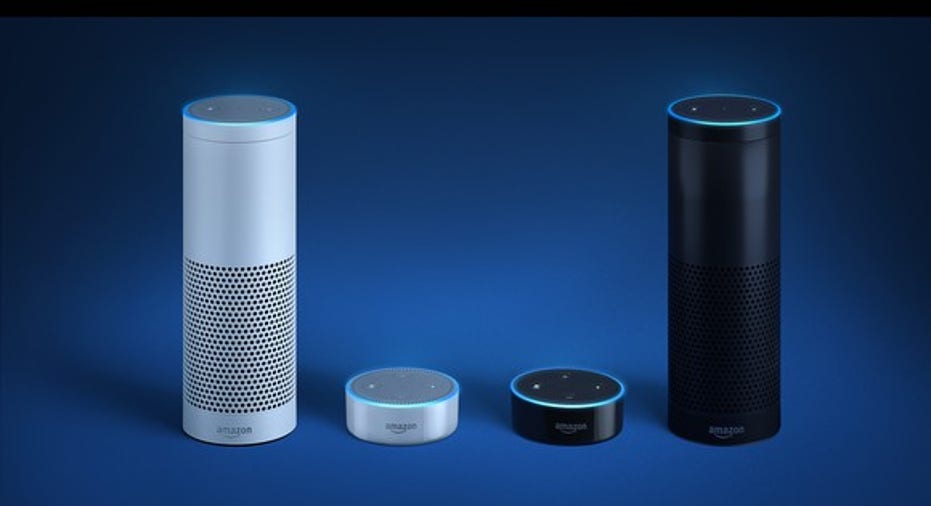 The home smart speaker market didn't even exist just a few short years ago, but it's taking the world by storm. Amazon.com(NASDAQ: AMZN) introduced the category with the debut of Echo, the hands-free speaker, powered by its cloud-based digital assistant Alexa. It has since been joined by sibling products -- the smaller Echo Dot and the wireless Tap -- with Alexa at the heart of each one. Consumer Intelligence Research Partners (CIRP) reportsthat in just two short years after its introduction, Amazon has sold an estimated 8.2 million devices, and was one of the company's top selling items over the holidays.While competition in the field is intensifying, it may be difficult for similar products to overcome Amazon's early lead. Here are four reasons why Amazon could come out on top.
First out of the gate
Having a two-year head start is a clear advantage. Alexa's foundation in artificial intelligence gives it the ability to learn and improve over time, adapting to the vocabulary and speech patterns of each user. The more interaction it has with consumers, the more intuitive and useful it will become. Early on, Amazon provided a skills kit to developers and encouraged partners to incorporate voice commands. Amazonreportsthat developers have published more than 10,000 skills for the Alexa, with that number tripling since September. As a result, you can use your smart speaker to control home automation devices, order pizza, or check your credit card account.
Echo and Echo Dot. Image source: Amazon, Inc.
High cost of switching
Many consumers are ruled by inertia, being reluctant to change ecosystems due to the high cost of switching. Issues such as exclusive content, the learning curve, and the financial cost involved may be factors. With this in mind, Amazon is pursuing a strategy that the company with the largest installed base wins. With an estimated 8.2 million devices sold and growing, being the first product consumers own in the category breeds familiarity and gives Amazon a distinct advantage.
Product search habits are evolving
Changes in consumer behavior when searching for products may also work to Amazon's advantage. Two recent studies reveal Amazon is increasingly consumers' first stop when searching for a product. A PowerReviews study in June 2016 revealed that 38% of US consumers began their product search on Amazon, while only 35% started with Google. A September 2016 study by BloomReach reported similar findings, with 55% of consumers initiating their search for a product with Amazon versus 28% with a search engine. While these patterns will no doubt grow Amazon's e-commerce sales, it will also increase the likelihood that a shopper's introduction to the smart speaker category will be with Amazon. A scrolling banner at the top of Amazon's website prominently features its devices.
Echo in your kitchen provides convenient access to product ordering. Image source: Amazon.
Prime advantage
Amazon Prime, with benefits such as free shipping and access to a growing list of movies and music, has an estimated 65 million U.S. members-- and that number is growing. Its shoppers become something of a captive audience which gives Amazon a variety of opportunities to interact with these existing customers to convey to them the value gained by using its smart speaker. Prime customers will also enjoy the ease of ordering products from Amazon using simple voice commands.
Challenges remain
This category remains so small that it won't make a dent in Amazon's revenue, which totaled nearly $44 billion in the company's most recent quarter. That said, this will be yet another way for Amazon to lock customers into its ecosystem and could lead to significant future sales from the company's e-commerce website.
There are areas where Amazon is still at a disadvantage. Smartphone penetration is one example. Digital assistants made their debut on smartphones and competing entrants are already in the hands of hundreds of millions of consumers. As the competition ramps up, potential buyers may be tempted to purchase a smart speaker in an ecosystem they already own, rather than learn a new one. That said, the Echo family of products is already in the homes of millions of consumers and is growing more prevalent with each passing day. In this nascent category, the story is still unfolding.
10 stocks we like better than AmazonWhen investing geniuses David and Tom Gardner have a stock tip, it can pay to listen. After all, the newsletter they have run for over a decade, Motley Fool Stock Advisor, has tripled the market.*
David and Tom just revealed what they believe are the 10 best stocks for investors to buy right now... and Amazon wasn't one of them! That's right -- they think these 10 stocks are even better buys.
Click here to learn about these picks!
*Stock Advisor returns as of February 6, 2017
Danny Vena owns shares of Amazon. The Motley Fool owns shares of and recommends Amazon. The Motley Fool has a disclosure policy.