4 Letters That Can Save Sony -- and GameStop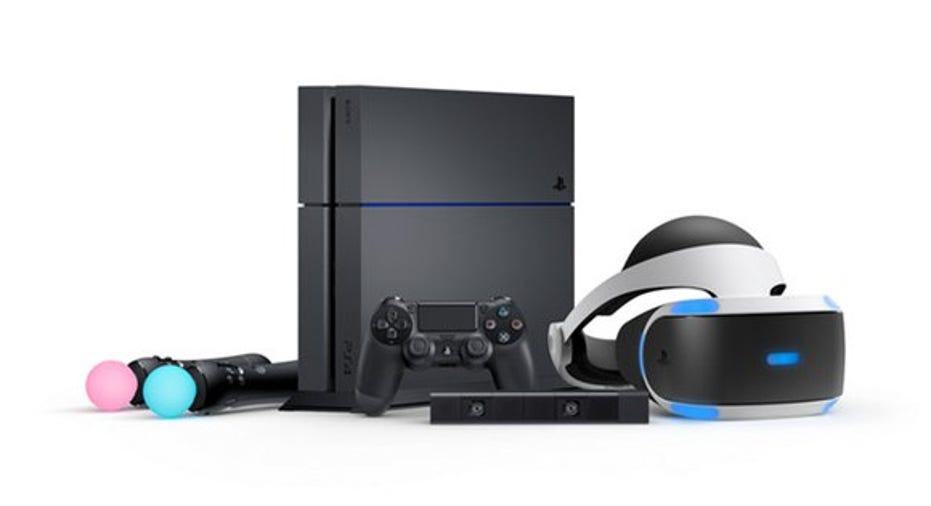 Image source: Sony.
Four minutes was all it took for GameStop to sell out of its exclusive allotment of Sony's PlayStation VR systems on Thursday. PlayStation VR -- PSVRfor short -- is Sony's foray into virtual reality.
PSVR hits the market on Oct. 13. Sony made an initial allotment available through various outlets earlier this year, but it chose to make its latest batch of systems available only through the leading video game retailer.
Virtual reality is going to be a pretty big deal this holiday season. There have already been several prolific hardware releases this year. The PC-based Oculus Rift and HTC Vive join the smartphone-based Merge VR and Samsung's Gear VR on the market. PSVR is jumping into a seemingly crowded market, but it has some distinct advantages.
Oculus Rift is the name making waves, but like HTC Vive it requires the octane of high-end PCs that most diehard gamers don't have. They are also expensive platforms. Merge VR and Gear VR are cheap, but strapping specialized goggles on smartphones can be a limiting experience.
Sony's platform strikes the right balance, and the $399 virtual reality system works with existing PlayStation consoles. That gives it a massive installed base, and it's no surprise that in-the-know GameStop customers hopped on the tight window.
Two long roads back
Sony and GameStop aren't at the top of their respective games. Sony has posted modest revenue growth through the past three years, but it posted declines in each of the four years before that. Sony has been struggling selling TVs, cameras, and other gadgetry. It's also been a major victim of streaming television replacing DVDs, something that has hurt Sony in both the sale of Blu-ray and DVD players as well as its movie studio and media replication business.
GameStop has also been a victim of digital delivery. Comps dipped 6.2% in its latest quarter. Its stores continue to be ridiculously profitable, and GameStop is returning money to its shareholders through earnings per share-padding buybacks and healthy dividends that currently amount to a yield of 5.5%.
Despite the fat payout, GameStop is trading a lot closer to its 52-week low than its 52-week high. Sony's hanging at the high-end of its 52-week range, but it's trading well below where it was a decade ago.
PSVR could help both company's fortunes. The key to its success rests on the fact that there are already more than 36 million PS4 owners. Tack on the PS4 camera accessory and PSVR and they can hop on the virtual reality bandwagon at a sliver of the hardware costs for market darling Oculus Rift. This explains why GameStop has become a hotbed of PSVR signups. If Sony's virtual reality platform is a hit, GameStop will likely thrive in the near term. That could be enough to buy Sony more relevance and GameStop more time.
The article 4 Letters That Can Save Sony -- and GameStop originally appeared on Fool.com.
Rick Munarriz has no position in any stocks mentioned. The Motley Fool has the following options: short July 2016 $28 puts on GameStop. Try any of our Foolish newsletter services free for 30 days. We Fools may not all hold the same opinions, but we all believe that considering a diverse range of insights makes us better investors. The Motley Fool has a disclosure policy.
Copyright 1995 - 2016 The Motley Fool, LLC. All rights reserved. The Motley Fool has a disclosure policy.