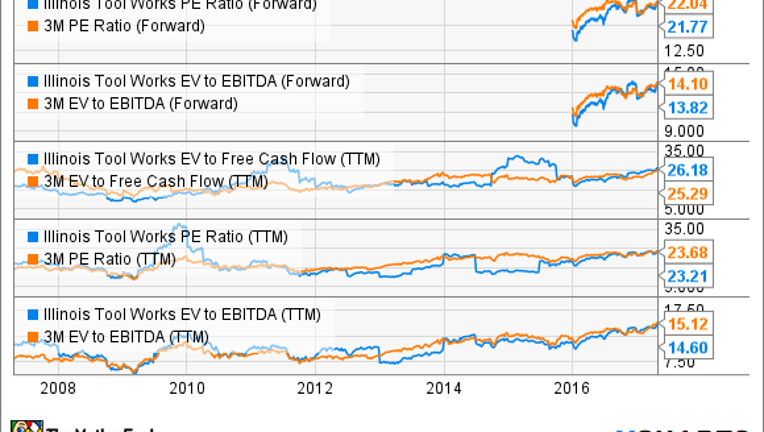 In general, it's been a good reporting season for industrial companies, and the results from diversified industrials such asIllinois Tool Works Inc. (NYSE: ITW) and 3M Co. (NYSE: MMM) stand out in particular. Both companies raised their full-year earnings and organic revenue forecasts and served notice of improving end markets.That said, both stocks now trade at valuations that are definitely not cheap on a historical basis.
Let's look at the key takeaways from Illinois Tool Works' recent earnings report and determine whether there's enough here to take the stock higher in 2017.
ITW PE Ratio (Forward) data by YCharts.
Enterprise strategy helps out, again
One of the most attractive aspects of Illinois Tool Works' business is its ability to increase operating margin through "self-help" initiatives -- the big plus is that this is margin expansion through internal actions rather than a reliance on end-market improvement. Specifically, in late 2011, management began its so-called "enterprise strategy," a three-step process involving restructuring the business portfolio of each segment to focus on growth businesses, simplifying the business structure and then using strategic sourcing to cut costs.
The following chart illustrates the point well. In the past few years, margin expansion -- measured in basis points, where 100 basis points equals 1% -- has been largely reliant on the aforementioned enterprise initiatives.
Data source: Illinois Tool Works presentations. Data in basis points. Margin expansion does not include restructuring or acquisitions. Chart by author.
The good news is that Illinois Tool Works continues to generate triple-digit basis-point gains from enterprise initiatives alone.
Volume and pricing
Volume increases contributed 100 basis points of margin expansion in the first quarter. That's a sign of end-market improvement. However, readers might also note that the item called "price/cost" declined 30 basis points in the quarter. CFO Michael Larsen discussed the issue and cited higher steel costs as the cause. He also forecast that price/cost would be slightly unfavorable -- 10 basis points to 30 basis points -- for the full year, and said that overall he doesn't expect it to have a material impact on results in 2017.
Furthermore, in response to a question from Goldman Sachs analyst Joe Ritchie, Larsen outlined how price increases had largely been done already, and "so there's really nothing major outstanding from a price standpoint."
Frankly, this is slightly disappointing -- though not unexpected, because 3M reported flat core pricing in its first quarter -- as it would be good to see an industrial recovery leading to some pricing power for Illinois Tool Works. On the other hand, it's probably reflective of the moderate nature of the general recovery since the last recession.
Illinois Tool Works hoped car production will stay in growth mode in 2017. Image source: Getty Images
Operating margin guidance: Too conservative?
Management increased full-year revenue guidance from a range of $13.8 billion-$14.1 billion to a range of $13.9 billion-$14.1 billion, and full-year GAAP EPS guidance from $6.00-$6.20 to $6.20-$6.40. However, management kept its operating-margin guidance for an increase of at least 100 basis points from 22.5% in 2016 to above 23.5% in 2017.
To be fair, management was not specific on operating-margin guidance, but I can't help feeling that assuming the bare minimum -- 100 basis points -- would be too conservative. Larsen forecast that enterprise initiatives would contribute 100 basis points of "structural margin improvement" in 2017, and you can see the 100-basis-point contribution from volume in the first quarter in the preceding chart. If price/cost is going to reduce margin by only 10 to 30 basis points, then it's not hard to see there is significant potential for operating-margin expansion in excess of 100 basis points overall in 2017.
End markets outlook
While Illinois Tool Works looks to have potential margin upside, it's always worth considering any possible downside risk to its end markets. This might seem an odd statement to make, since after all, the full-year organic revenue growth target was just raised to a range of 2%-4% from 1.5%-3.5%. Moreover, 3M also bumped its full-year organic revenue growth forecast from 1%-3% to 2%-5%, and growth in Illinois Tool Works' most cyclical segments -- welding, and test and measurement and electronics -- looks to be on the uptrend:
Data source: Illinois Tool Works presentations. Year-over-year growth. Chart by author.
However, there is cause for concern elsewhere:
Illinois Tool Works has previously outlined that 60% of its end markets are to the consumer, while 40% is to industrial, and consumer spending appears to be slowing. For reference, 3M's organic local currency growth in its consumer segment declined 1.2% in its first quarter.
Although Illinois Tool Works is assuming only 3% full-year revenue growth in its automotive segment in 2017,there are widespread fears that North America auto sales and production will, at the least, plateau in 2017.
Looking forward
All told, it was a good report from Illinois Tool Works, and like 3M, the company has good margin growth prospects in 2017. On the other hand, on the kind of valuations shown in the first chart, there is little room for error. Any kind of slowdown in car production or consumer spending could cause Illinois Tool Works to disappoint.
10 stocks we like better than Illinois Tool WorksWhen investing geniuses David and Tom Gardner have a stock tip, it can pay to listen. After all, the newsletter they have run for over a decade, Motley Fool Stock Advisor, has tripled the market.*
David and Tom just revealed what they believe are the 10 best stocks for investors to buy right now... and Illinois Tool Works wasn't one of them! That's right -- they think these 10 stocks are even better buys.
Click here to learn about these picks!
*Stock Advisor returns as of April 3, 2017
Lee Samaha has no position in any stocks mentioned. The Motley Fool recommends Illinois Tool Works. The Motley Fool has a disclosure policy.