4 Key Numbers From Freeport-McMoRan Inc.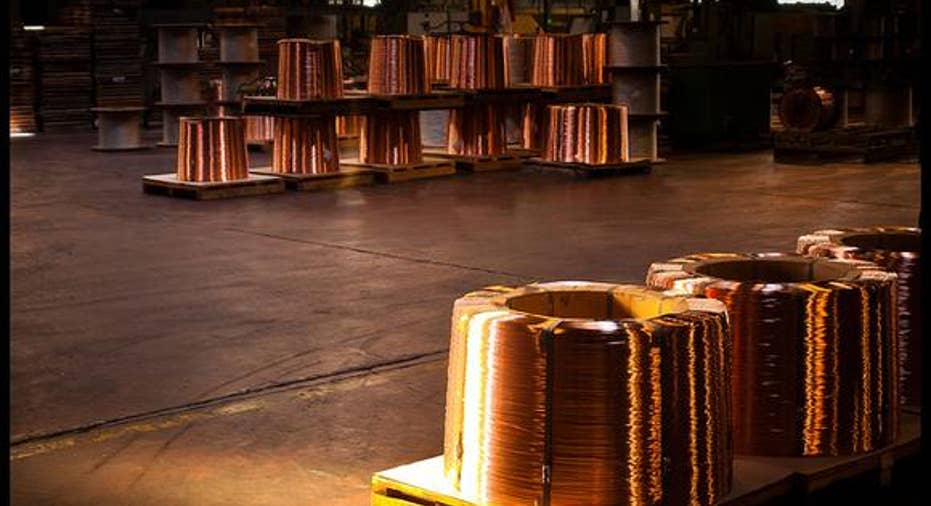 Copper has enjoyed a big run-up in value this year, and though it's probably unsustainable, the long-term out for the red metal and for Freeport-McMoRan has a rich patina. Image source: Flavio.
Like the price of the red metal itself, the stock of the world's biggest copper miner Freeport-McMoRan (NYSE: FCX) has staged a remarkable rally so far in 2016. Shares of the miner have gained 66% this year, and that's even after they took a spill following news that China's manufacturing sector was weaker than hoped. Because the country is the biggest consumer of copper (and many other metals and minerals besides), its economic health will dictate the ebb and flow of pricing, for copper and its primary producer.
Freeport's recent earnings report, however, showed just how the rout in commodities that preceded their current rally was dragging the miner down. Despite selling 17% more copper in the quarter than the year before, total revenues fell 15% and per-share losses widened 40% as prices plunged.
The miner's average realized price for copper was $2.17, or 20% below last year's number, and though gold was some 3% higher at $1,227 per ounce, Freeport produced almost 30% less and sold 24% fewer ounces. Molybdenum's production, sales, and pricing were also all down year over year.
In the conference call with analysts that followed, there were four key numbers Freeport-McMoRan discussed that investors should focus on as they think about the miner as an investment.
1. There's a looming 7-metric-ton supply deficit in copper by 2025.Although the laws of supply and demand are currently working against Freeport, over the next decade they will slowly tilt in its favor. The analysts at Wood Mackenzie predict that base copper production will decline 18% between now and 2025, from just under 20 metric tons a year to 16 metric tons. At the same time, demand is increasing at a compounded annual rate of 1.7%, which over the next 10 years will result in a supply gap of around 7 metric tons, assuming no new projects come online.
The likelihood of new mines should also be considered low, because it takes anywhere from seven to 10 years to bring a new project to production, and it would require a price of around $3.30 per pound to viably develop new resources from known resources.
2. There are four world-class projects in its portfolio.The weak commodities market and the current rally in pricing notwithstanding, Freeport-McMoRan has the benefit of operating a portfolio of majority-owned, high-quality assets that contain significant, valuable reserves:
Image source: Freeport-McMoRan investor presentation, April 26, 2016.
Freeport owns 85% of the Morenci mine in Arizona, though in February agreed to sell an additional 13% stake to its joint-venture partner, Sumitomo Metal Mining, for $1 billion. It owns 56% of Tenke Fungurume in the Republic of Congo; Lundin Mininghas a 24% stake, and theCongolesegovernment owns the remaining 20%. Freeport owns 100% of its other operations, except at El Abra in Chile, where it has a 51% interest, with the remaining 49% stake owned by the nationalized copper giant Coldelco. With expansion programs like those it has undertaken at Morenci and Cerro Verde, Freeport McMoRan has tremendous scale but at low costs.
3. Capital expenditures have been cut to just $1.8 billion.Premier assets allow you to weather a storm, but they still require strict cash conservation measures. That's why Freeport-McMoRan was forced to suspend its dividend late last year and has dramatically cut back on planned capital expenditures, reducing outlays for major projects from $3.3 billion in 2015 to a planned $1.8 billion this year. Moreover, it has taken to selling positions in less valuable assets, such as its Timok exploration project in Serbia; trying to shed its oil and gas interests, though it apparently found no buyers; and selling more of the Morenci project, which, as already noted, will bring in $1 billion that it intends to use to pay down some of its substantial $20 billion worth of debt. It also just announced it was selling the Tenke Fungurume copper and cobalt project in Africa to China Molybdenum for $2.6 billion.
4. Some $20 billion in oil and gas assets have become almost worthless.When Freeport-McMoRan bought Plains Exploration and McMoRan Exploration, the idea was to have it self-fund its own capex program, but the collapse in pricing cut the knees out from underneath it. In fact, the decline has cut so deeply that it can no longer even pay for the obligations it has just to maintain the status quo. Freeport found that out the hard way when it tried to sell the assets and couldn't find any takers.
Most of the $4 billion quarterly loss it recorded was a result of$3.8 billion in charges it took to reduce the carrying value of oil and gas properties. Since 2014, Freeport has taken charges for the impairment of the assets of around $20, and there remains just $3.4 billion left in capitalized costs for the assets, half of which remains subject to amortization.
It all adds upThere are a lot of moving parts to think about when it comes to Freeport-McMoRan. Its situation in Indonesia, for instance, remains volatile, with the important Grasberg mine hanging in the balance. It continues to invest there, and assuming a satisfactory conclusion to the negotiations with the government over its contract of work in the country, it will have at least a more stable framework to build upon.
Of course, as hinted at from the start, China will be a linchpin, and the most recent manufacturing data coming out of the country shows its economy continues to deteriorate. The Caixin-Markit PMI manufacturing index, which measures manufacturing activity in China, dropped to 49.4 last month, down from 49.7 in March, but marking the 14th straight month it has fallen. That caused metals and minerals to drop sharply, and while traders have been bullish this year about a rebound, which led to the commodities rally, miners themselves have said there is no reason for any near-term optimism.
With Freeport-McMoRan having advanced so far this year on the strength of that rally, I'd expect it to correct further as the year progresses. But the long-term outlook for the miner suggests a strong future and investors might use whatever weakness this copper and gold play exhibits to to buy in.
The article 4 Key Numbers From Freeport-McMoRan Inc. originally appeared on Fool.com.
Rich Duprey has no position in any stocks mentioned. The Motley Fool owns shares of Freeport-McMoRan Copper & Gold,. Try any of our Foolish newsletter services free for 30 days. We Fools may not all hold the same opinions, but we all believe that considering a diverse range of insights makes us better investors. The Motley Fool has a disclosure policy.
Copyright 1995 - 2016 The Motley Fool, LLC. All rights reserved. The Motley Fool has a disclosure policy.