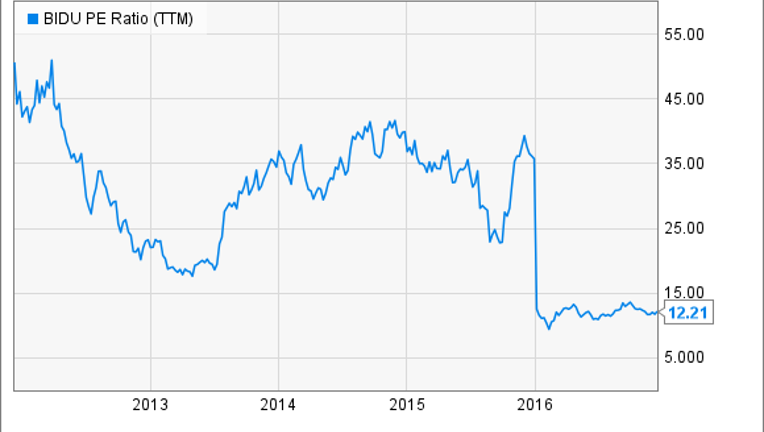 Baidu (NASDAQ: BIDU) stock slipped about 9% this year, due to concerns about slowing sales growth, higher investments, tighter regulation of ads, and the softness of the Chinese economy. However, the Chinese search giant might fare better next year for four simple reasons.
Beijing, China. Image source: Pixabay.
1. Baidu's market dominance
Baidu is often called the "Google of China" because itcontrols about 80% of the country's internet search market. The company benefited greatly fromAlphabet's (NASDAQ: GOOG) (NASDAQ: GOOGL) Google exiting the Chinese market in 2010, which caused its market share and revenues to surge.
Source:YCharts
Baidu's sales growth has slowed down over the past few quarters, but the search giant still has plenty of room to grow. China has an internet penetration rateof just 52%, compared to an 89% penetration rate in the U.S -- indicating that Baidu has plenty of room to grow. Baidu also finished last year with 260 million monthly active users (MAUs) in overseas markets like Brazil, Egypt, Indonesia, Japan, and Thailand.
2. Its slowing sales growth is temporary
Baidu's revenue fell 0.7% annually last quarter to $2.7 billion, stunning investors who were accustomed to sales growth of over 30% per quarter. However, that drop was mainly caused by to two temporary headwinds.
First, it sold its stake in online travel agency Qunar (NASDAQ: QUNR) to its rivalCtrip (NASDAQ: CTRP), which essentially swapped its stake in Qunar for a 25% stake in Ctrip. Second, its ad revenues were throttled by a government crackdown on "misleading" ads (especially pharmaceutical ones) across its network. Once these headwinds dissipate, Baidu's revenue isexpected to rise 6% this year and accelerate to 20% next year.
3. Baidu's widening O2O moat
Baidu's main rival isn't a smaller search engine like Qihoo 360 or Sohu's (NASDAQ: SOHU) Sogou. It's Tencent, a Chinese internet giant that controls a massive ecosystem of messaging platforms, social networks, e-commerce sites, web portals, and online games.
Tencent's main platform for challenging Baidu is WeChat (also known as Weixin), the most popular messaging app in China. WeChat has over846 million MAUs, compared toBaidu's 660 million mobile search MAUs. Tencent has expanded WeChat as a "monolithic" app with integrated O2O (online-to-offline) services like e-commerce orders, food deliveries, ride hailing services, and mobile payments. The more people use WeChat, the less likely they'll use Baidu's search services.
To counter Tencent, Baidu is adding similar O2O services into its mobile app, investing in Ctrip and Uber China (now part of Didi Chuxing), and building a driverless car platform. All those investments are weighing down Baidu's bottom line, but they are also widening its competitive moat.
4. Baidu's valuations
Baidu trades at just 13 times earnings, which is much lower than Alphabet's P/E of 29 and the industry average of 50 for internet information providers. That multiple also hovers near a multi-year low.
Source:YCharts
The problem with Baidu is that analysts believe that its earnings will fall 12% this year due to its big ecosystem investments. However, its earnings are expected to rebound 32% in fiscal 2017 after those growing pains subside. Therefore, if you believe that Baidu's investments will pay off, the stock looks pretty cheap relative to its peers.
But mind the risks...
Baidu has a low valuation, a market-dominating position and a growing moat. It also remains one of the safest plays on the growing Chinese tech sector.
However, the stock could remain volatile next year due to concerns about the Chinese economy, new regulations on ads, and higher-than-expected investments in new O2O features and adjacent markets. Therefore, investors should carefully weigh those pros and cons before buying Baidu.
10 stocks we like better than Baidu When investing geniuses David and Tom Gardner have a stock tip, it can pay to listen. After all, the newsletter they have run for over a decade, Motley Fool Stock Advisor, has tripled the market.*
David and Tom just revealed what they believe are the 10 best stocks for investors to buy right now... and Baidu wasn't one of them! That's right -- they think these 10 stocks are even better buys.
Click here to learn about these picks!
*Stock Advisor returns as of Nov. 7, 2016
Suzanne Frey, an executive at Alphabet, is a member of The Motley Fool's board of directors. Leo Sun has no position in any stocks mentioned. The Motley Fool owns shares of and recommends Alphabet (A shares), Alphabet (C shares), and Baidu. The Motley Fool recommends Ctrip.com International and Sohu.com. Try any of our Foolish newsletter services free for 30 days. We Fools may not all hold the same opinions, but we all believe that considering a diverse range of insights makes us better investors. The Motley Fool has a disclosure policy.