4 Good Reasons Harley-Davidson Should Be Taken Private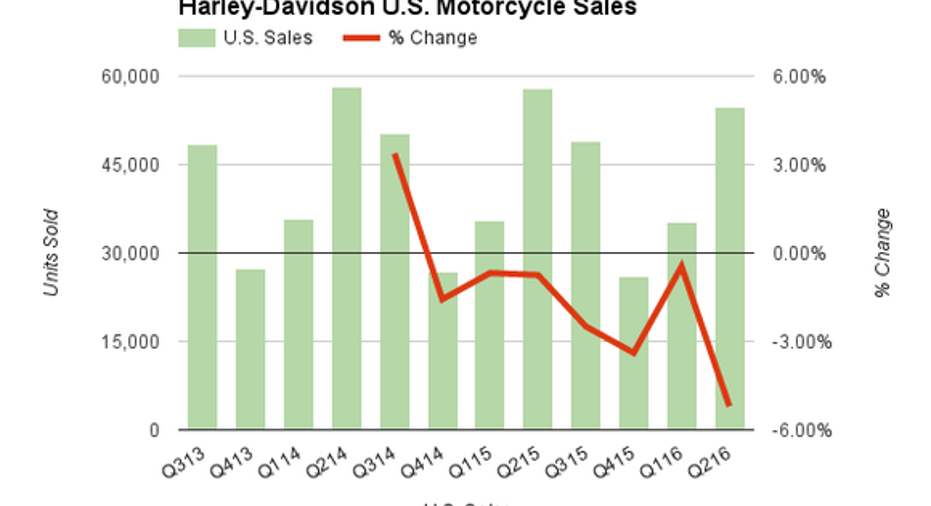 Harley-Davidson could still build its classic American-made motorcycles if it was a privately held company. Image source: Justin Ennis via Flickr.
If Harley-Davidson (NYSE: HOG) can't sell motorcycles, maybe it should peddle takeover rumors instead, as those seem to get its stock jumping. Once again, a report that private-equity firm KKR & Co. (NYSE: KKR) was kicking the tires on the big bike maker as it mulled a possible purchase caused the stock to jump, until both sides said there was nothing going on and the shares settled back down.
In July, a similar rumor sparked a 20% rally in Harley-Davidson's stock that was also eventually deflated when no offer materialized. In 2010, at one of the motorcycle maker's darkest points, the private-equity firm was the subject of another takeover rumor.
While Harley is a much different (and better) company than it was before it went public back in 1986, a few years after having been sold by former owner AMF (dark days indeed) -- being taken private now by KKR or some other investor might not be such a bad idea. Here are four reasons Harley-Davidson might want to consider it.
1. Falling sales
Harley sales have fallen for seven straight quarters, and for eight of the last nine -- at least here in the U.S., its largest market, which accounts for almost two-thirds of total sales. In the second quarter, U.S. sales were down 5% from the year-ago period.
Data source: Harley-Davidson quarterly SEC filings. Chart by author.
That's mostly been a product of the resurrection of the Indian Motorcycle nameplate engineered by Polaris Industries (NYSE: PII), which took Indian Motorcycle out of bankruptcy and has marched it to consistently higher sales quarter after quarter. Its own second-quarter sales came in 23% higher year over year.
Going private would enable Harley-Davidson to fix what's wrong with its business here at home, while continuing to build its international sales platform, which has been appreciably stronger though it is a much smaller component of the total.
2. Dubious shipment numbers
Because sales have been falling, Harley has seemingly resorted to some dubious counting practices to justify its shipments. Even though the fourth quarter is its weakest sales period, the bike maker has found it necessary to send shipments above and beyond what would be prudent in order to hit the guidance it's offered. Two years in a row, it has flooded dealers with more bikes even though they hadn't moved the inventory already on their lots. Not having to cater to investor expectations would allow Harley-Davidson to avoid tarnishing its reputation in that way.
3. Losing market share
As a result of the above factors, Polaris Industries has been stealing large swaths of market share from Harley-Davidson. Although Harley's share currently sits at 49.5%, which it contends is two points higher than it was a year ago, that all depends on how you count.
When Harley talks about motorcycles, it means bikes with engine displacements of 601 cubic centimeters or more. When Polaris discusses motorcycles, however, it is talking about bikes900 cc and larger. Honda (NYSE: HMC), on the other hand, says it's the leading on-road motorcycle maker with a 20.5% share, followed by Harley in second place with a 19.7% share -- but that's taking all bike sizes into account.
Harley-Davidson may still be the biggest name in motorcycles in the U.S., but its position is sliding, and that trend shows no signs of abating any time soon.
4. Loan metrics deteriorating
In addition to selling motorcycles, Harley also finances them, via Harley-Davidson Financial Services (HDFS). In recent periods, losses for loan provisions have started to mount as the quality of its loan portfolio deteriorates. Subprime loans account for fully one-fifth of HDFS's loan originations, and the division's operating profits decreased by nearly 13% in the first quarter, due in part to its increasing by $13 million the provision for loan losses as it suffered higher retail credit losses.
Harley-Davidson says this is nothing to worry about, as the loan business has been so good in recent years that what we're seeing is simply a return to the mean, but it still indicates a weakening in the motorcycle industry. Big-ticket purchases are taking a back seat to other expenses, and any worsening of the economy could spell trouble. It might be easier to explore other opportunities for monetizing its loan portfolio if it wasn't counting on its loan business so heavily to make its quarterly numbers.
A private conversation
There are a number of good reasons why Harley-Davidson wouldn't want to go private, but there are more than a few reasons why it should. It remains an iconic motorcycle maker with a storied history and legions of devoted fans. That wouldn't change if it became a privately held company, and it would have ample opportunity to focus on the job at hand -- building the best American-made motorcycles it can.
A secret billion-dollar stock opportunity The world's biggest tech company forgot to show you something, but a few Wall Street analysts and the Fool didn't miss a beat: There's a small company that's powering their brand-new gadgets and the coming revolution in technology. And we think its stock price has nearly unlimited room to run for early in-the-know investors! To be one of them, just click here.
Rich Duprey has no position in any stocks mentioned. The Motley Fool owns shares of and recommends Polaris Industries. Try any of our Foolish newsletter services free for 30 days. We Fools may not all hold the same opinions, but we all believe that considering a diverse range of insights makes us better investors. The Motley Fool has a disclosure policy.