4 Critical Takeaways from Stratasys' Q4 Earnings Call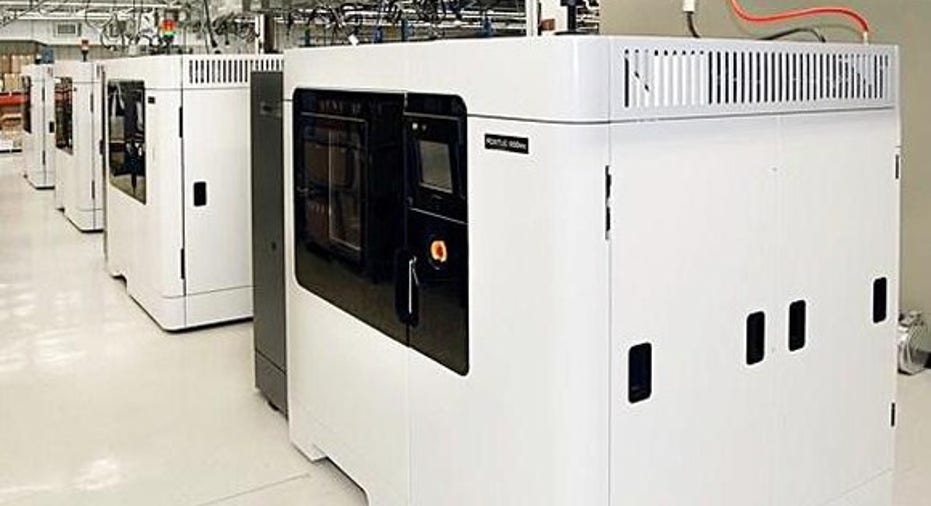 Stratasys (NASDAQ: SSYS) reported its fourth-quarter and full-year 2016 results on March 7. The diversified 3D printing company's year-over-year quarterly revenue increased 1.1% and adjusted earnings per share improved to $0.15, from negative $0.01 in the year-ago period.
Shares of Stratasys closed more than 9% down on the day earnings were released. While the company's quarterly results blew by Wall Street's estimates, the market was no doubt disappointed that 2017 revenue and adjusted earnings guidance came in lighter than analysts were expecting.
Earnings releases generally don't provide much information beyond the numbers, but a wealth of color about a company's performance and future prospects is often shared during the analyst conference calls following these releases. Here are four key things that you should know about from Stratasys' Q4 call.
Stratasys' Fortus 3D printers. The company has developed a new material, Nylon 12CF, for its Fortus line that can replace metal in many applications.
1. New Nylon 12CF material can replace metal in many applications
From CEO Ilan Levin's remarks:
Stratasys introduced Nylon 12CF on the same day it released earnings, and said that it expects this new material to be available in the second quarter of this year. Nylon 12CF "contain[s] 35% percent chopped carbon-fiber by weight [and] offers the best stiffness-to-weight ratio among Stratasys' FDM thermoplastics."
Unlike rival 3D Systems, Stratasys doesn't have a metal 3D printing technology, so it's a particularly big plus that it has developed a material that can replace metal in many 3D printing applications.
2. Transitioning to a more customer-centric company
From Levin's remarks:
Stratasys has been shifting its strategy from developing one-size-fits-all products to working more closely with companies within key vertical markets (aerospace, auto, and healthcare) to develop solutions to meet their specific 3D-printing application needs. These applications could includeadvanced prototyping, tooling production, and/or parts manufacturing.
Such a strategy should build closer customer relationships, and enable Stratasys to leverage the knowledge learned by collaborating with a specific customer to other potential customers within the same industry.
Levin added that such a strategy lengthens sales cycles, which makes providing forward guidance more challenging. I think investors can infer from his comments that Stratasys' 2017 guidance is quite conservative.
3.Recurring revenue continues to roll in
From CFO Lilach Payorski's remarks (Payorski replaced the former CFO on Jan. 1.):
While Stratasys' quarterly results were considerably improved versus the year-ago period, they still reflect a challenging market. Nonetheless, the company's recurring revenue stream was solid, thanks to the power of its razor-and-blade-like business model. Such a model results in revenue from the "blades" (consumables/print materials and 3D printer service contracts) continuing to roll in as more "razors" (3D printers) are sold.Consumables (print materials) have a higher profit margin than the company's average, which makes growth in this category particularly desirable.
4. Focusing on more deeply developing FDM and PolyJet techs
The following is from Levin's response to an analyst whose basic question was whether Stratasys' main focus was on more deeply developing its FDM and PolyJet technologies or on expanding the number of its technologies to include such things as a metal technology. (Stratasys has three techs: FDM and PolyJet, which are both polymer-based techs, plus wax deposition modeling, or WDM, which is used for dental applications.)
While the company's focus seems to be on more deeply developing its existing polymer techs, I don't think Levin's response should rule out that Stratasys will eventually acquire or develop other technologies, such as one for metals.
Infinite-Build and Robotic Composite are FDM-based, next-generationtechnologies targeted at manufacturing applications, though they could also be used inadvanced prototyping applications. Infinite-Build, which is beingdeveloped withBoeingandFord,is designed for low-volume production of large thermoplastic parts, and the Robotic Composite, which is being developedwithSiemens, isdesigned for the automated production of composite material structures.
10 stocks we like better than StratasysWhen investing geniuses David and Tom Gardner have a stock tip, it can pay to listen. After all, the newsletter they have run for over a decade, Motley Fool Stock Advisor, has tripled the market.*
David and Tom just revealed what they believe are the 10 best stocks for investors to buy right now... and Stratasys wasn't one of them! That's right -- they think these 10 stocks are even better buys.
Click here to learn about these picks!
*Stock Advisor returns as of February 6, 2017
Beth McKenna has no position in any stocks mentioned. The Motley Fool owns shares of and recommends Ford. The Motley Fool recommends 3D Systems and Stratasys. The Motley Fool has a disclosure policy.