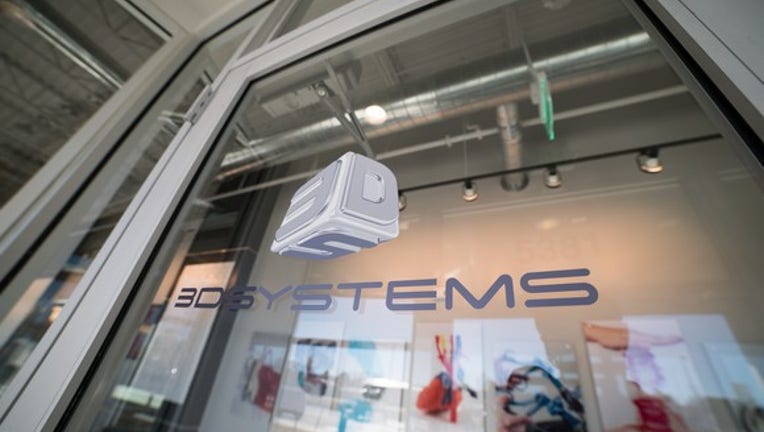 3D SystemsCorporation(NYSE: DDD) reported its fourth-quarter and full-year 2016 results on Tuesday, Feb. 28. The diversified 3D printing company's year-over-year quarterly revenue slid 9.5% and adjusted earnings per share declined 21%. Positively, EPS on the basis of generally accepted accounting principles (GAAP) swung from a negative to a positive result.
Shares of 3D Systems closed down more than 10% on the day earnings were released. The market was likely disappointed with fourth-quarter revenue and 2017 revenue guidance coming in lower than analysts were expecting. Positively, quarterly adjusted EPS beat analysts' estimates and 2017 EPS guidance, at the midpoint, surpassed estimates.
Earnings releases generally don't provide much information beyond the numbers, but a wealth of color about a company's performance and future prospects is often shared during the analyst conference calls following these releases. Here are four key topics that you should know about from 3D Systems' Q4 call.
Image source: 3D Systems.
1. Commercialization of Figure 4
From CEO VyomeshJoshi's remarks:
3D Systems introduced its Figure 4 technology in early 2016, though it's still in the development stage. It's aa robotic, modular, stereolithography (SLA) 3D printing system designed for the production of plastic parts.It's reportedly up to 50-times faster than conventional SLA 3D printers, and a key part of 3D Systems' strategy to capitalize as 3D printing gains more traction in manufacturing applications.
While Joshi wouldn't be pinned down on the call as to exactly when this tech will be commercialized, his statement indicates that commercialization is planned for some time this year. He also said that one large industrial customer (who he didn't name) is currently testing Figure 4.
2. Projected 2017 growth drivers
From Joshi's remarks:
As for projected 2017 growth, the company expects year-over-year revenue growth between 2% and 8%, adjusted EPS growth between 10% and 20%, and GAAP EPS to swing from a negative to a positive result.
Software and healthcare were the better performing parts of 3D Systems' business in 2016, with year-over-year revenue growth of 12% and 4%, respectively. (Healthcare includes both products and services.)3D printer sales were the weakest part of the business in 2016, with revenue declining 21% year over year. As Joshi said, the company expects 3D printer revenue to increase in 2017, driven by printers for production applications, metal 3D printers, and Figure 4.
3. Clarifying the state of 3D printer sales
From CFO John McMullen's remarks:
To provide some context, the $133.3 million in revenue generated from 3D printer sales accounts for 21.1% of the company's total revenue of $633.0 millionin 2016.
3D Systems won't recover significantly from its current struggles, in my opinion, until it shows some solid improvement in sales of 3D printers. Sales of 3D printers are at the heart of the company'srazor-and-blade business strategy, as they are the "razors" that drive sales of the higher-margin 3D printing materials, or "blades."
4. 2017 revenue guidance is weaker than it might appear
From McMullen's remarks:
Since 3D Systems' 2017 revenue guidance includes the contribution from the recent acquisition, the company's projected organic growth rate (growth in businesses owned for at least one year) is less than the 2% to 8% total year-over-year revenue growth guidance it provided. This isn't a criticism, just a clarification. Many investors probably didn't realize that 3D Systems made an acquisition in late January.
As for the acquired company, 3D Systems said at the time of the acquisition that it's theleading global innovator and manufacturer of photopolymer, thermoplastic, polymer and monomer materials for traditional and 3D printing dental applications. The acquisition was expected to be immediately accretive to 3D Systems' earnings and cash flow.
While this acquisition seems a solid move, hopefully 3D Systems remains conservative for a while with respect to making acquisitions, so its relatively new top management can laser focus on strengthening the company's existing businesses.
10 stocks we like better than 3D SystemsWhen investing geniuses David and Tom Gardner have a stock tip, it can pay to listen. After all, the newsletter they have run for over a decade, Motley Fool Stock Advisor, has tripled the market.*
David and Tom just revealed what they believe are the 10 best stocks for investors to buy right now... and 3D Systems wasn't one of them! That's right -- they think these 10 stocks are even better buys.
Click here to learn about these picks!
*Stock Advisor returns as of February 6, 2017
Beth McKenna has no position in any stocks mentioned. The Motley Fool recommends 3D Systems. The Motley Fool has a disclosure policy.