4 Consumer Goods Stocks with the Biggest Revenue Growth Over the Last 10 Years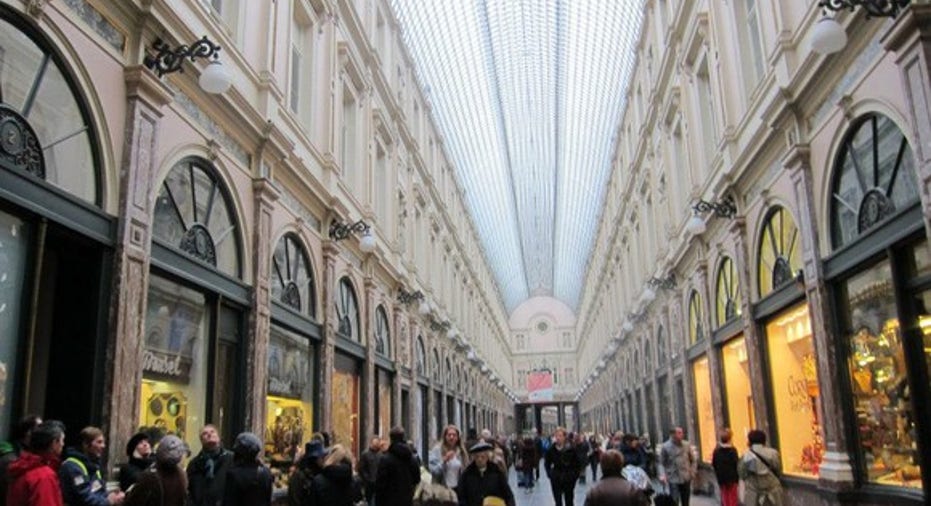 Image source: Motley Fool.
Revenue growth may not get the attention that earnings growth does. Profits ultimately determine a stock's valuation, so it's clear why the bottom line gets the bulk of investor focus. But while there are a number of tricks to boost earnings in the short term like cost-cutting and share buybacks, in the end revenue growth is what underpins and drives profit growth.
Below is a list of the top four consumer goods stocks in terms of revenue growth over the last ten years.
1. Under Armour (NYSE: UA)
It's a testament to Under Armour's prowess and success as an upstart in the sports apparel world that it has the best revenue growth rate in the last decade, with a compound growth rate of 28.5%. The company has steadily innovated, made small acquisitions in the connected fitness arena, and signed big-name athletes like Stephen Curry, Cam Newton, and Bryce Harper, and has become a legitimate challenger to Nike and Adidas over the years.
The company marked its 26th consecutive quarter in a row of 20% revenue growth or better in the third quarter, and expects that streak to continue -- it's projecting revenue of $7.5 billion in 2018, up from a forecast of $4.925 billion in 2016, or a rate of 23.5%. Though investors were recently disappointed with a cut in operating income guidance, footwear sales have been strong lately and should help the company achieve its 2018 revenue goal.
2. Sequential Brands Group, Inc. (NASDAQ: SQBG)
While Under Armour has grown to be a $12 billion company over the last decade, attracting growth investors far and wide, Sequential Brands has flown under the radar, and even today is worth little more than $300 million. The stock has actually lost value over the last decade despite blockbuster revenue growth in recent years.
Also unlike Under Armour, the licensing company's revenue growth has come from acquisitions rather than organic growth. Over the last ten years, revenue has grown at a compound rate of 25.7%. In 2016, the company acquired Gaiam Yoga; other recent acquisitions include Martha Stewart, Chef Emeril, and Joe's Jeans. Due to those acquisitions, the company's long-term debt has spiked from $0 to $650 million, and profits have not materialized, which is why the stock has fallen despite strong revenue growth.
3. TreeHouse Foods (NYSE: THS)
#3 on the list is TreeHouse Foods, a provider of private-label food products for grocery stores and other vendors. Over the last decade, the company has seen revenue grow at a compound annual rate of 20.1%, enough to bring it from a little more than $1 billion to more than $5 billion. The stock has more than doubled in that time, but has fallen sharply in the last six months. In 2016, the company's revenue surged as it acquired ConAgra's private-label brand, which caused revenue growth to double.
Without the acquisition, TreeHouse would not have made the top five. In recent years, the company has made acquisitions of companies like Associated Brands and Flagship Foods, and during much of the last decade, revenue growth was only in the single digits. However, the company also scored a partnership to make private-label foods for Amazon.com, a deal that could help drive further revenue growth considering Amazon's ambition in food.
4. Craft Brew Alliance (NASDAQ: BREW)
Beer drinkers may not be surprised to see Craft Brew Alliance on the list -- craft beer has seen blockbuster growth over the last decade as microbreweries have proliferated across the country. Like Sequential Brands, Craft Brew Alliance, which is made up of a handful of breweries including Kona, Widmer Brothers, Redhook, Omission, and Square Mile, is still small, at a market cap of less than $300 million. Revenue has grown at a compound annual rate of 19.5% to $205 million over the last four quarters.
Craft Brew Alliance counts AB/InBev as a passive, minority investor, and has been on the move lately, taking a stake in Miami's Wynwood Brewing in December. Over the last decade, the company has made other acquisitions, including Kona, which has been the company's best-performing brewery of late. Looking ahead, CBA acknowledged unprecedented competition and slowing in sales in the craft beer market, indicating that revenue may slow down in the coming years. However, the company will likely continue looking for acquisitions to propel sales.
10 stocks we like better than Under Armour When investing geniuses David and Tom Gardner have a stock tip, it can pay to listen. After all, the newsletter they have run for over a decade, Motley Fool Stock Advisor, has tripled the market.*
David and Tom just revealed what they believe are the 10 best stocks for investors to buy right now... and Under Armour wasn't one of them! That's right -- they think these 10 stocks are even better buys.
Click here to learn about these picks!
*Stock Advisor returns as of January 4, 2017
Jeremy Bowman owns shares of Nike and Under Armour (C Shares). The Motley Fool owns shares of and recommends Amazon.com, Nike, and Under Armour (C Shares). The Motley Fool has a disclosure policy.