3M Stock Downgraded to Sell: Should You Worry?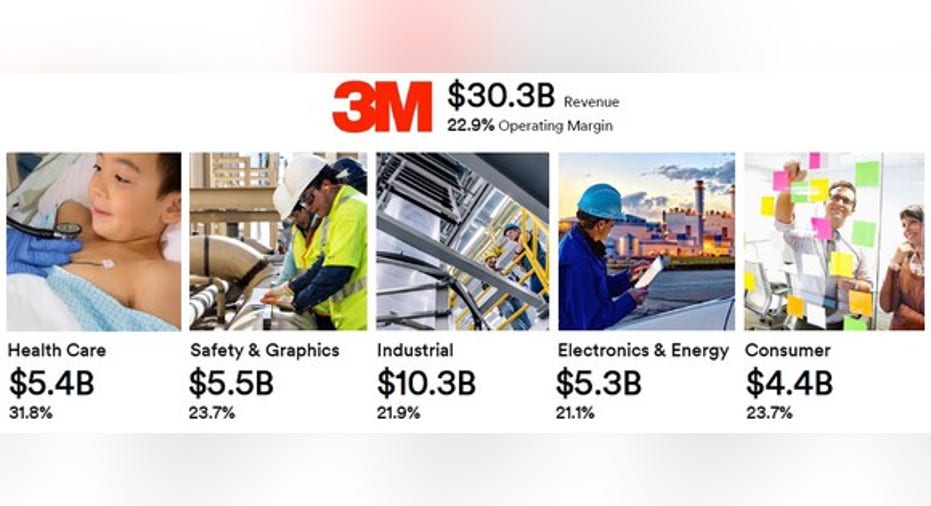 Image source: Getty Images.
3M (NYSE: MMM) is up about 14% so far this year, but Goldman Sachs believes the stock's good days might be over. The Wall Street analyst giant recently downgraded 3M from neutral to sell, and assigned a price target of $159, representing roughly 8% downside from the current price. You don't see outright sell recommendations from top analyst firms every day. So what's the deal with 3M, and should investors in the company be worried?
Why Goldman Sachs is bearish about 3M
3M's fundamentals remain strong. It's the company's "non-industrials" side that has made Goldman Sachs pessimistic. As reported on StreetInsider.com, analyst Joe Ritchie cited "pivoting from 'non-industrial' industrials" as his primary reason behind downgrading 3M. I don't blame you if you're confused, but allow me to explain.
One of the biggest highlights of 2016 has been renewed investor interest in cyclical industrial stocks after a long lull. A perfect example is pure industrial play Caterpillar (NYSE: CAT). The heavyweight manufacturer's stock lost almost 28% of its value in 2015 as deteriorating conditions in the mining and oil and gas industries hit its top and bottom lines. The scene has been dramatically different this year, with Caterpillar clocking 40% gains so far. End-market conditions might not have improved yet, but the market appears to believe the worst is over for Caterpillar. 3M's gain of 14% this year pales in comparison to Caterpillar's run-up.
Caterpillar might not have much in common with 3M, but it serves as an important example in explaining why Goldman Sachs is bearish about the latter. Exposure to mining and construction makes Caterpillar a typical cyclical industrial stock. 3M, on the other hand, is more of a "defensive" industrial stock, as Goldman Sachs puts it. That's because 3M is a conglomerate of a number of unrelated businesses serving different sectors, including defensive ones like healthcare and consumer goods. In fact, some of 3M's most popular brands, like Scotch, are purely consumer-centric. In short, 3M is broadly a mix of industrials, consumer, healthcare, electronics, and energy. This graphic, which shows 3M's 2015 revenues by segment, should give you a better idea of what I mean:
Image source: 3M Investor Day Presentation, March 2016.
Goldman Sachs believes cyclical stocks should continue to outperform defensive industrials in the near future as "industrial demand appears to be stabilizing and oil becomes less of a headwind," which is why 3M isn't as attractive anymore. In fact, Goldman Sachs also downgraded 3M's competitor Illinois Tool Works' stock rating to neutral for the same reason. Both companies compete in several common industrial markets; as in 3M's case, a big chunk of Illinois Tool Works' sales comes from consumer-centric markets.
So should you sell 3M stock too?
Elaborating on his 3M downgrade, Ritchie mentioned that "growth challenges" in 3M's electronics business, in particular, pose a headwind as "smartphone sales taper and the shift to OLED [displays] continues." Among its other products, 3M specializes in LCD display films for gadgets like phones and laptops.
A 3M multi-touch interactive display. Image Source: 3M.
Goldman Sachs' apprehensions perhaps stem from 3M's latest numbers. Electronics and energy was 3M's weakest segment during the first nine months of the year, with sales tumbling 10% year over year. With the exception of industrials, where sales were flat, all other 3M segments reported higher sales during the period.
There's no denying that 3M's electronics and energy segment sales are under pressure, but the situation isn't as bad when it comes to margins. In Q3, the segment operating margin contracted by only about 40 basis points year over year despite a 7.5% drop in sales. In fact, 3M's overall operating margin for the nine months ended Sept. 30, 2016, improved 70 basis points, to 24.4%, on marginally lower sales. More important, 3M has consistently maintained margins above 20% and doubled its free cash flow in the past decade, regardless of the phase of the business cycle.
MMM Operating Margin (TTM) data by YCharts.
This reflects management's efficiency in handling a diverse portfolio in the best possible way to grow the company even in adverse conditions. So even if electronics sales taper in the near future, investors needn't panic yet. Healthcare -- 3M's highest-margin segment -- remains strong; its industrials and safety and graphics businesses could even benefit if infrastructure spending in the U.S. picks up. All this could help offset some of the weakness in electronics sales, if it persists.
A revival in cyclical stocks won't diminish 3M's worth, or its ability to ride out storms. The company has proved its resilience, having rewarded shareholders consistently by increasing its dividend for 58 straight years. Going forward, 3M is targeting8% to 11% growth in earnings per share and 100% free cash flow conversion through 2020. That should be good enough to discourage you from selling the stock.
10 stocks we like better than 3M When investing geniuses David and Tom Gardner have a stock tip, it can pay to listen. After all, the newsletter they have run for over a decade, Motley Fool Stock Advisor, has tripled the market.*
David and Tom just revealed what they believe are the 10 best stocks for investors to buy right now... and 3M wasn't one of them! That's right -- they think these 10 stocks are even better buys.
Click here to learn about these picks!
*Stock Advisor returns as of Nov. 7, 2016
Neha Chamaria has no position in any stocks mentioned. The Motley Fool recommends Illinois Tool Works. Try any of our Foolish newsletter services free for 30 days. We Fools may not all hold the same opinions, but we all believe that considering a diverse range of insights makes us better investors. The Motley Fool has a disclosure policy.