3M Dividend History: The Story Behind an Impressive Growth Streak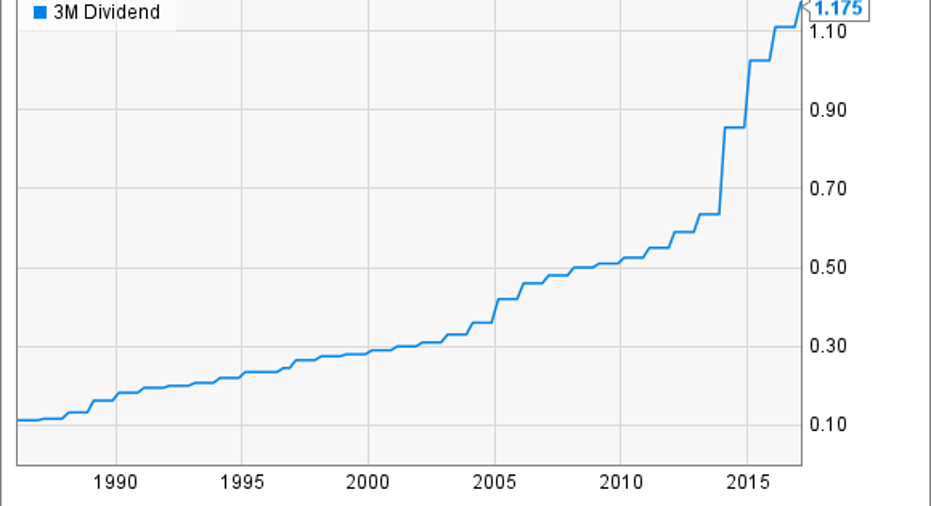 3M (NYSE: MMM) is a company that most people know about but few fully understand. Going well beyond its most visible products like Post-It Notes and Scotch tape, 3M has its fingers in a huge number of different sectors of the economy, and its innovative spirit has enabled it to get profits from an impressive number of sources.
For dividend investors, 3M has been even more lucrative. With a streak of 59 straight years of dividend increases, 3M numbers among the elite dividend stocks in the entire U.S. stock market. Yet investors want to know if 3M's dividends are sustainable and whether its pace of dividend growth will continue into the future. Let's take a closer look at 3M and its dividend history to get some ideas about what's likely to come down the road.
Image source: 3M.
3M and its history of dividends
3M has been remarkably consistent with its dividend payments to shareholders. The company has paid dividends without interruption for more than a century, and only a handful of stocks can claim a longer streak of consecutive years of dividend increases than 3M.
3M's dividend track record has followed in lockstep with its core business prospects. During more sluggish economic periods, 3M's growth rate on its dividends would moderate somewhat. Then, when prospects picked up for the conglomerate, shareholders would see greater rewards in the form of accelerated payouts.
The 2000s present a good example of this phenomenon. Recessionary conditions early in the decade forced 3M to moderate its dividend growth rates, but it still made sure shareholders got at least something every year. Then, during the middle part of the decade, economic prospects throughout the business community improved, and that put 3M in a better position to serve its consumer and corporate customers. The resulting surge led 3M to make the decision to accelerate the pace of its dividend increases.
MMM Dividend data by YCharts.
More recently, 3M has gone through another big growth spurt. The recovery in the early 2010s provided a great bounce from the 2008 recession, and toward the end of 2013, 3M said that it would give shareholders a huge 35% boost to quarterly payments going forward. The company followed that up with another 20% increase the next year.
What's the latest on 3M dividends?
Since then, 3M dividend increases have moderated somewhat. An 8% increase took effect in 2016, and the most recent move was a 7% rise to $1.175 per share.
One reason for the slowdown might well have to do with 3M's desire to keep dividend growth in line with how its bottom line is faring. Over the past decade, 3M has seen its payout ratio climb from the 35% to 40% range up above 50%. That's not a troublingly high level, but it does demonstrate that some of the payout growth that investors have seen has come at the expense of 3M having a smaller percentage of its profits left over to use for other purposes, such as stock repurchases, internal investment, or strategic acquisitions.
Will 3M's dividend history go on?
For 3M to keep sustaining its dividend growth, it needs to see some major successes. Lately, the company's consumer segment has been a relative disappointment, with organic growth having fallen during its most recent quarter. Yet even with those headwinds, 3M has massive opportunities in the industrial segment, which is the biggest of the conglomerate's major divisions. At the same time, healthcare could be a growth driver in the future as well, and 3M's work in the electronics and energy business and the safety and graphics segment could help its financial situation going forward.
3M has used its innovative spirit to maximize its profit potential, and dividend investors have gotten a lot from their holdings in the conglomerate's stock. Having demonstrated an ability to weather tough economic conditions successfully, 3M is in a good position to extend its dividend streak to 60 years and beyond in the years to come.
10 stocks we like better than 3MWhen investing geniuses David and Tom Gardner have a stock tip, it can pay to listen. After all, the newsletter they have run for over a decade, Motley Fool Stock Advisor, has tripled the market.*
David and Tom just revealed what they believe are the 10 best stocks for investors to buy right now... and 3M wasn't one of them! That's right -- they think these 10 stocks are even better buys.
Click here to learn about these picks!
*Stock Advisor returns as of April 3, 2017
Dan Caplinger has no position in any stocks mentioned. The Motley Fool has no position in any of the stocks mentioned. The Motley Fool has a disclosure policy.