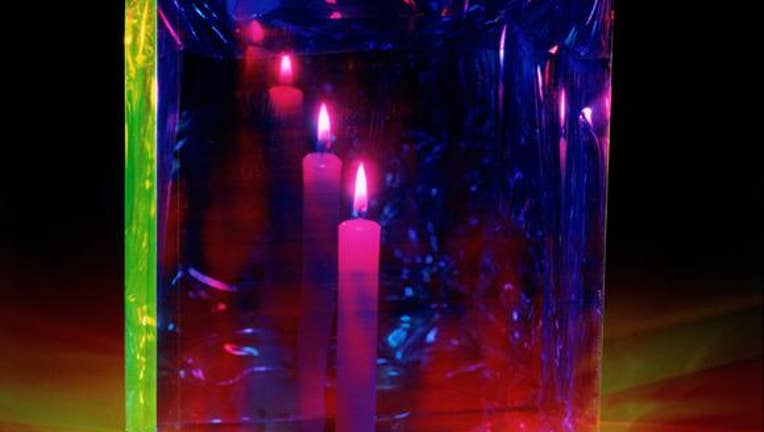 A candle stands safely inside a bag made of translucent 3M film. Image credit: 3M.
How do you know if a company's doing well?
For starters, you could check out how it performs against the overall market. But if an industry, or the market as a whole, is in a slump, like the one we're seeing so far in 2016, that could be misleading.
Another way is to check out how it's performing against its competition. You could look at howFord's sales compare toGM's, for example, or howCoca-Cola is doing vs.PepsiCo.
But occasionally, you run into a company that's occupying a unique market space. Such a company is3M.
All over the map 3M defies being pigeonholed. The folks at Morningstar call it an Industrial, listing its main competitors asGeneral Electric andHoneywell.While that's technically accurate, it doesn't paint the whole picture.
3M was founded in 1902 as the Minnesota Mining and Manufacturing Co., and has made several innovations over the past century, including inventing masking tape, Scotch tape, and of course, the ubiquitous Post-it note. Today, consumer products represent only about 15% of the company's total sales -- its smallest division.
In this regard, 3M is similar to GE and Honeywell, both of which also sell a few products directly to consumers: GE through its light bulb and soon-to-be-sold appliances divisions, and Honeywell primarily through its control systems and small appliances.
Also like GE and Honeywell, 3M's sheer size -- more than $30 billion in sales in 2015 -- is a huge advantage.The company spent more than $1.7 billion on overall research and development in 2015, which means it can innovate faster than its smaller consumer competitors, such as the privately held ShurTech, maker of Duck Tape.
But that's pretty much where the similarities end.
The little things in life aren't freeYou might think of an industrial company as making huge, complicated machinery, and that's often the case. Certainly it's true for GE, which counts turbines, aircraft engines, and locomotives as some of its major products. Honeywell also manufactures big things such as aircraft engines, building control systems, and industrial burners, but it also makes smaller components, such as brake pads for cars and safety equipment (and even stylish footwear!).
By contrast, you'd be hard-pressed to find a 3M product that you couldn't easily fit in a shopping bag. Its healthcare division, for example, which comprises almost 18% of the company's revenue, consists of a wide variety of small, single-use products such as medical tape, adhesive bandages, antiseptics, and electrodes. GE healthcare, on the other hand, sold its disposables unit in 2013 to focus on large equipment such as MRI and ultrasound machines.
Selling these types of disposable products helps ensure a steady revenue stream for 3M. A cash-strapped hospital might put off the purchase of a new MRI machine for a couple of years, but as long as it's doing, well, anything, it's going to have to keep buying items such as surgical tape and bandages.
One singular sensationSo 3M doesn't really compete with other industrial conglomerates such as GM and Honeywell.It could be considered a competitor of chemical companiesDuPont or Chemours. 3M's Dyneonproduct line, for example, directly competes with DuPont's Kalrez and Chemours' Viton (all are used to make industrial seals, O-rings, and the like).
3M also manufactures a wide variety of fluids, such as its Novec coatings, ceramics, such as its Nextel woven heat-resistant fabric, and a myriad of other specialty products. These chemical products represent a portion of the company's industrial division, its largest, which provides just over one-third of the company's revenue. Not all of the industrial division, though, is chemicals: It also includes adhesive tapes and acoustic system components, among many other products.
So with less than one-third of its revenue coming from chemical products, it's not really a chemical company, either.
If anything, 3M is sort of a hodgepodge of a company. It's a little bit of a chemical company, with a little bit of a materials company added, a little bit of a consumer products company thrown in, and a little bit of an electronics company.
What investors should knowThe sheer volume and diversity of products sold by this hodgepodge of a company represents a major competitive advantage. A single innovation can be spun into several different products or industries. For example, a successful innovation in adhesive tape could result in products sold under 3M's existing industrial, consumer, and healthcare adhesive tape lines.
The diversity of products also insulates 3M against competition. While a competitor might develop a new product that challenges one of 3M's existing product lines, any corresponding loss in revenue would be relatively minor given the sheer volume of product lines the company offers. And with 3M able to devote so much money to R&D, it will have innovations of its own.
Finally, the fact that 3M has no single direct competitor for more than a handful of its product offerings prevents the company from being relegated to underdog status in its industry. Unsurprisingly, the company is doing well, handily outperforming the market over the past three years:
The company also sports a 2.8% dividend yield, which, coupled with its size, diversity of offerings and industries, and lack of a direct competitor, makes it an excellent option for investors concerned about capital preservation.
The article 3M: A Company (Literally) Like No Other originally appeared on Fool.com.
John Bromels owns shares of Coca-Cola and Ford. The Motley Fool owns shares of and recommends Ford and PepsiCo. The Motley Fool owns shares of General Electric Company. The Motley Fool recommends Coca-Cola and General Motors. Try any of our Foolish newsletter services free for 30 days. We Fools may not all hold the same opinions, but we all believe that considering a diverse range of insights makes us better investors. The Motley Fool has a disclosure policy.
Copyright 1995 - 2016 The Motley Fool, LLC. All rights reserved. The Motley Fool has a disclosure policy.