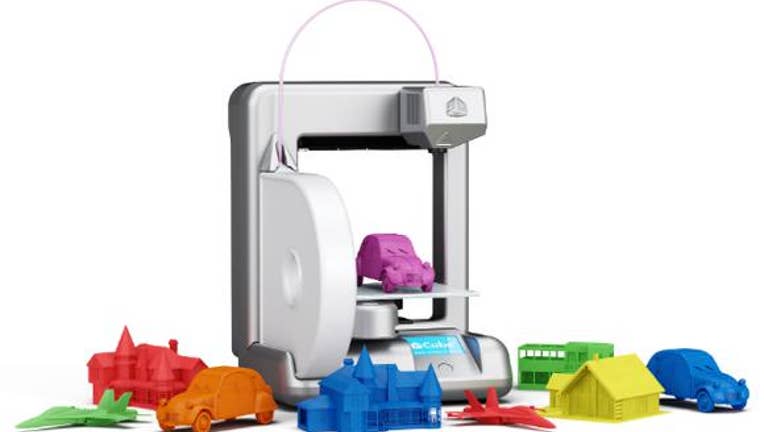 3D Systems announced on Monday that it's discontinuing production of the Cube, its sole consumer-targeted 3D printer, which is priced at $999.
The market apparently didn't like the news that the diversified 3D printing company is exiting the consumer market, as it sent 3D Systems' stock tumbling more than 9% on Monday. (Part of this sell-off could be due to investors' year-end tax-loss selling of stocks.) The market's reaction was wrong, in my opinion, which we'll cover after the news.
The Cube. Image source: 3D Systems.
The reason for the move and the logistics3D Systems said in its press release that it's discontinuing the Cube so management can focus its resources on areas that present near-term opportunities and profitability, which it views as being within the enterprise market. Said Andy Johnson, interim CEO and chief legal officer:
3D Systems will sell its existing inventory of Cube printers, and continue to provide customer support and sell materials for Cube printers that are in the field. It will close its consumer platform Cubify.com on Jan. 31 and discontinue its line of retail products that were previously available on the site.
The company will continue to produce the CubePro 3D printer, which is targeted at desktop engineering, educational, and professional applications. These are the same markets that prime competitor Stratasys targets with its beleaguered MakerBot desktop 3D printer unit, as Stratasys recently began de-emphasizing the consumer market.
The immediate financial implicationsUpon discontinuing production of the Cube, 3D Systems expects revenue to be negatively affected by less than 2% and profitability to improve.
The company plans to record a charge in the fourth quarter 2014 of about $19 million to $25 million related primarily to inventory writedowns and related items. 3D Systems has 112.1 million shares of stock outstanding, so this charge translates to $0.17-$0.22 per shareon a generally accepted accounting principles (GAAP) basis. To put this in perspective, 3D Systems posted a GAAP loss of $0.29 per share and non-GAAP earnings of $0.01 per share in the third quarter, and, prior to Monday's announcement, analysts were forecasting non-GAAP earnings of $0.03 per share for the fourth quarter.
Why exiting the consumer market is good newsExiting the consumer 3D printing market is a great move because the consumer business has been pulling down 3D Systems' overall profitability, and it doesn't look like this scenario will be improving anytime soon. Mainstream consumers are not going to adopt 3D printers in any significant numbers until the printers are faster, have better multicolor capabilities, and are generally more user-friendly.
As mentioned previously, 3D Systems expects revenue to be affected by less than 2% and profitability to improve upon discontinuing production of the Cube. So, this move's immediate impact upon 3D Systems' financials -- other than the one-time charge in the fourth quarter -- is a positive. Moreover, exiting the consumer market will allow 3D Systems' top management to better focus on its core enterprise business.
Interestingly, the 2% (of revenue) figure provided indicates sales of the Cube were probably weaker than many investors believed. 3D Systems doesn't break out revenue generated from sales of its Cube in its earnings reports, but does break out its total "consumer market" revenue. For the first nine months of 2015, revenue classified as "consumer" accounted for 7.3% of total revenue. So, evidently, the bulk of the "consumer" revenue has probably been generated from sales of the CubePro.
While 3D Systems always has the option to reenter the consumer market, I doubt that it will. Consumer electronics and related gadgets almost always become commoditized, resulting in extremely thin profit margins at best.Appleis one of the very few companies in the general space that have been able to successfully differentiate their products and, thus, charge a solid premium for them. Furthermore, the iPhone maker's recent patent activity reveals that a killer desktop 3D printer aimed at the consumer market might be in the works. If this proves to be the case, it's close to a sure thing that the competition will fall like dominoes.
Printing a wrap...While this is a positive move for 3D Systems -- as it won't have a consumer-product anchor on profitability like Stratasys still has with MakerBot -- the company still faces a challenging future. It's had some recent enterprise printer performance issues, and well-funded companies such as HP and start-up Carbon3D plan to enter the market with compelling 3D printers in 2016.
The article 3D Systems Discontinues Cube Printer, Stock Plummets 9% originally appeared on Fool.com.
Beth McKenna has no position in any stocks mentioned. The Motley Fool owns shares of and recommends Apple. The Motley Fool recommends 3D Systems and Stratasys. Try any of our Foolish newsletter services free for 30 days. We Fools may not all hold the same opinions, but we all believe that considering a diverse range of insights makes us better investors. The Motley Fool has a disclosure policy.
Copyright 1995 - 2015 The Motley Fool, LLC. All rights reserved. The Motley Fool has a disclosure policy.