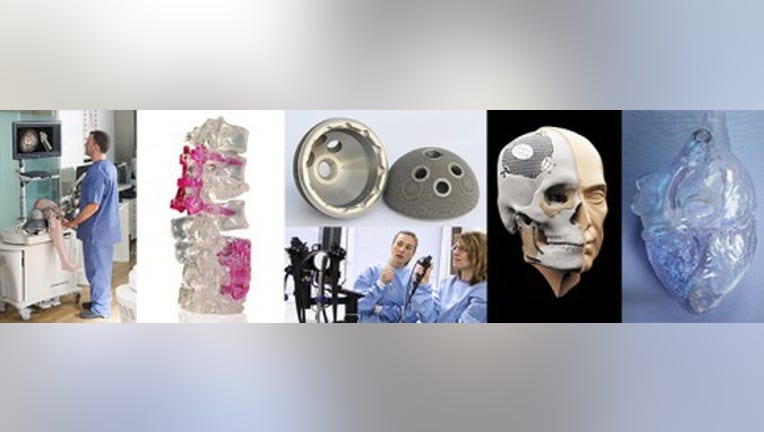 3D Systems' (NYSE: DDD) business has continued to struggle in 2016, with year-over-year revenue contracting 3.3% to $467.0 million in the first nine months of the year. This struggle at the top line continues to negatively affect the diversified 3D printing leader's bottom line, with earnings per share remaining negative. Positively, however, the earnings loss for the first three quarters of 2016 narrowed to $0.39 per share, from $0.53 per share in the year-ago period.
Despite overall weak results in 2016, there have been a few bright spots, specifically the healthcare business, software, and materials. The brightest beacon continues to be the company's healthcare business, which is no doubt one big reason for 3D Systems stock's scorching 63.1% gain in 2016, through Dec. 27.
Let's take a closer look at 3D Systems' crown-jewel.
Image source: 3D Systems.
3D Systems' healthcare growth engine
3D Systemsis a pioneer in the use of 3D imaging and printing in healthcare applications. It's largely built its strong market position by acquisitions, with its most notable and biggest buy in this space -- Medical Modeling -- coming in 2014.
The company's healthcare solutions are used for surgical planning, training, and simulation, which help to provide better surgical outcomes for patients. They're also used to 3D-printpersonalized medical and dental implants, and patient-specific surgical instruments and guides.These applications are an often overlooked part of the much ballyhooed "personalized medicine" trend, with all-things genetic getting the lion's share of the attention.
The Medical Modeling acquisition resulted in 3D Systems possessing thelargest combined 3D printing personalized surgery and medical device services and production operation in the industry. Moreover, it also made3D Systems the only company with integrated 3D modeling-to-printing capability in both metals and biocompatible plastics.
3D Systems' healthcare products and services are used by customers ranging from medical device original equipment manufacturers(OEMs) and teaching hospitals to individual healthcare professionals.
The following chart shows how fast 3D Systems' healthcare business is growing compared to its overall business.
*Quarterly revenue numbers are rounded to just one decimal point, which is why total doesn't add up to $467.1 million. Data source: 3D Systems.
3D Systems' healthcare business is growing much faster than the company's overall business, which means that it's becoming an increasingly larger percentage of the company's overall business. In Q3, the healthcare business accounted for 27.2% of 3D Systems' total sales, up from 22.8% in the year-ago period.
3D Systems doesn't provide operating income data for its healthcare vertical, which encompasses both product and service offerings, or any of its businesses for that matter. (The company's product offerings include 3D printers, software, and materials, while its service offerings consist primarily of on-demand 3D printing services.) So, while we don't know how fast the healthcare business' operating income is growing, we can probably safely assume that it's growing solidly.
Replicating healthcare's success across key verticals
Image source: 3D Systems.
CEO Vyomesh Joshi, who came on board in April, has said several times that the company plans to replicate healthcare's success across its other key target industries, which are aerospace, automotive, durable goods, and the teaching/training institutions that support these industries.
Joshi said on the third-quarter earnings call:
In other words, 3D Systems wants to sell customers across all its target markets complete end-to-end solutions, rather than individual products or services. These end-to-end solutions encompass the entire digitalmanufacturingworkflow, which is as follows:
Image source: 3D Systems.
Looking ahead
In short, 3D Systems has built a complete suite of 3D imaging and printing offerings for the healthcare industry that apparently meets the needs of many customers as this business continues to grow nicely. Aiming to replicate this success across all target verticals is a good strategy. Whether or not the company will be successful is the million-dollar question.
In 2017 and beyond, investors should look for indications that this replication strategy is on track. Early indications are likely to include things like meaningful partnerships with leaders in the target verticals.
10 stocks we like better than 3D Systems When investing geniuses David and Tom Gardner have a stock tip, it can pay to listen. After all, the newsletter they have run for over a decade, Motley Fool Stock Advisor, has tripled the market.*
David and Tom just revealed what they believe are the 10 best stocks for investors to buy right now... and 3D Systems wasn't one of them! That's right -- they think these 10 stocks are even better buys.
Click here to learn about these picks!
*Stock Advisor returns as of Nov. 7, 2016
Beth McKenna has no position in any stocks mentioned. The Motley Fool recommends 3D Systems. Try any of our Foolish newsletter services free for 30 days. We Fools may not all hold the same opinions, but we all believe that considering a diverse range of insights makes us better investors. The Motley Fool has a disclosure policy.